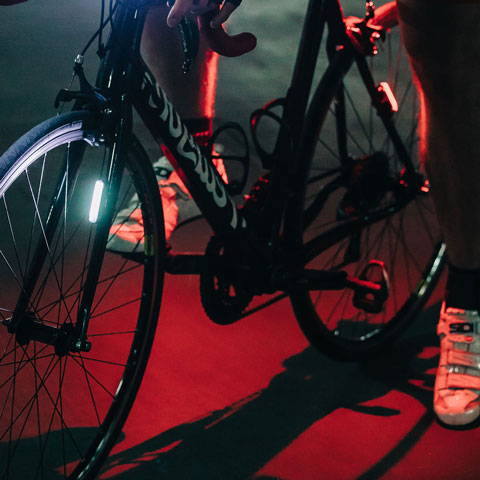 Combo version of the Seemee 30, including 1x white LED front light, and1x red LED rear light. The following features apply to both units in thepackage.

Features:
* 30 lumens max, 230 degrees visibility
* Ambient Light Sensor: Auto adjusts light mode and output depending on ambient conditions
* Low battery mode: Power saving flash mode triggered at 5% battery and lasts 20 min
* 1 constant and 4 flash modes, 3 brightness modes

* 2 hours runtime on highest brightness constant mode
* 24 g in weight
* USB rechargeable
* O-ring mount
WHAT ARE INCLUDED:
1* SEEMEE 30 FL
1* SEEMEE 30 TL
1* Micro USB cable
2* Rubber ring
1* Use manual
1* Warranty card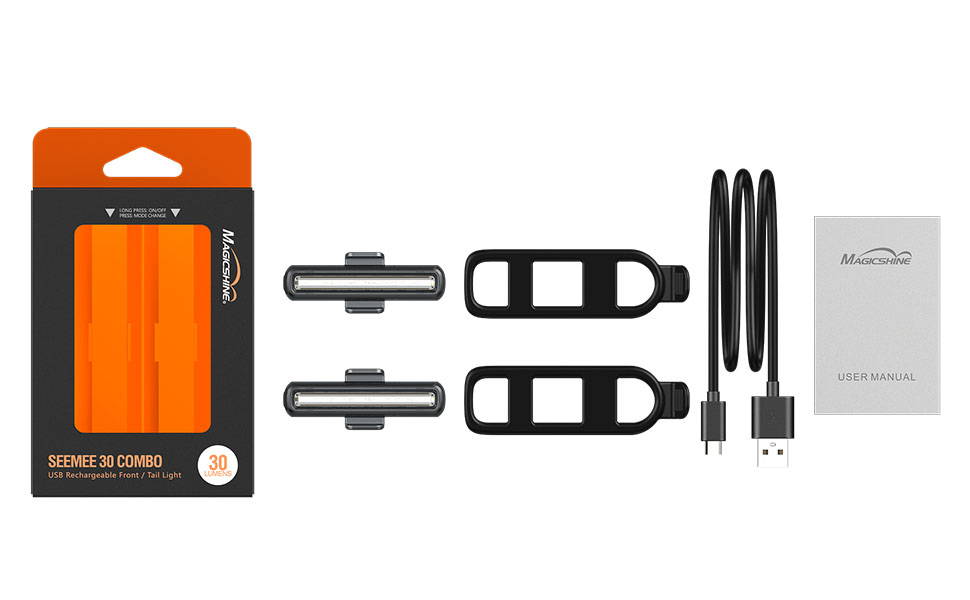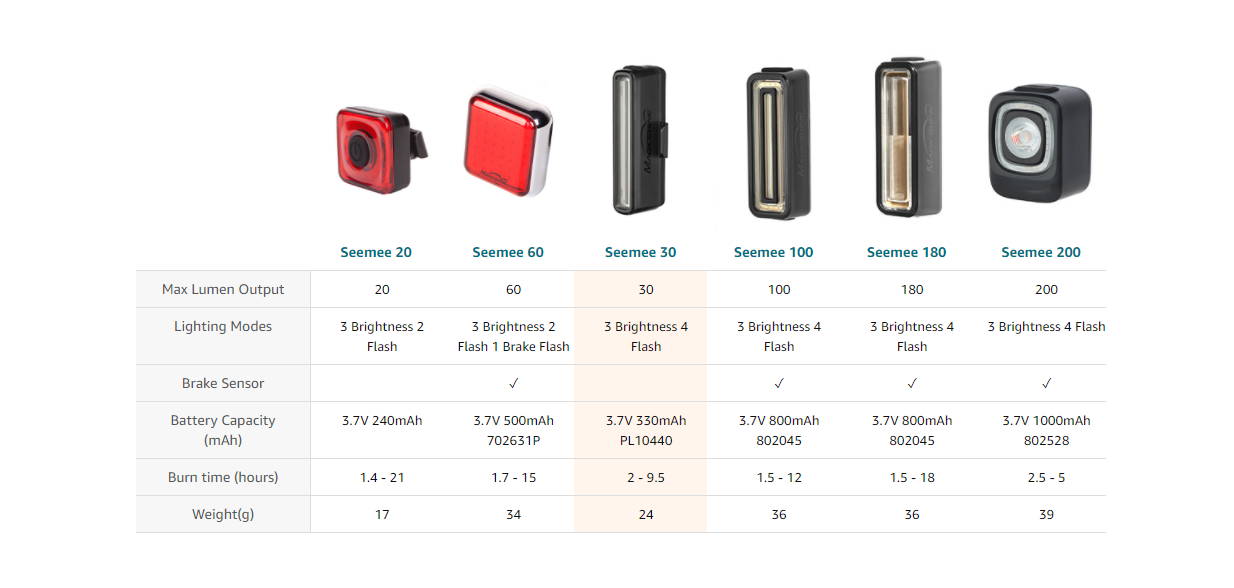 * LUMEN: 30 LM
* Ambient light sensor
* DRL (Daytime Running Light)
* BATTERY: 7.2 v (2*3500mAh)
* WATERPROOF:IPX6
* SIZE: 61x14x21mm
* WEIGHT:24g

The Smart & 'Be Seen' Magicshine Seemee 30 lights
When it comes to bike lights, they generally fall into two bins: thecompact 'be seen' type and the powerful 'to see' type. As the nameimplies, the 'be seen' lights ensure you are visible to others on theroad but don't provide enough illumination to see with. The benefit ofthese style lights is that they are lightweight, compact, and offerversatile mounting. In this review we'll be looking at the
Magicshine
Seemee30, their latest 'be seen' light combo set. With a low retail price,the headlight and tail light offers an impressive 30 lumen output alongwith an integrated ambient light sensor. Despite being the mostaffordable light in the updated Seemee lineup, the Seemee 30 also sharesthe same constant, flash and smart output modes.
The
Magicshine
Seemee 30 are a compact and smart 'be seen' light set that offers features not typically seen at this price point.
Category
Bicycle Head Light/ Tail Light
Rating
9.3/10
Retail Price
$29.99 ( or $16.99 for the tail light)
Measured Weight (in g)
26 (headlight) / 26(taillight)
Likes
+ Battery status checker
+ Integrated ambient light sensor
+ Compact and lightweight form factor
Dislikes
– Integrated battery
– Bodyclip mount is not included
– Confusing number of output modes
Where to Buy (US)
Magicshine

1. How to check my order status?
A: After you register on our website, log in from our system, you can check your order status in real time.
2. What's the shipping method?
A: There are two ways of logistics, express and postal. According to the region, our system will automatically allocate logistics, you can contact us directly if you want to change your shipping method to express. Order inquiry: mkt1@magicshine.com
3. How long does it for my order to get to me?
A:Usually delivered within 5-15 working days.
4. What's the shipping cost?
A: Order over 69.99$. Free shipping cost
order shipping cost
39.99$-69.98$ 9.9$
19.99$-39.98$ 14.99$
-19.98$ 29.99$
5. How / when will you refund my tax?
A: Providing logistics company documents, sent to mkt1@magicshine.com.
We will refund the amount to your payment account within 24 hours.
6. How to contact customer service?
A: For any question on product or availability, please feel free to contact us below:
Service Inquiry: service@magicshine.com
Order inquiry: mkt1@magicshine.com
PS: The order confirmation email will be sent to you after you place your order, maybe you can check it in your spam box.
Tel: (+86)755-29553669
WhatsApp: +86 137 6169 2016