MONTEER 8000S GALAXY V2.0 Remote MTB Light
MONTEER 8000S GALAXY V2.0 remote control supports reliable control within a 5-meter range thanks to its 2.4G wireless transmission technology.
Hands-free and easy to operate, the remote control is elegantly minimalistic and contains only two buttons, making it ideally suited for MTB adventurers and extreme skiers.

Features at a Glance:

✔ Lumen: 8000 (CREE XHP-50 LED)
✔ Battery: 7.2V 10000mAh
✔ Charging: USB-C fast charging and discharging(10-30W)
✔ Waterproof: IPX 5
✔ Runtime: 1.5-32 H
✔ Wireless Remote: Include
Guarantee safe & secure checkout
Product Review
Main Features
Tech Specs
What's in the box
Video Introduction
NOVEMBER 9TH, 2021 - THE SWEET CYCLISTS
Overall, we found the Magicshine Monteer 8000S V2.0 to be a welcome improvement to the already impressive 8000S headlamp. The 8000-lumen output is more than any rider needs as it turns nighttime into the day with wide and even beams. With the wireless remote, the 8000S can now be easily helmet mounted without having to fumble with the single top-mounted button. We are happy to see a two-button interface on the remote as it greatly simplifies using the Monteer 8000S and improves the usability as you don't have to cycle through flash mode to change the intensity and can access the full 8000-lumen output and makes the $20 premium Magicshine charges for the remote equipped 8000S V2 is well worth the cost. The remote is unfortunately not backward compatible so current owners of an 8000S can't take advantage of the remote. That said, if you're looking for the ultimate mountain biking or road cycling headlamp with the convenience of a remote, the 8000S V2.0 should be on top of your list.
DECEMBER 12TH, 2021 - CLINT GIBBS
NOVEMBER 10TH, 2021 - MTB MAG-ITALIAN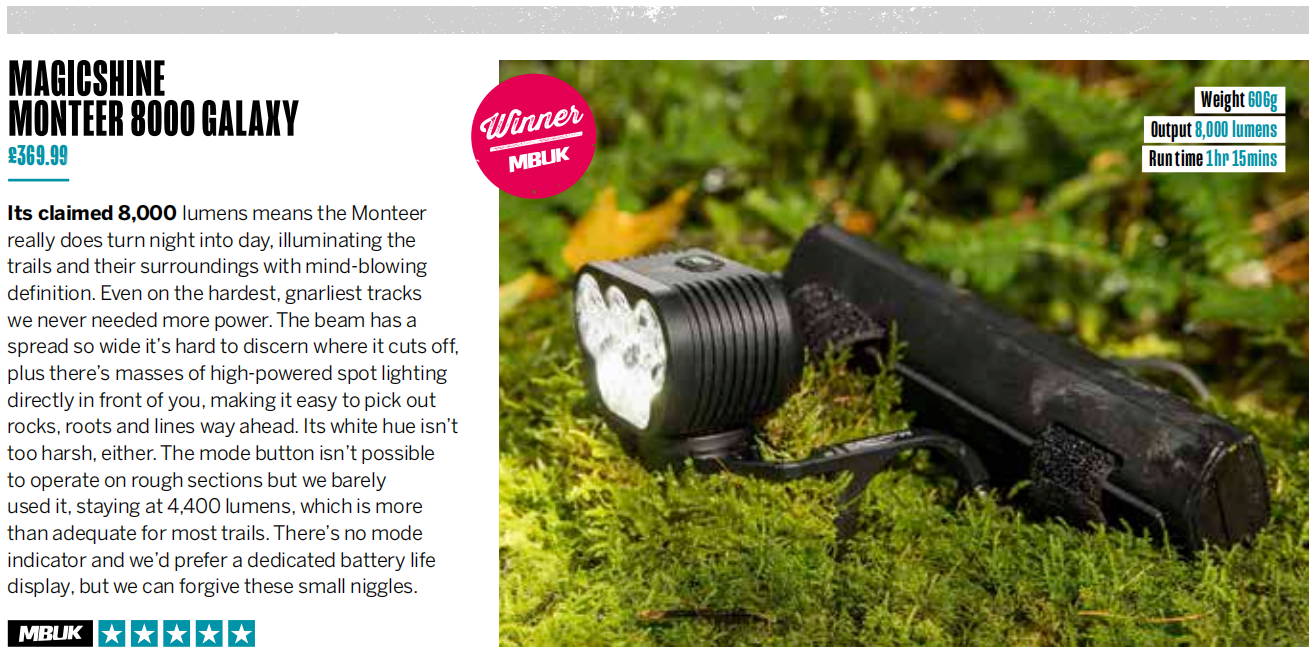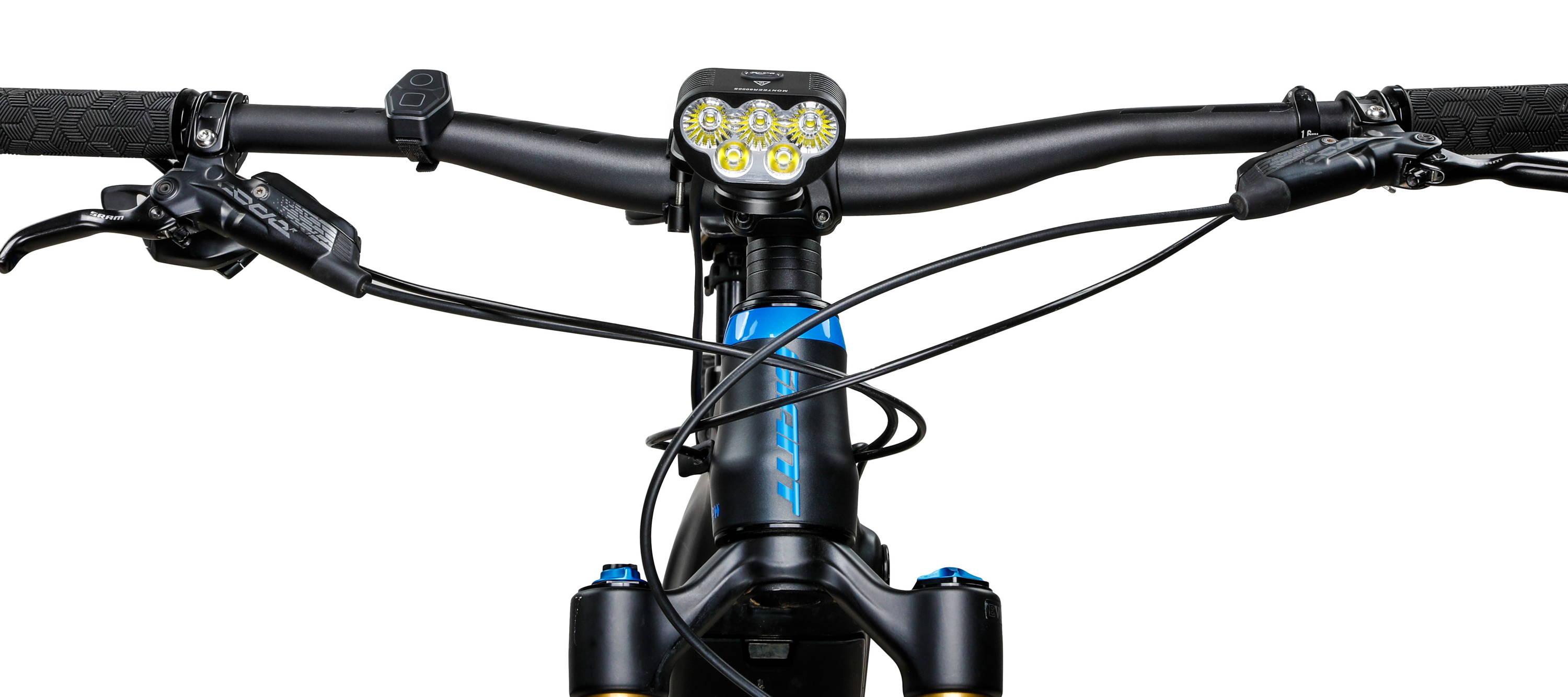 PROFESSIONAL HIGH-BRIGHTNESS MOUNTAIN BIKE LIGHTS
MONTEER 8000S GALAXY V2.0 remote adopts 2.4 G wireless transmission tech and supports reliable remote control within a 5-meter range.
The hands-free and super convenient wireless remote adopts an elegant minimalist style design with two control buttons, aimed at further enhancing the ease of use for the trail rider.
The controls are designed with maximum convenience in mind. Both buttons can turn on/off the main light, brightness can be cycled without flash in between, when the trail gets rough, one press to instantly activate max brightness no matter the mode and easily go right back to where you were.
How to pair the remote:
Paring your light with M-Remote is simple.
1) Disconnect the light head from the battery.
2) Press and hold both buttons at the same time to enable search mode.
3) When the indicator lights start to flash, reconnect the light head to the battery. The main light should flash once and the
remote indicator lights should stop flashing, indicating successful pairing

How to operate?
Long press either of the buttons to turn on/off the light.
Rectangular button: 1) Short click to switch on the maximum mode, and click it again to back to the last mode. 2) Double click to switch on the upper/down/all LEDs.
POWER AND MORE
Boasting massive 8000 lumens with five top CREE® LEDs
32°and 21°beam angle.
Special custom-engineered multiple flats lamp cups.
Each LED can work independently, from soft light to the maximum beam.
MONTEER 8000S will shine any detail on your way, and assure perfect illumination near and far for all MTB and trail riders.
SUPERIOR POWER CAPACITY
4 latest 5000 mAh battery cells of 10,000 mAh capacity
USB-C PD fast charging & discharging functions, its battery pack can charge your device at the highest speed a high-end power bank
IPX 5 is waterproof for the whole

ASSURED HIGH-QUALITY DESIGN
Thanks to cutting-edge thermal analytic technology, MONTEER 8000S is able to maintain the minimum size with supreme power, and thus riders will enjoy a very light and easy journey without worrying about extra weight. The Garmin-type mount supports both handlebar and helmet attachments, even compatible with GoPro, computer, and phone, offering riders flexible choices; mil-spec construction with aluminum alloy case, built-in smart temperature control system, and unique heat fin ensure high cooling efficiency; supreme IPX5 waterproof rate that is able to withstand in all kinds of weather conditions--MONTEER 8000S V2.0 is ready for the most aggressive challenge.
BOX WEIGHT
34.56 OZ
BOX DIMENSIONS
8 × 5.2 × 3.5 IN
LED
5X CREE XHP-50.2 LEDS, 21° & 31° SPREAD
POWER MODES AND RUNTIME

HYBRID BEAM
100% 8000LM 1:30 HRS
50% 4400LM 3:25 HRS
25% 2400LM 6:30 HRS
10% 1000LM 12 HRS
FLASH 0~2400LM 7 HRS

FLOOD BEAM
100% 4800LM 2:10 HRS
50% 2600LM 5:30 HRS
25% 1400LM 11HRS
10% 600LM 22HRS
FLASH 0~1400LM 11:30 HRS

SPOT BEAM
100% 3200LM 4HRS
50% 1700LM 9HRS
25% 900LM 15HRS
10% 400LM 32HRS
FLASH 0~900LM 16HRS

BEAM SPREAD
32° +21°
CHARGING TIME
9 HRS (5V/2A)
IP RATING
IP65
DIMENSIONS
64*43.5*45MM
NET WEIGHT
LIGHTHEAD: 150.4G
BATTERY: 367G
CHARGING POWER AND TIME
9 HRS (5V/2A)
MAX 18W (9V/2A PD3.0/QC3.0)
MAX BEAM DISTANCE
315M
LIGHT INTENSITY
25,000CD
BATTERY
10,000MAH USB TYPE-C
Box Contents
1* MONTEER 8000S V2.0
1* Remote Control
1* MJ-6118 battery pack
1* Aluminum handlebar mount
1* USB-C cable
1* 3mm hex
1* User Manual