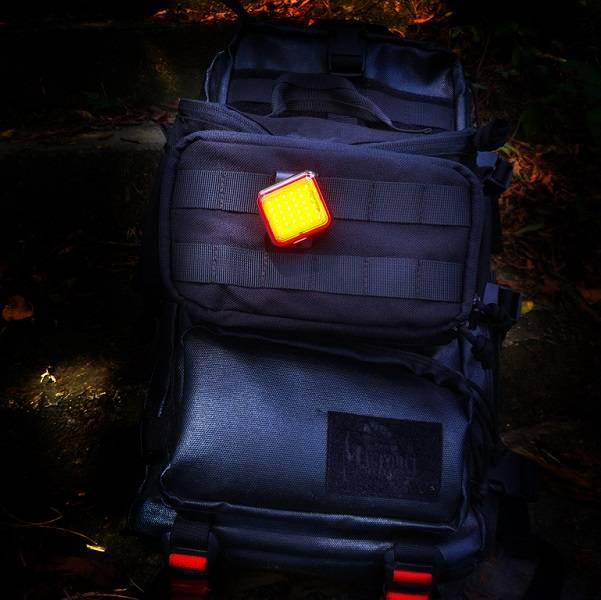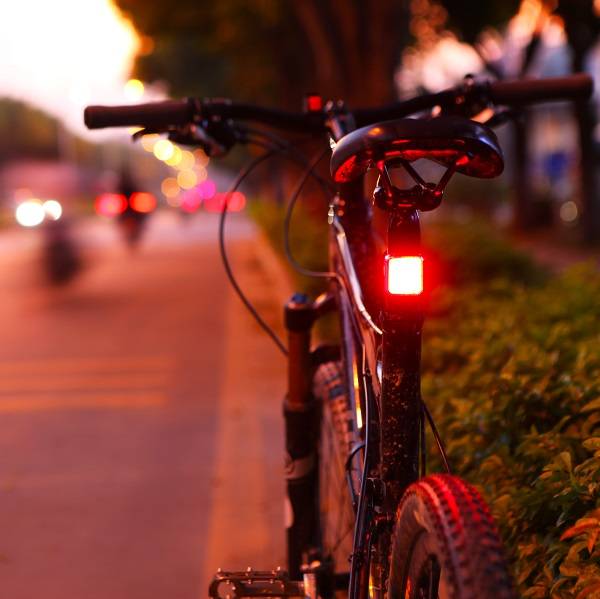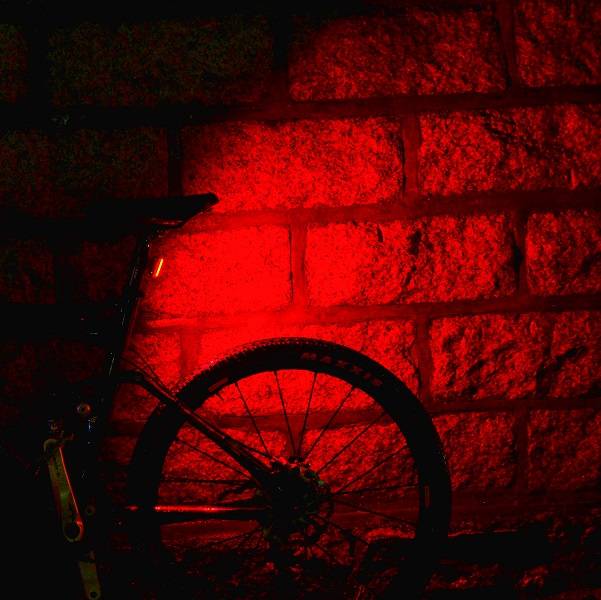 Seemee 60 has internal brake sensor.A sleep mode is triggered after one minute of inaction to save power, and vibration will immediately re-activate the unit.
- With the high powered COB red LED light source, the max output is 60 lumens, capable of 180 degrees of visibility.3 brightness levels, a constant mode and 2 flash modes can be used in any combo, note that the high mode gives out 30 lumens, while the mid and low modes 17 and 9 lumens respectively on this bike safety light.
- Built with latest vibration and motion sensor, the Seemee 60 bike tail light detects when the rider has engaged in a sudden stop motion to increase its output to 60 lumens in a frenzy of flashes, warning all fellow travelers and motorists within a 180 degree viewing angle.
- This light pattern will be bright enough to warrant attention but not enough to cause temporary blindness which is just as likely to cause accidents. With the same sensors, the tail light enters into a sleep mode to save power after one minute of inaction.
- Any movement will immediately re-activate the unit.Installation and removal of the taillight is super quick and easy, rotate 90 degrees to install and rotate 90 degrees back to remove, that's it!
- Micro-USB charging port is built into the back side of the tail light with water resistant silicone port cover. Seamless integration of the red lens and aluminum alloy plate framing gives the Seemee 60 an IPX 6 rating.Seemee 60 comes with mounting setups for both the round and Aero seat posts, as well as a multi-purpose mounting clip that will turn this bike tail light into a signal / safety light that can be clipped onto your backpack, helmet strap, saddlebag, even shirt collar.
WHAT ARE INCLUDED:
1* SEEMEE60 TAIL LIGHT
1* USB cable
1* Silicone ring
1* User manual
1* Warranty card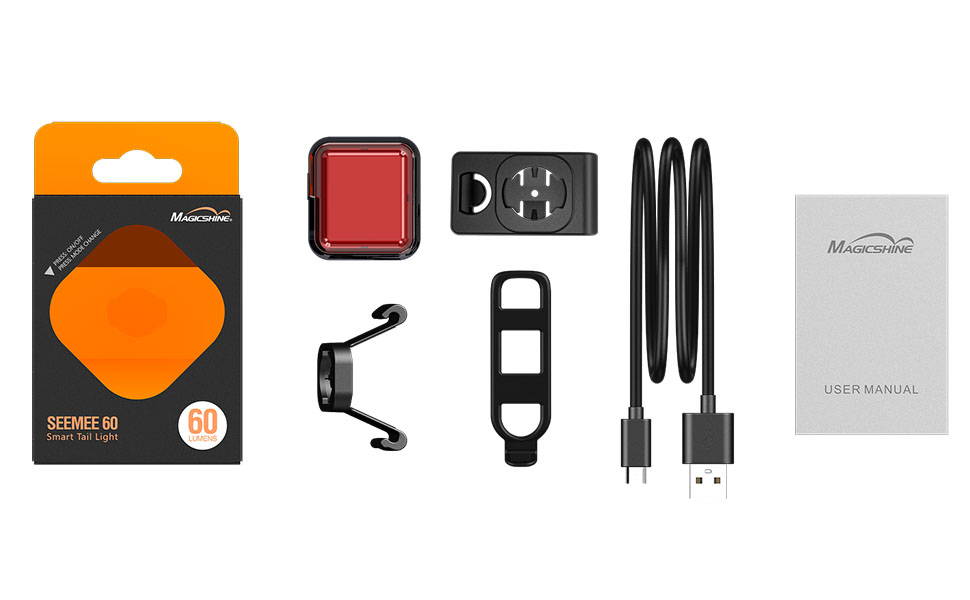 TECHNICAL SPECIFICATIONS
-Lumen: 30
-Battery:3.7V 500mAh
-Waterproof: IPX6
-Weight: 34g

-Size: 41x33x23mm.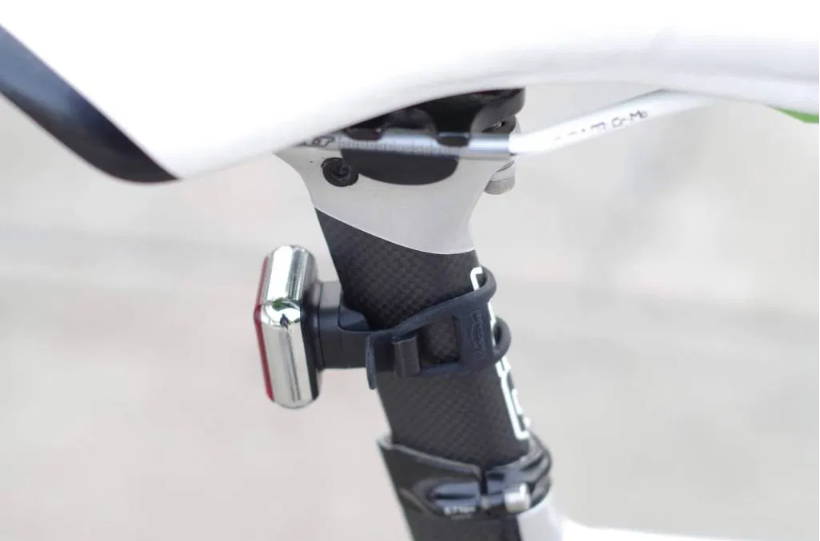 We have shorter days now that it's winter and dark mornings rest of the year. However, us cyclists still gotta ride! So its not only important to see whats in front of you, but also be seen to traffic from the rear. We've honestly tried so many tail lights that we lost count. Today we'll review our latest tail light – the Magicshine Seemee 60.
Overall I'd give the light a 8/10 as it boasts high-output and robust construction for a budget price that Magicshine is well known for.Category: Bike (bicycle) tail light
Overall rating: 8/10
Likes: Flexible mounts, small form factor
The Seemee 60 is currently Magicshine's highest power all-in-one tail light offering. At a maximum 60 watts, this is a high power light idea for both night and daytime visibility. The light boasts a compact design the battery integrated into the light and USB recharging.
Despite one of the cooler product names, the light also packs some 'smart' features to differentiate themselves from other tail lights in this crowded segment.The light incorporates an accelerometer to detect acceleration/deceleration to automatically increase the brightness/frequency to alert other cyclists or drivers of your presence as well as an auto sleep feature.
Unboxing
With each Magicshine product release, it's clear that they've put more time and money into product packaging and design. The Seemee 60 comes packed with:User manualUSB charging cableMounting clipStrap mounting clipMounting bandTwo rubber mounting pieces (round for aero seatposts and flusher for round seat posts)The items are well packed in a clear plastic box with professional graphics and labels.
MountMagicshine ships the Seemee 60 with multiple mounting options to accommodate backpacks/seatposts and aero seat posts. The mounting system uses multiple pieces to allow the user to detach the light from the mount for easy recharging. Similar to their other products, the mounts consist of a thick rubber strap along with a plastic mount.As shown in the image below, there are two mount options: clip and strap/mount.
The plastic clip is excellent for attaching the light to a backpack or saddlebag, and despite being plastic feels well built and thick enough to withstand daily abuse.Unboxing Magicshine Seeme 60UNBOXING MAGICSHINE SEEME 60The strap/mount uses the familiar thick band system along with plastic mount with clips. To accommodate both round seat posts and aero seat posts, two rubber backing pieces are provided with the light.
The aero-post rubber mount works great, and allow the light to be mounted firmly despite the lack of surface area on the back of the aero seat post.Multi-piece mounting design for easy removal/installationIncludes clip for saddle bag/backpack mountingMounts to both round and aero-seat posts with flexible strap mountHaving installed it on both a road and aero bike, the mounting system is a great compromise between flexibility and durability.MountMOUNTDesign & UsabilityDespite being an all-new offering from Magicshine for 2018, it's hard to not compare the design of the Seemee 60 light to an Apple watch or Ipod Nano from yesteryear. With a simple square design with a thin plastic chrome border, it is neither ugly or very attractive to look at. At nearly ½ inch thick, it also looks fairly portly from side profiles.
However, with a 6×6 grid of LEDs and a fairly small size (1 by 1 inch) the overall design looks modern enough.The power button is located on the left side of the light, and is a back lit to indicate charge status when plugged in via USB. Unfortunately, there is no battery indicator to see the charge state at a glance without plugging the light into a power source. The light offers a two flashing modes, a constant mode and three intensities (9/17/30 lumens according to Magicshine) per mode to satisfy even the most picky cyclists. A single press will alternate the light between intensities, while double pressing will alternate the mode. The maximum 60 lumen output is reserved for the automatic 'panic' mode during acceleration/deceleration and vibration states detected by the internal sensors.The USB charging port is located behind a plastic cover at the rear of the light. This can be easily accessed by rotated the light 90 degrees in the mount to disengage it.
The engagement/disengagement requires moderate effort, but feels well built and inspires confidence.I've also included photos of the Seemee next to other lights on the market: Planet Bike Superflash, a brand-unknown-cheap LED, and the wired Magicshine tail light. Compared to the more traditional Superflash bike light (Planet Bike), the Seemee is more compact and modern. It's larger than the wired Magicshine tail light with better side visibility and lack of wires.Shiny plastic border dates the design, but LED light grid adds modern flair.Wide range of modes and intensity options for pickiest cyclists.Small form-factor but on fairly thick side profile at 1x1x0.5.Feels well built despite heavy use of plastic.Comparison with other tail lightsCOMPARISON WITH OTHER TAIL LIGHTSLight Output & Battery LifeWith an integrated battery, this is a Magicshine light that won't require an external battery pack or routing cables along your frame.
Determining battery life is difficult with this light, as the internal sensors will trigger the higher power flashing modes and sleep state automatically. With normal use, I've gotten 3-5 hours of use with the light.Unlike AAA battery powered lights that dim as the battery lights, the Seemee shows no indication of battery state. This meant I started a ride with the light working great, only to realize it had died after coming home. As with other USB chargeable lights, you'll need to charge the light preemptively to make sure you the battery remains charged.With a 6×6 grid of cob lights the light output of the light is excellent in all modes.
The light pattern is crisp, and at higher intensities blinding when looking at it straight-on. With a slightly beveled side profile the light offer provides visibility even from side angles which the wired Magicshine taillight fails to provide.Smart SensorsAs with many newer products, the Magicshine boasts 'smart' sensor technology. Fortunately, this doesn't mean Alexa integration or Wifi integration yet. The built-in sensors are designed for two functions: (a) detect acceleration changes or vibrations to switch mode to the 60 lumen output and (b) auto sleep the light if bicycle is idle.The light is sensitive enough to detect acceleration/deceleration to draw extra attention to you. Unfortunately, the built in sensors are not well-calibrated and will often put the light in the high-output panic state.
During rides, you'll often see it light up during minor road imperfections which will reduce the overall battery life and annoy others if you are in a group ride. The auto sleep function is helpful to ensure you don't forget to turn off the light after a ride as well.The VerdictAll-in-all, the Magicshine Seemee 60 is a well designed taillight with small form factor and well built mounts. While the design is somewhat dated, the LED grid design adds a nice modern flair with enough output to ensure you remain visible during both daytime and night.The built-in-sensors sound great on paper, but don't work as well as advertised. The high-output panic mode can easily be triggered even holding the light in your hand. This may reduce overall battery life, but adds some randomness to the light output which is a positive. While I would personally trade the built in sensors for a thinner design or more battery capacity, this feature will likely attract more buyers.
1. How to check my order status?
A: After you register on our website, log in from our system, you can check your order status in real time.
2. What's the shipping method?
A: There are two ways of logistics, express and postal. According to the region, our system will automatically allocate logistics, you can contact us directly if you want to change your shipping method to express. Order inquiry: mkt1@magicshine.com
3. How long does it for my order to get to me?
A:Usually delivered within 5-15 working days.
4. What's the shipping cost?
A: Order over 69.99$. Free shipping cost
order shipping cost
29.99$-69.98$ 9.99$
-29.98$ 14.99$
5. How / when will you refund my tax?
A: Providing logistics company documents, sent to mkt1@magicshine.com.
We will refund the amount to your payment account within 24 hours.
6. How to contact customer service?
A: For any question on product or availability, please feel free to contact us below:
Service Inquiry: service@magicshine.com
Order inquiry: mkt1@magicshine.com
PS: The order confirmation email will be sent to you after you place your order, maybe you can check it in your spam box.
Tel: (+86)755-29553669
WhatsApp: +86 137 6169 2016