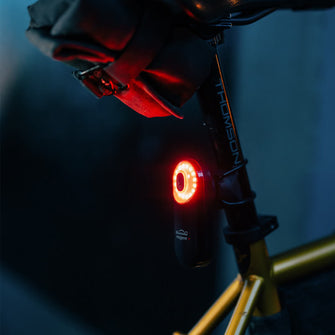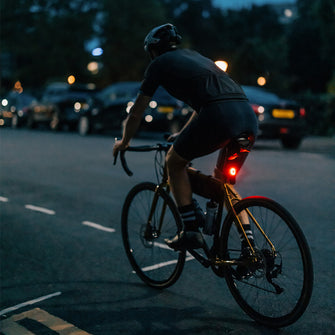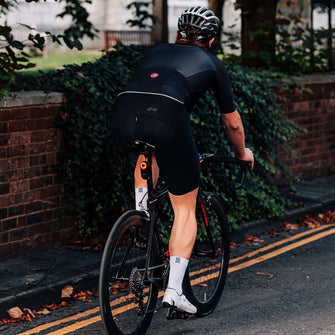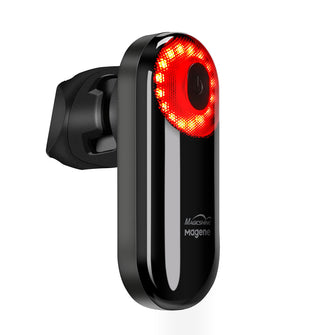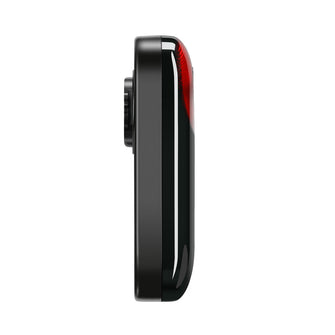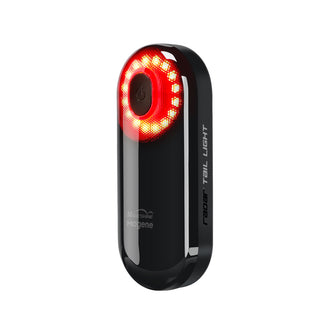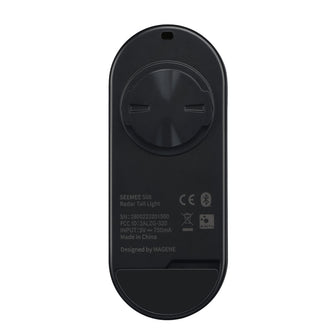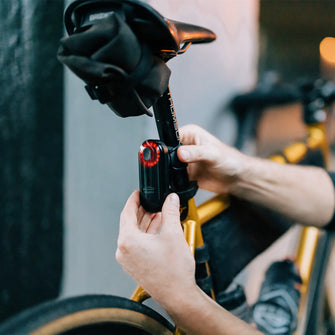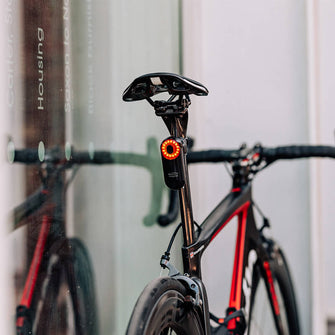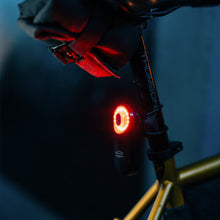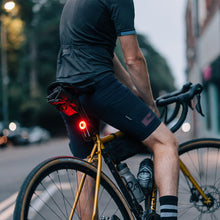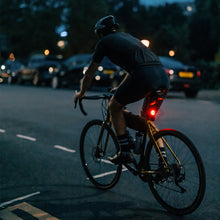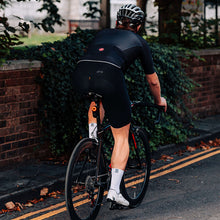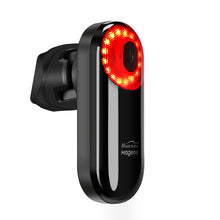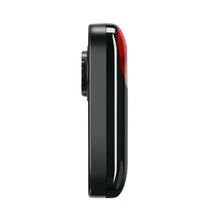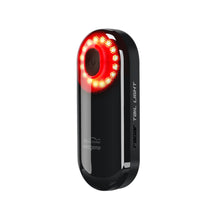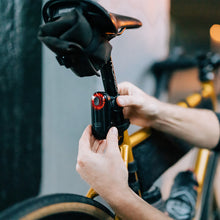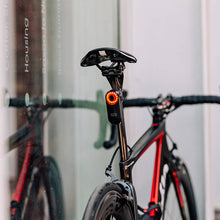 SEEMEE 508 Radar Taillight Safety Light
Two-way reminder & All-around safety SEEMEE 508 Radar taillights provide real-time information about vehicles around riders, a two-way reminder, improved vehicle-driver interaction, and all-around safety protection. HOW TO USE? TAIL LIGHT MODES MODE LUMENS H:MINS SOLID 6-40LM 4:00-11:00 FLASH 6-20LM 11:00-13:00 PULSE 6-20LM 11:00-13:00 PELOTON 6-20LM 10:00-16:00 QUICKLY FLASH 6-40LM...
"Super accurate. Provides confidence when riding on the public roads. Don't hesitate to purchase if you ride the roads. You're worth it!

.

"
-Eugeng. ✔ Verified Purchase

★ ★ ★ ★ ★
---
Features at a Glance:

✔ Radar Detection: support
✔ Visibility Angle: 220°
✔ Visibility Distance: 1200 meters
✔ Max runtime: 19 hours
✔ Waterproof: IPX7
SEEMEE 508 provides all-around protection with its 220-degree wide viewing angle, allowing it to detect rear vehicles up to 140m away even at bends.
Guarantee safe & secure checkout
Two-way reminder & All-around safety
SEEMEE 508
Radar taillights provide real-time information about vehicles around riders, a two-way reminder, improved vehicle-driver interaction, and all-around safety protection.
HOW TO USE?


TAIL LIGHT MODES
| | | |
| --- | --- | --- |
| MODE | LUMENS | H:MINS |
| SOLID | 6-40LM | 4:00-11:00 |
| FLASH | 6-20LM | 11:00-13:00 |
| PULSE | 6-20LM | 11:00-13:00 |
| PELOTON | 6-20LM | 10:00-16:00 |
| QUICKLY FLASH | 6-40LM | 15:00-18:00 |
| ROTATE | 6-20LM | 10:00-12:00 |
| RADAR ONLY | 0LM | 19:00 |
*All data above are test results according to ANSI NEMA FL 1-2009 Standards
*The stated runtime of each mode excludes the brake function
Watch rear traffic for you
Connect with bike computer provides visual and audible alerts that indicate approaching cars within 153 yards (140 meters).
All-round protection
The angle of the radar wave can reach 40°, it can still detect vehicles when turning, Reduce blind spots and make riding safer.
Wide viewing angle keeps you safe
220 Degree wide viewing angle with visibility of up to 1.2km gives you all-around protection.
7 MODES
A long switch press will turn the taillight on and off, and a short press will cycle through 7 modes(solid, flash, pulse, peloton, rotate, quickly flash and only radar mode).
PELOTON MODE
By utilizing low brightness and a soft light, the eyes of group bikers are safeguarded, resulting in a more comfortable team riding experience.
SMART APP CUSTOMIZATION SETTINGS For Mode
Upon successful connection to the Magene Utility APP, customization of the brightness for each light mode is achievable. Furthermore, adjustments can be made to the interval period for flash mode and pulse mode. It is also possible to disable any undesired light modes, resulting in their deactivation at the tail light.
SMART BRAKE LIGHT
The tail light comes equipped with a high-precision acceleration sensor that can rapidly detect even slight braking and enter a 3-second highlight mode. This feature is designed to prevent false starts by ignoring shaking and small bumps. Additionally, it is possible to turn off the brake light as needed.
WARNING APPROACHING VEHICLES
The warning light will flash for five times when a rear vehicle approaches, and it will continue flashing if more vehicles follow. This warns the rear vehicle to maintain a safe distance and protects against potential safety hazards. While the warning light can be turned off for successive vehicles, it will still flash the first time a rear vehicle approaches for safety reasons.
Ultra-long Endurance
4 hours of charging support up to 19 hours of output. Memory function & battery indication, enjoy long rides.
PERFECT COMPATIBILITY
Compatible bike computers
| | |
| --- | --- |
| Garmin | 130, 130P, 520, 520P, 530, 820, 830, 1000, 1030, 1030P |
| Magene | C406Pro |
| Wahoo | Bolt, Roam |
| Byrton | R750, S500 |
*Compatible with all cycling computers that support ANT+™ Radar.
Magene Utility APP supports radar display. After connecting your tail light with software, you can view approaching vehicles at a glance.

Compatible watches
| | |
| --- | --- |
| Garmin | 245, 645, 735, 745, 935, 945, D2, Fenix 5, 5s, 5x, 5Plus,5xPlus, 6s, 6x, 6Pro, 6sPro, 6xPro |
Technical Specifications
Specifications
Parameter
Max Lumen
20 LM
Light Source
High Efficient LEDs
Visibility Angle
220°
Visibility Range
1200 m
Radar Detection
Maximum Detection Distance: 140 meters
Horizontal Detection Angle: 40°
Relative Speed of Detectable Targets: 10-120km/h
Wireless Protocol
Bluetooth ANT+
Runtime
Max 19 hrs
Vibraton Sensor
Support
Waterproof Rate
IPX7
Charger
USB-C
Charging Time
4 hours
Battery Source
3.7V 1500mAh
Weight
2.29 oz/ 65g
Dimensions
3.70 * 1.50 * 0.98 in
(94mm *38mm * 25mm)
Material
Plastic
Mounting System
Quarter tum mount
What's in the Box?
SEEMEE 508 RTL * 1
Rubber straps * 3
Seat post bracket(with pad) * 1
USB-C cable * 1
Safety Strap *1
USER Manual * 1 (Manual Download Here)

Video Reviews
Media Reviews
The Magicshine SEEMEE 508 combines a broad-angled rear light with radar functionality that beams a warning to your bike computer to give you a heads-up when something approaches from behind. The radar function detects up to eight vehicles coming up behind you, with a 40-degree spread of view, and up to 140m behind you.
The Seemee 508 does fix the biggest issues with the Garmin offerings by dropping the price and offering a leash for security along with USB-C charging. The core functionality of the radar remains the same and the pricing undercuts even the Garmin RVR315 which lacks a light.