RN 1500 Exclusive Colored Bike Light
The Magicshine RN 1500 is a lightweight rechargeable bike light that is capable of a maximum output of 1500 lumens. Perfect for mountain biking, urban commuting, or road cycling and features an anti-glare lens that produces a uniform soft beam that doesn't dazzle oncoming pedestrians or vehicles, making it safer to cycle at night. It has a built-in 21700 5000 mAh 3.7V lithium-ion battery.

Lumen:1500
Battery:5,000 mAh 
Waterproof: IPX 7
Runtime:1.5 - 12.5 Hours 
Only RN 1500

MJ 6260B Helmet Mount

TTA Multi Mount

SEEMEE 200
Guarantee safe & secure checkout
Product Review
Main Features
Tech Specs
What's in the box
It's no secret that the RN 1500 is different from any of the other products offered by Magicshine but that does not mean the quality and style has been left behind, the variety of colours really just mean that now, riders have the opportunity to match their headlight to the design and style of their bike. The RN 1500 lives up to its manufacturer's statement and truly is a fashionable and highly efficient device which would make a perfect addition to anybody's bike.
Although bike headlights have continued to get brighter and offer more features they're almost always only offered in simple black finishes. Magicshine has decided to change that with their latest RN 1500 front headlight. What's unique about the RN 1500 is that Magicshine offers the light in three eye-catching anodized colors: Space Gray, Wine Red, and Deep Blue. The colored finishes allow you to match the light with your bike color scheme. The RN 1500 is not only stylish but also offers modern amenities such as USB-C charging port (which supports USB C2C) and a Garmin compatible quarter turn mount. Thanks to an integrated 5000mAh 21700 Li-ion battery the RN 1500 is also capable of an impressive 1500 lumen output. Road cyclists or commuters will particularly appreciate the soft beam cut-off that reduces glare and focuses more of the beam onto the ground.
RN 1500 ALL-IN-ONE BIKE LIGHT
FOR ALL CYCLING ADVENTURES

Magicshine colorful RN 1500 features 1500 lumens, lightweight design, USB-C charging and discharging function, impressive IPX 7 waterproof rate, and 5000mAh capacity. It is simple and easy to use, with just one button for all functions: ON/OFF, lighting modes, and levels. Press and hold the button for 1 second to turn on/off the light. When the light is on, a single press will cycle through low, mid, and high and double press to enter flash mode. The last used brightness level or flash mode will be remembered the next time the light is turned on. TTA is a perfect partner to use with RN 1500 as it adopts the standard GARMIN quarter-turn style mount, and the handlebar mount goes with four different sizes straps that are easily compatible with all the handlebars you already own. A Garmin to Gopro Adapter is also included so the light can be fastened to your out-front mount.
Features
● 1,500 lumens max of verified output with high efficiency LED.
● Anti-glare lens for oncoming traffic, increase riding safety.
● Side lighting for better side visibility.
● Powered by a 21700 integrated battery with 5,000mAh capacity.
● 3 brightness settings and 2 flash modes.
● Easy-to-read battery power indicator.
● Full aluminum alloy housing ensures longer life durability.
● IPX7 waterproof rate guarantees resistance to extreme weather.
● Universal Garmin quarter turn style mount, easy to put on and take off.
● Memory function saves the last selected mode.
● USB-C fast charging and discharging port.
● Available in three colors: space gray, flame red and lake blue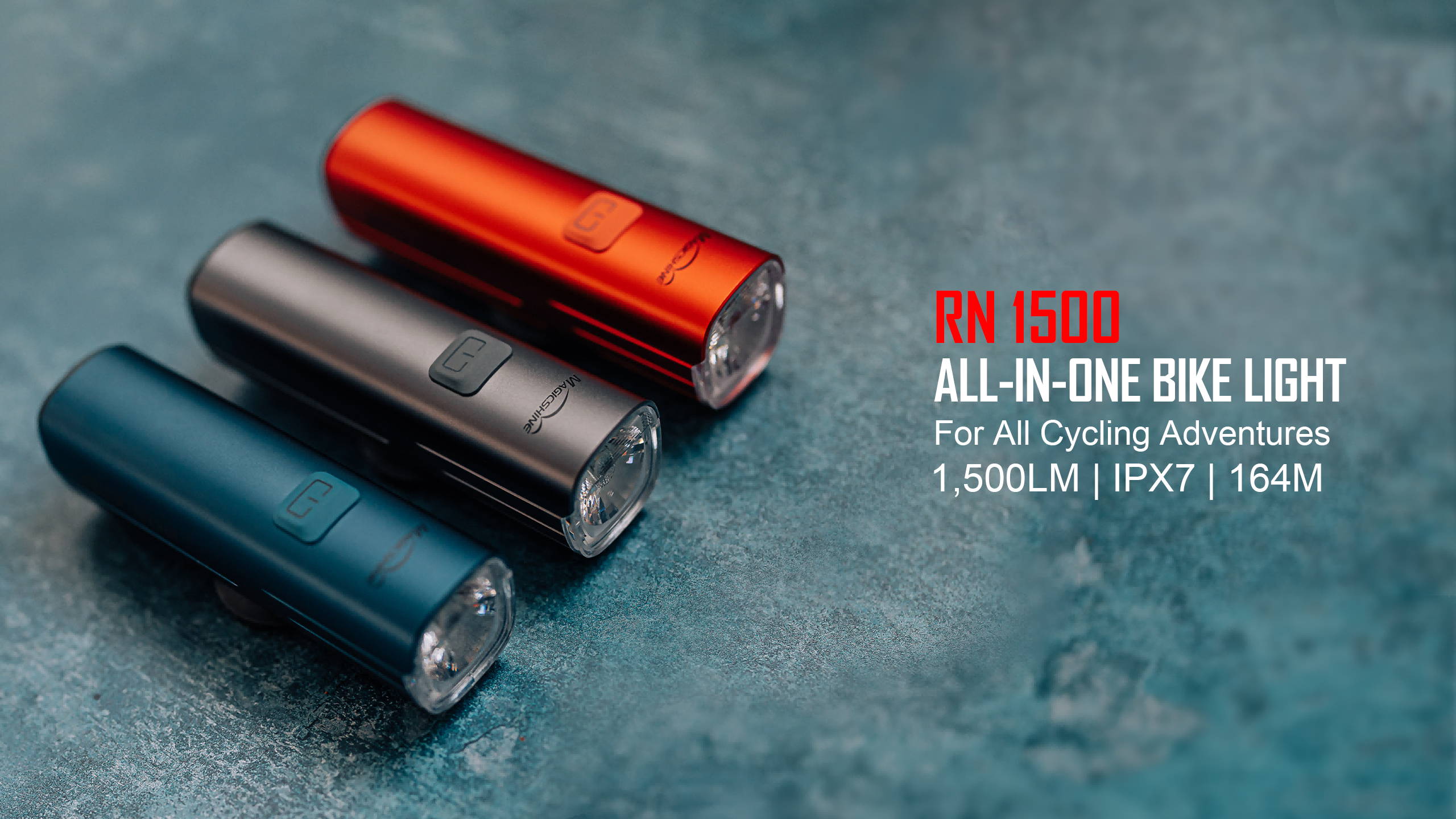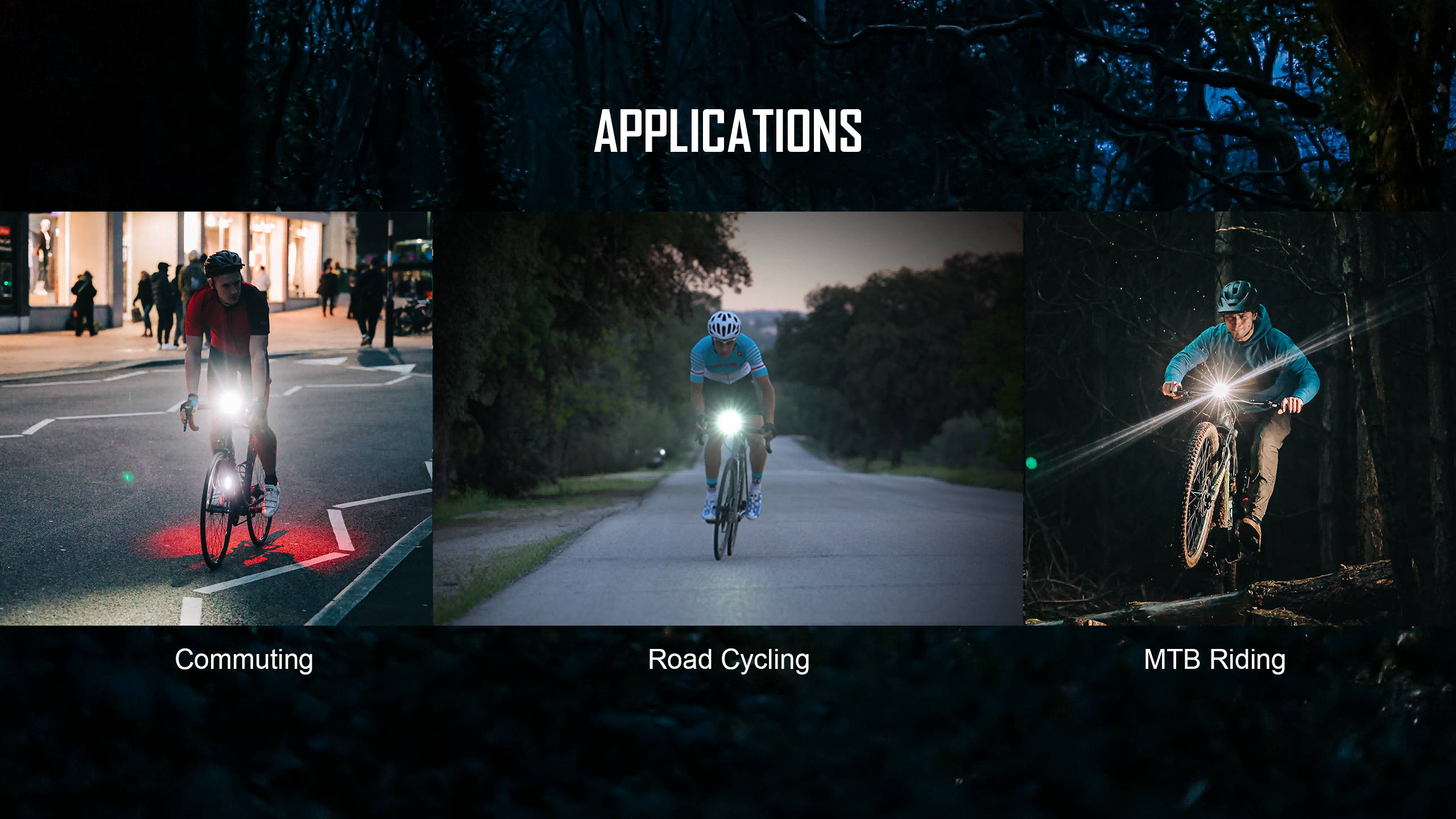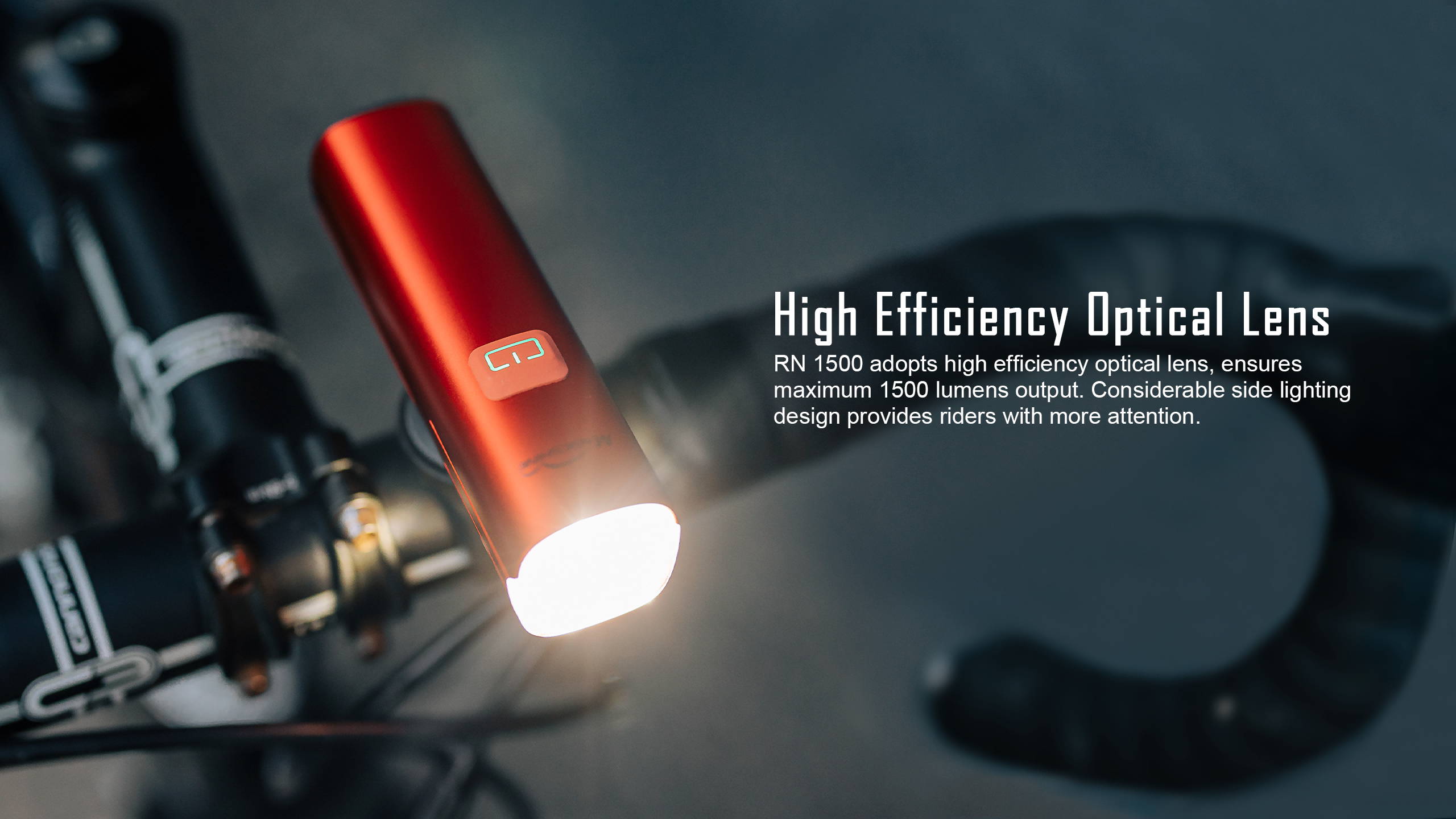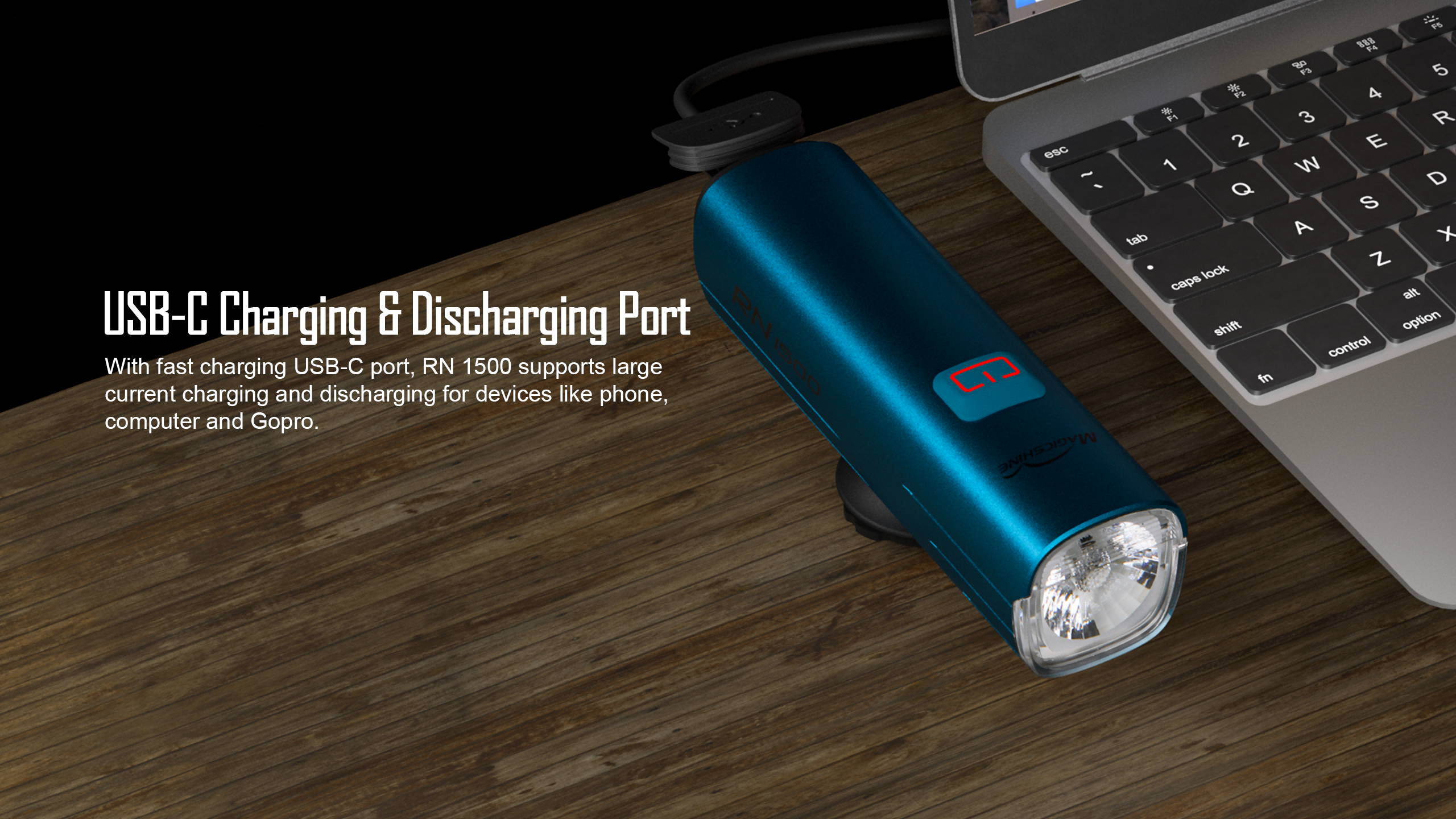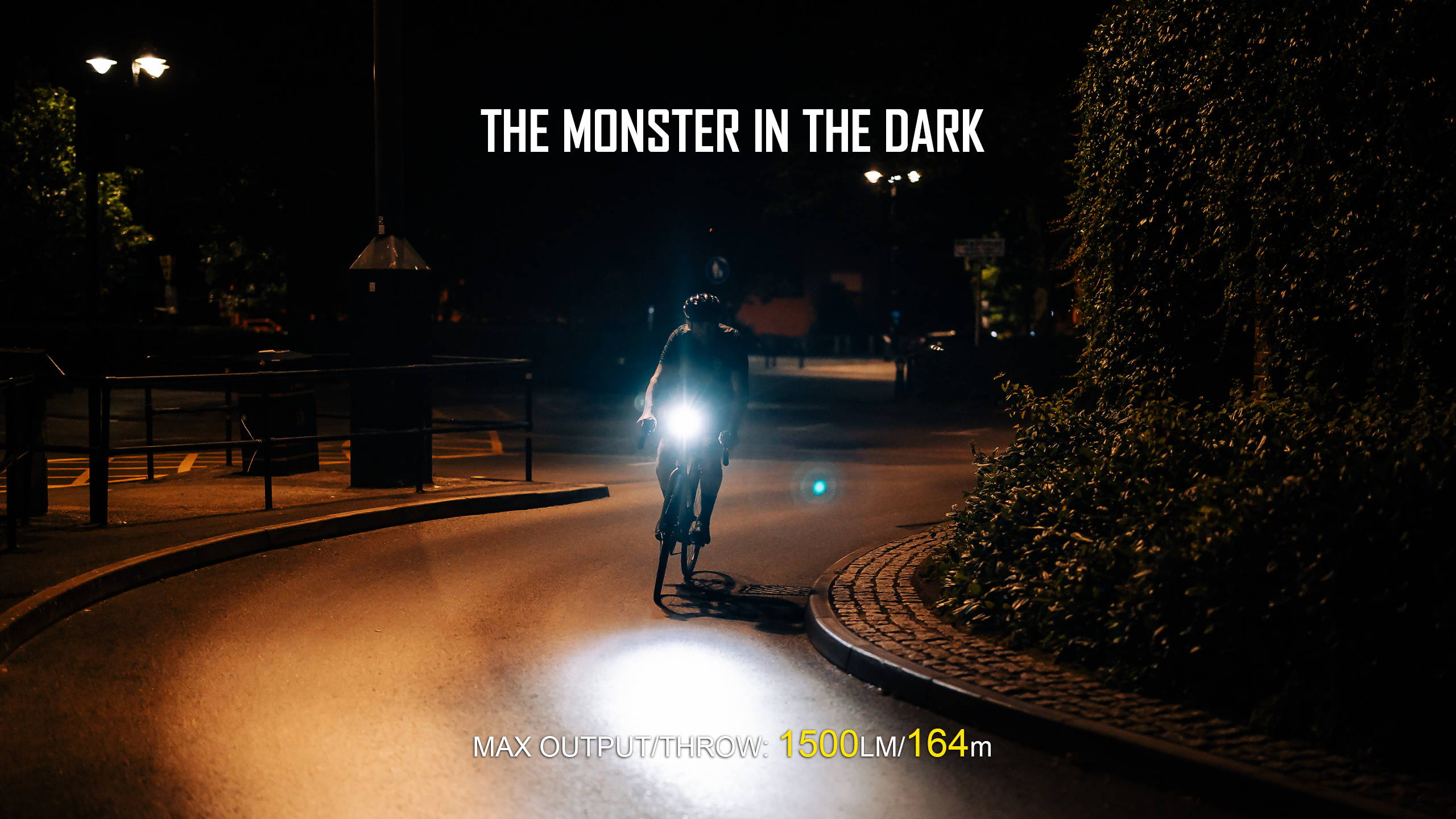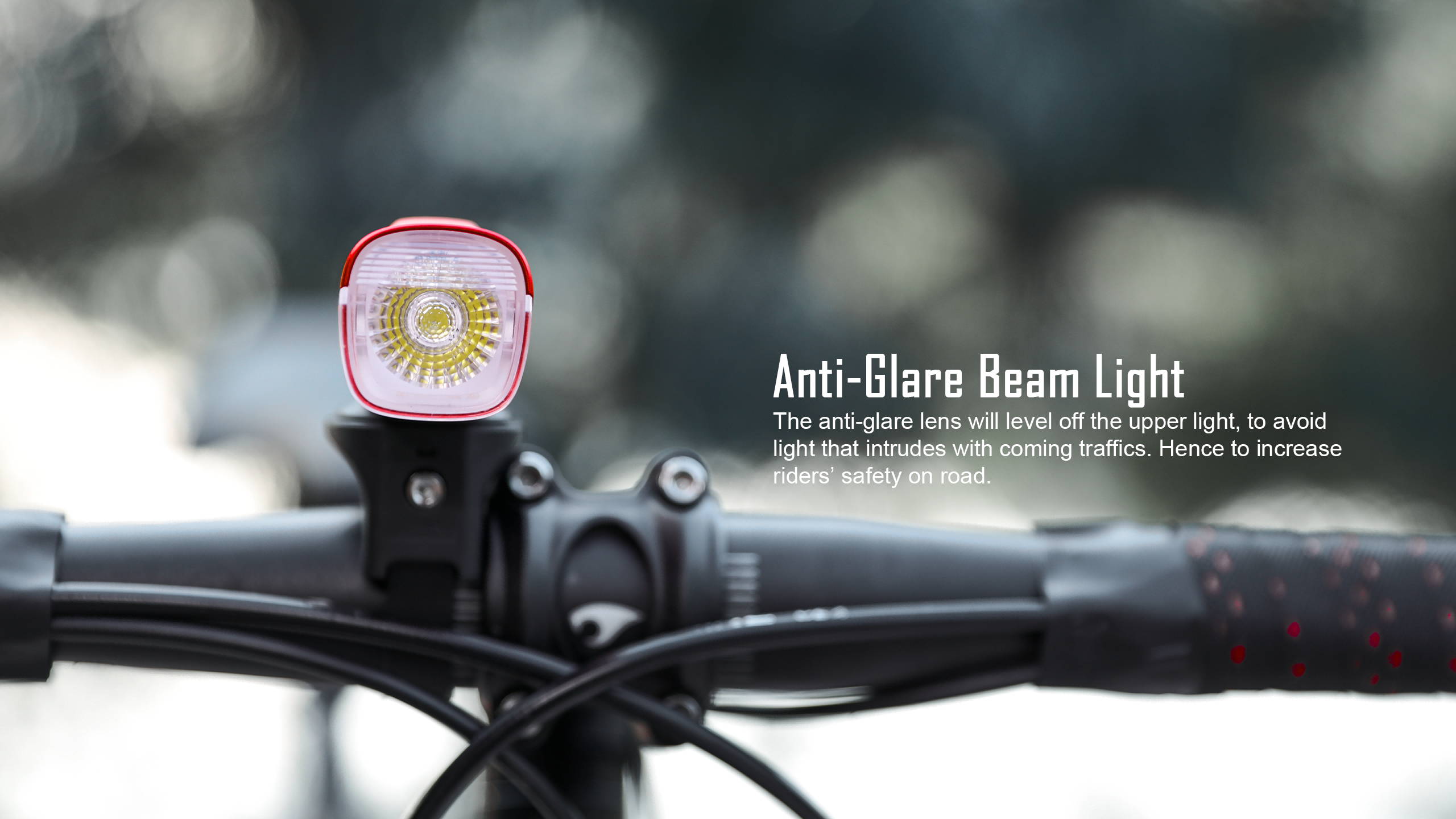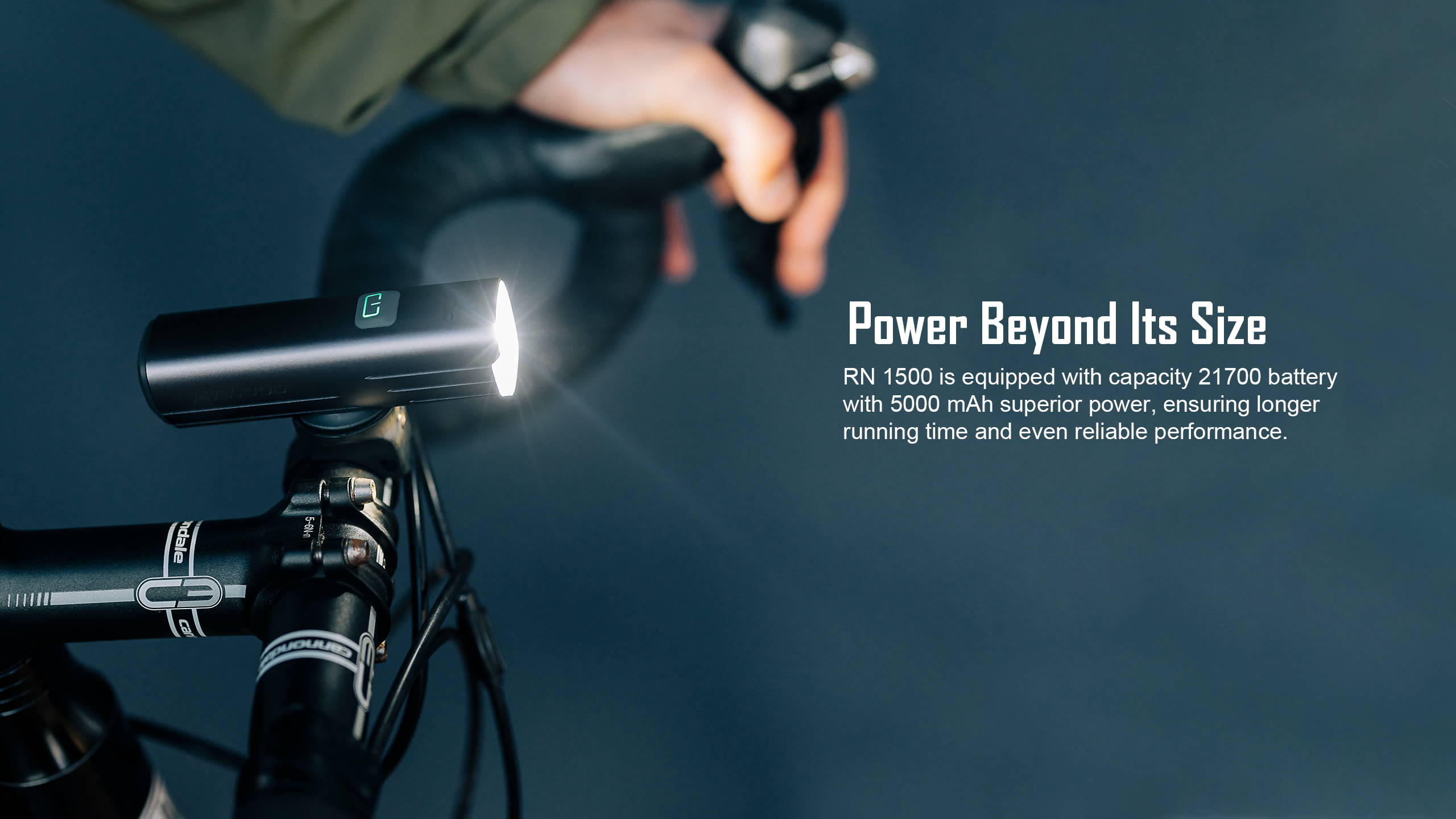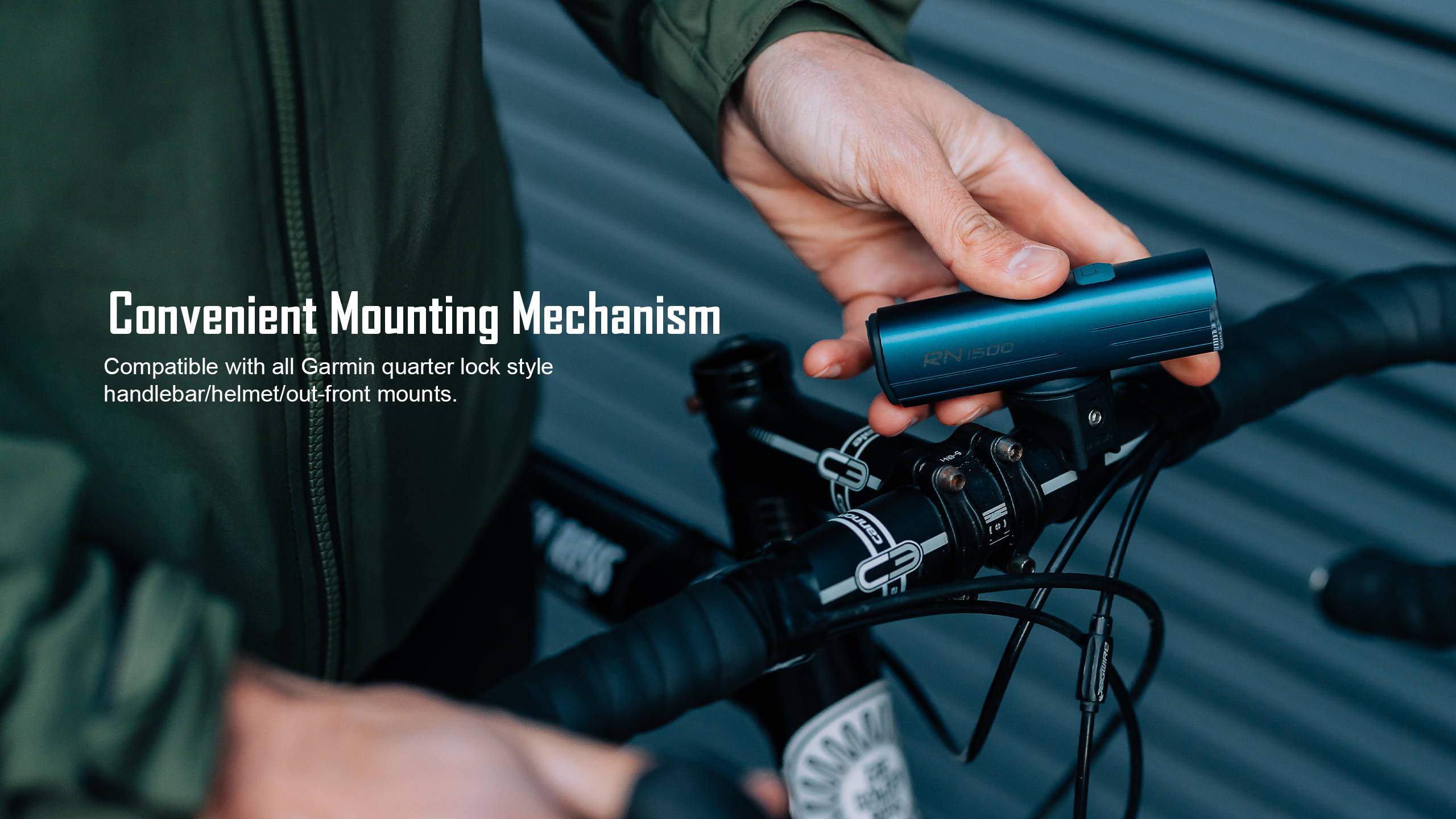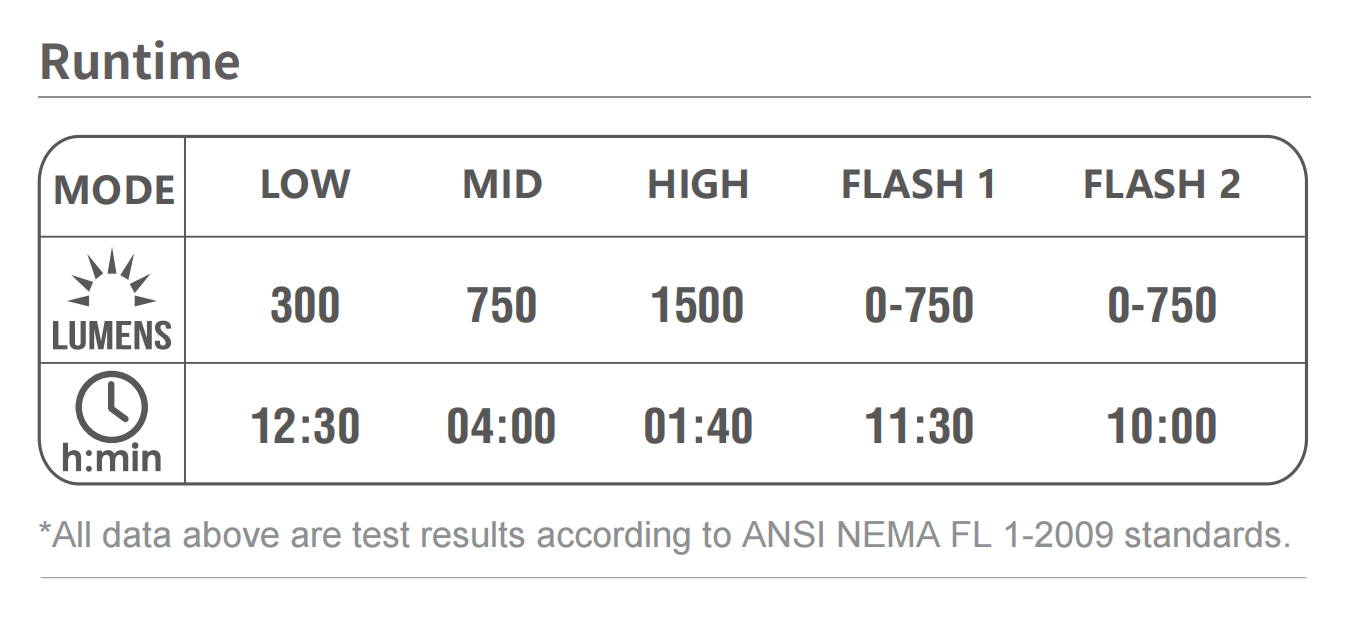 DIMENSIONS
LENGTH: 4.21 IN / 107MM
WIDTH: 1.22 IN / 31MM
HEIGHT: 1.22 IN / 31MM
WEIGHT: 6.06 OZ/ 172G

BODY MATERIAL
Seamless one-piece aluminum

BATTERY SOURCE
3.6V 5000mAh 21700 Battery x 1 (Included)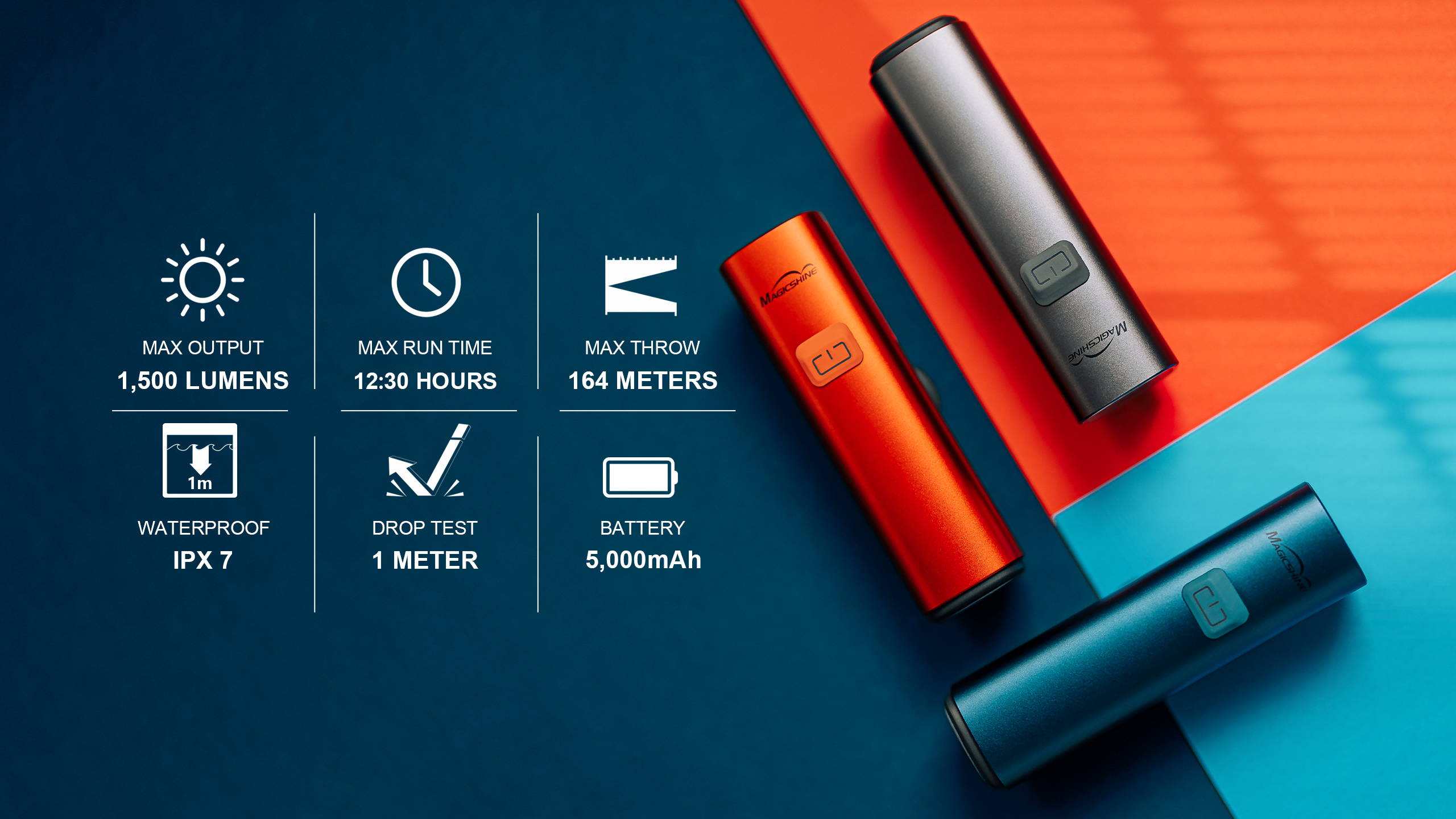 Box Contents
RN 1500 (Batteries Included) x 1
Handlebar Mount x 1
Garmin to Gopro Adapter x 1
Silicone Strap x 4
USB-C Cable x 1
3mm Hex x 1
User Manual x 1
2 years warranty