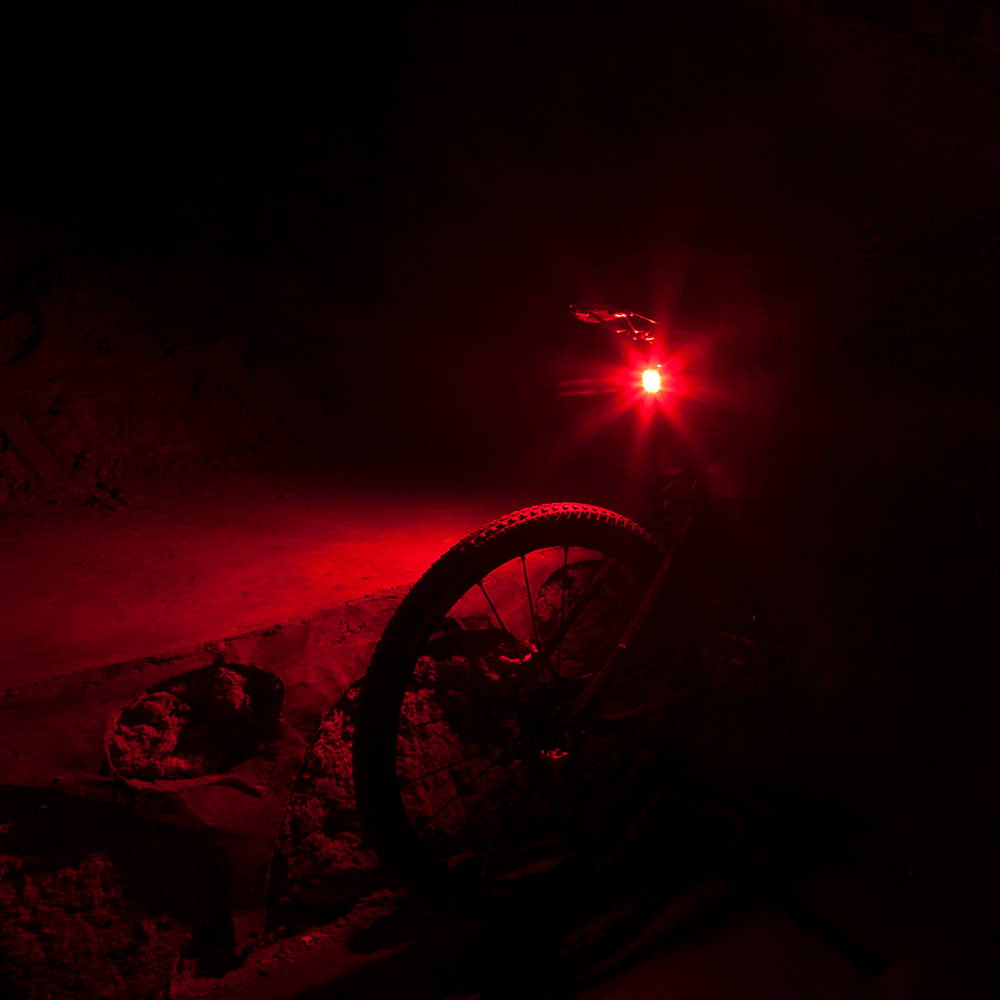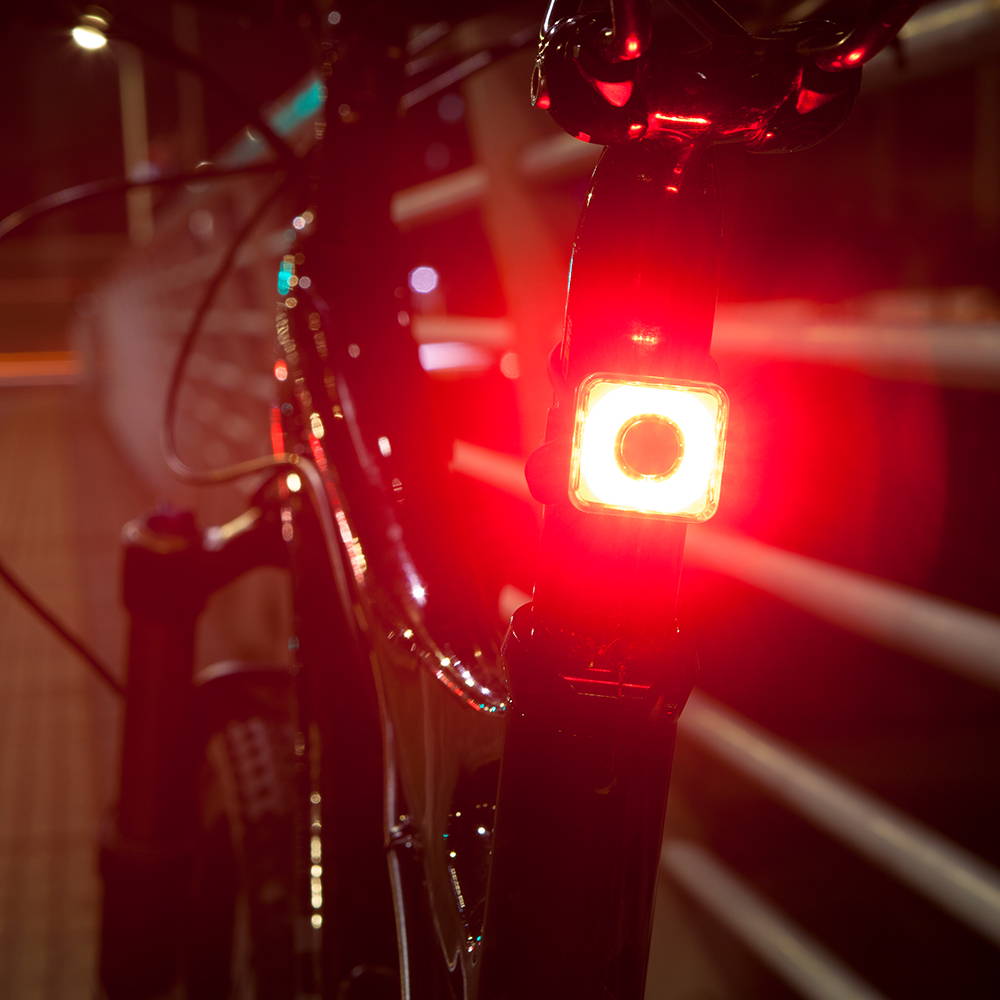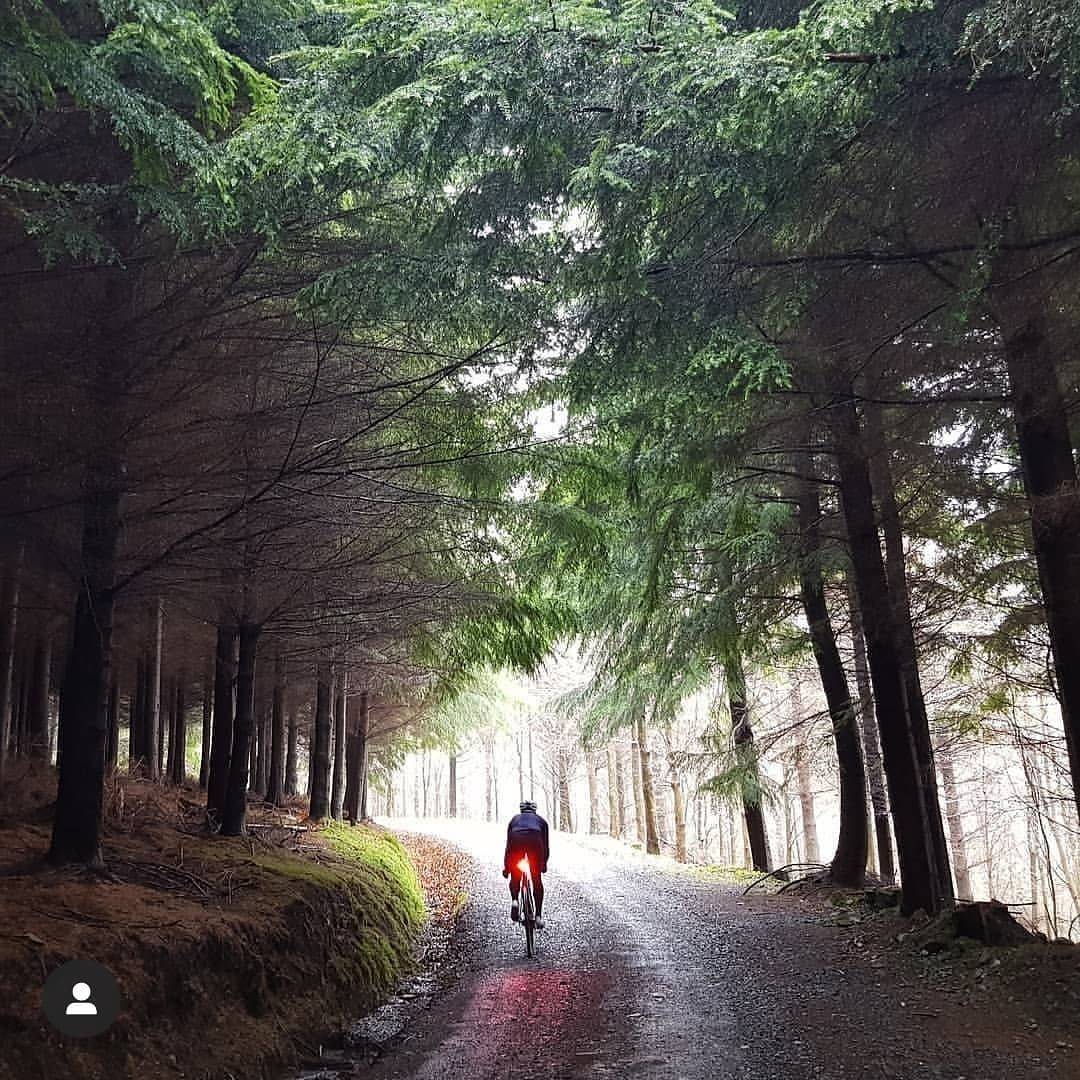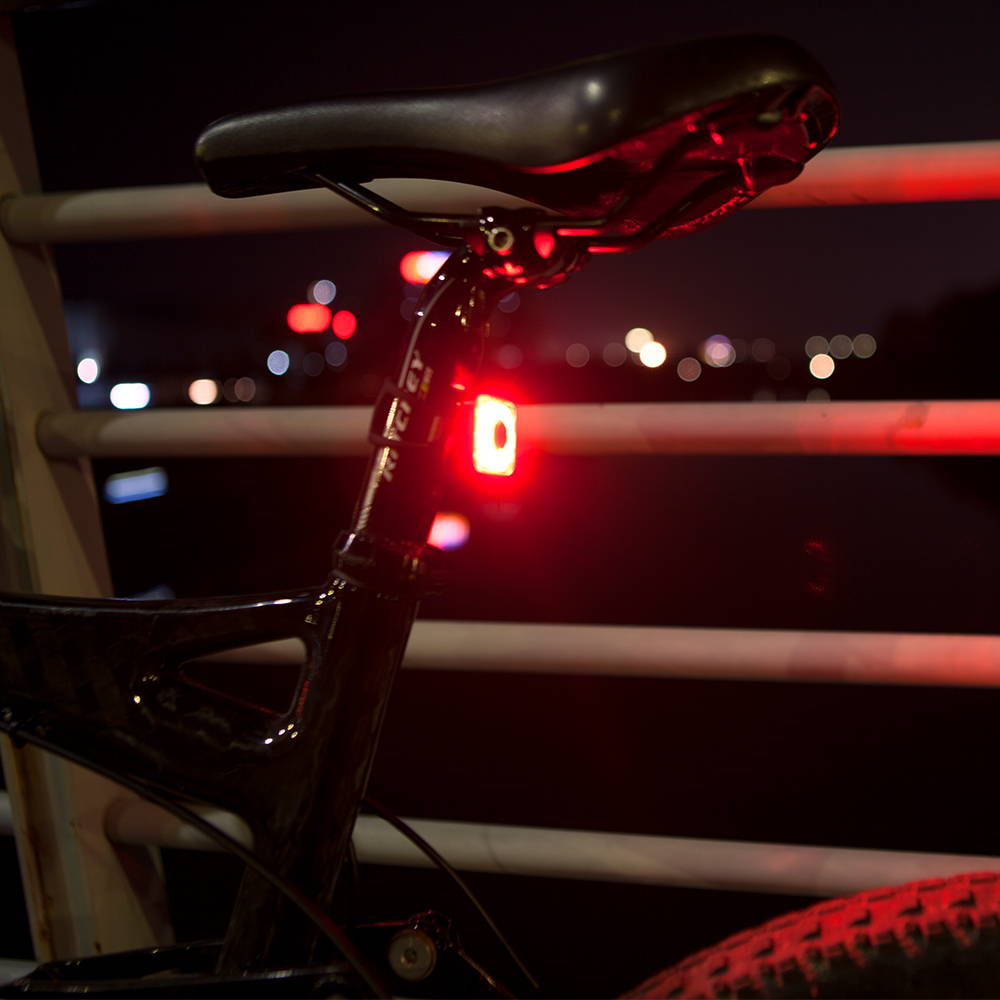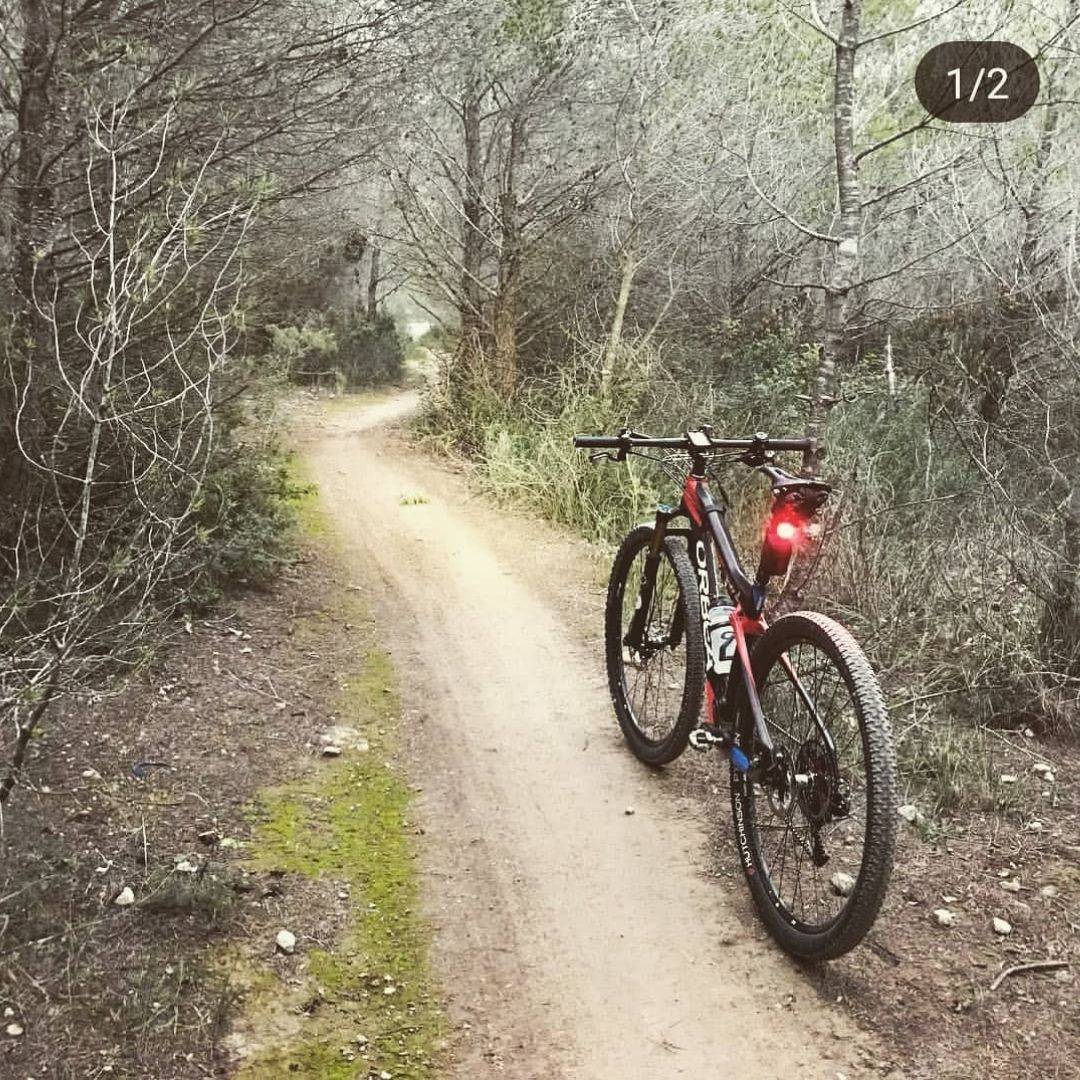 High powered COB red LED light source producing a max output of 20 lumens, capable of 180 degrees of visibility.
High powered COB red LED light source producing a max output of 20 lumens, capable of 180 degrees of visibility. One constant and 2 flash modes in 3 different brightness settings. Micro USB plug under its waterproof silicone port cover allows the bike taillight to be charged almost anywhere. Built in Lithium battery provides one and a half hour runtime on brightest constant mode, and 3 to 4 hours of continuous use on either of the flash modes on brightest.The built in mounting base for the Seemee 20 rear bike light has a degree of slant so when installed, the lumens point straight backwards, securely held in place with silicone o-ring, the tail light is easily mounted and dismounted for each ride. Power button is big and built to the center of the unit, easily accessible with gloves.

USB RECHARGEABLE BIKE BLINKER-- SEEMEE 20 bicycle tail light is rechargeable via Micro USB.

A full charge will take 1.5 to 2 hours under 5V/500mA.

SUPER SMALL AND LIGHT WEIGHT -- Weighing only 17g, and the size not much bigger than a quarter, SEEMEE20 is perfect for casual cyclists and even kid's bikes.

SPECIAL MOUNTING DESIGN--Mounting base on the rear light is built at an angle of 17 degrees, once mounted, the rear light points straight backwards and not towards the ground.* MODES--One constant and 2 flash modes in 3 different brightness settings .
WHAT ARE INCLUDED:
1* SEEMEE20 TAIL LIGHT
1* USB cable
1* Silicone ring
1* Use manual
1* Warranty card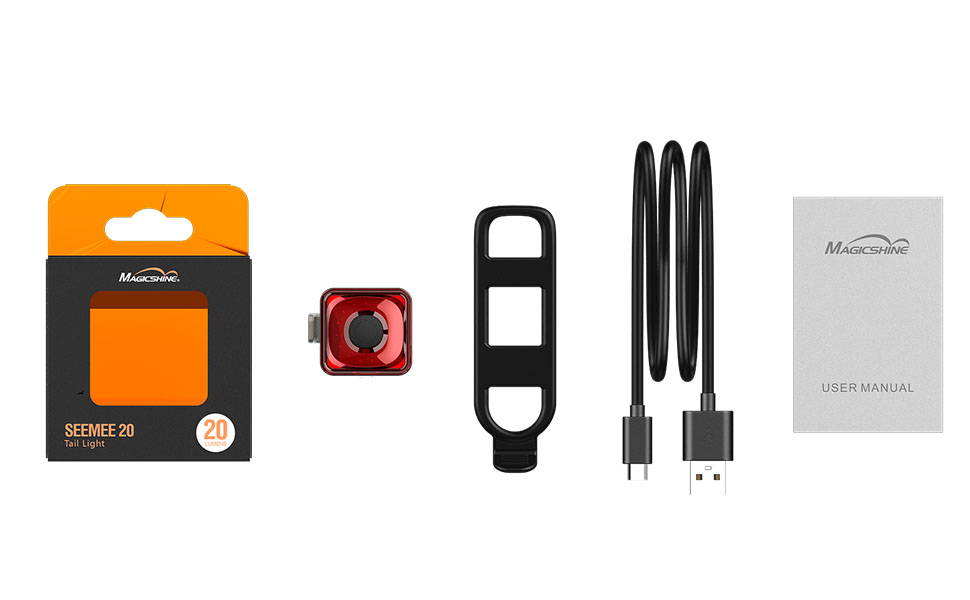 TECHNICAL SPECIFICATIONS
-Lumen: 20
-Runtime: 1.4H-21.7H
-Battery: 240mAh
-Waterproof: IPX5
-Weight: 0.6oz (17g)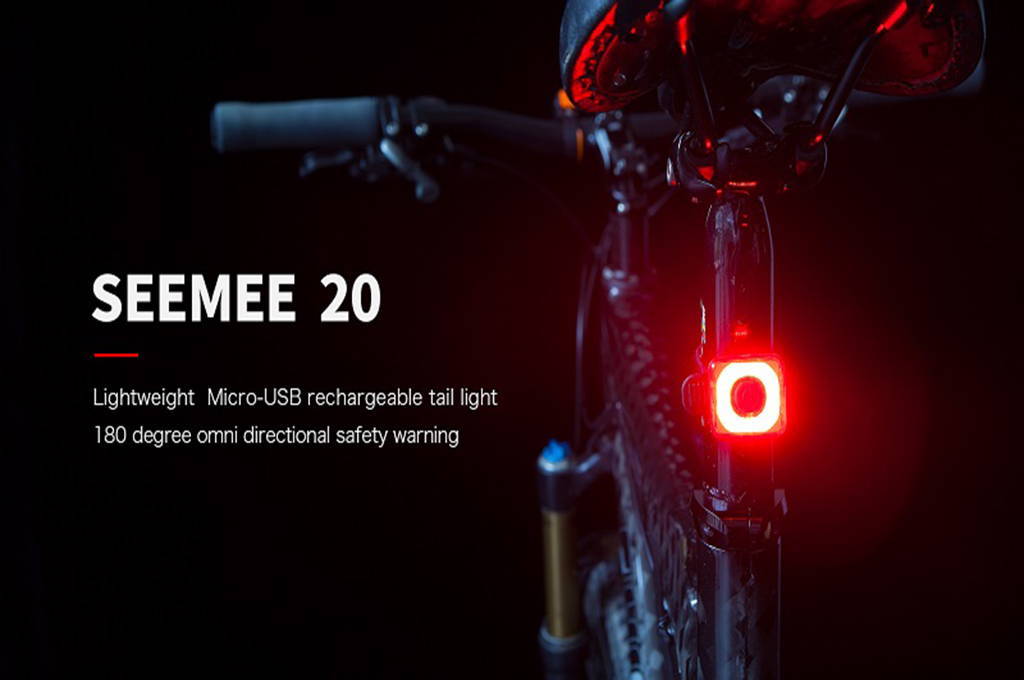 CUSTOMER REVIEWS
1. Already had a few red tail lights but such a great brand that I wanted to give it a try… Now this is the main one I am gonna use… Very bright, long charge life, easy to use, etc… Just wish there was a way clip it to my shorts, helmet, or basket because it's kinda blocked by the tire or basket (unfortunately necessary) when strapped to the frame; then again I can figure a way to make this work
2.Fast shipping, came with light and o-ring. The mounting base is built into the light at an angle so when installed the light is slanted upwards and not pointing to your back tire. It fits perfectly well as the o-ring is very elastic and has 2 clips. It says 20 lumens and I don't know how these thing are measured but it's definitely enough if not more than I need. I use the middle brightness on one of the flash modes, only needed to charge it once every few days.
3.I use it for city commutes and went through so many tail lights over the years, most starts well but just falls apart, or some that are just pointlessly bright, which to me is just stupid to have. We are trying to avoid accidents aren't we? Figured I'd get one from a notable brand this time. This light does the job well, it's small, just bright enough, 2 flash modes and a constant and seem to last a long time on a single charge. Price is very budget friendly too. I'd recommend it to anyone that ride bikes in city traffic.
1. How to check my order status?
A: After you register on our website, log in from our system, you can check your order status in real time.
2. What's the shipping method?
A: There are two ways of logistics, express and postal. According to the region, our system will automatically allocate logistics, you can contact us directly if you want to change your shipping method to express. Order inquiry: mkt1@magicshine.com
3. How long does it for my order to get to me?
A:Usually delivered within 5-15 working days.
4. What's the shipping cost?
A: Order over 69.99$. Free shipping cost
order shipping cost
29.99$-69.98$ 9.99$
-29.98$ 14.99$
5. How / when will you refund my tax?
A: Providing logistics company documents, sent to mkt1@magicshine.com.
We will refund the amount to your payment account within 24 hours.
6. How to contact customer service?
A: For any question on product or availability, please feel free to contact us below:
Service Inquiry: service@magicshine.com
Order inquiry: mkt1@magicshine.com
PS: The order confirmation email will be sent to you after you place your order, maybe you can check it in your spam box.
Tel: (+86)755-29553669
WhatsApp: +86 137 6169 2016