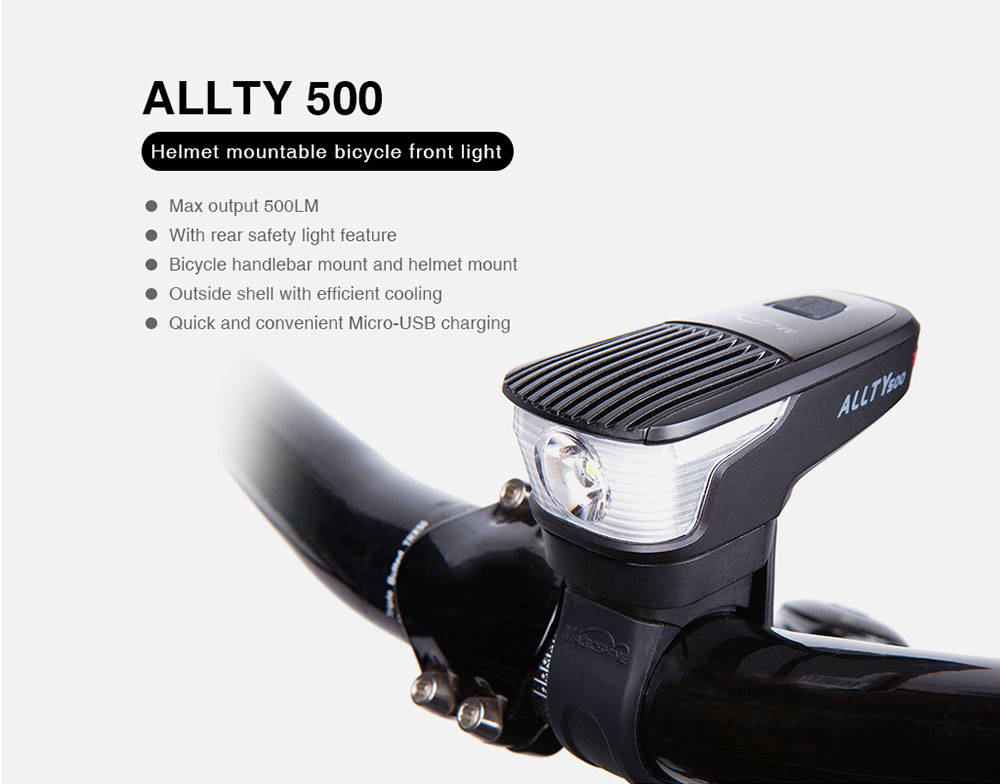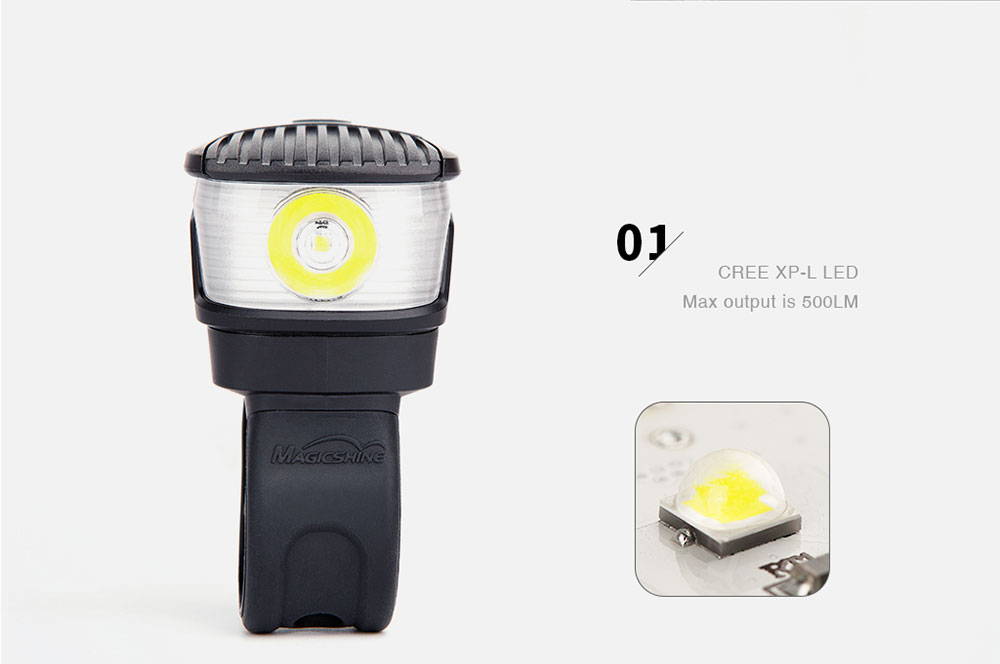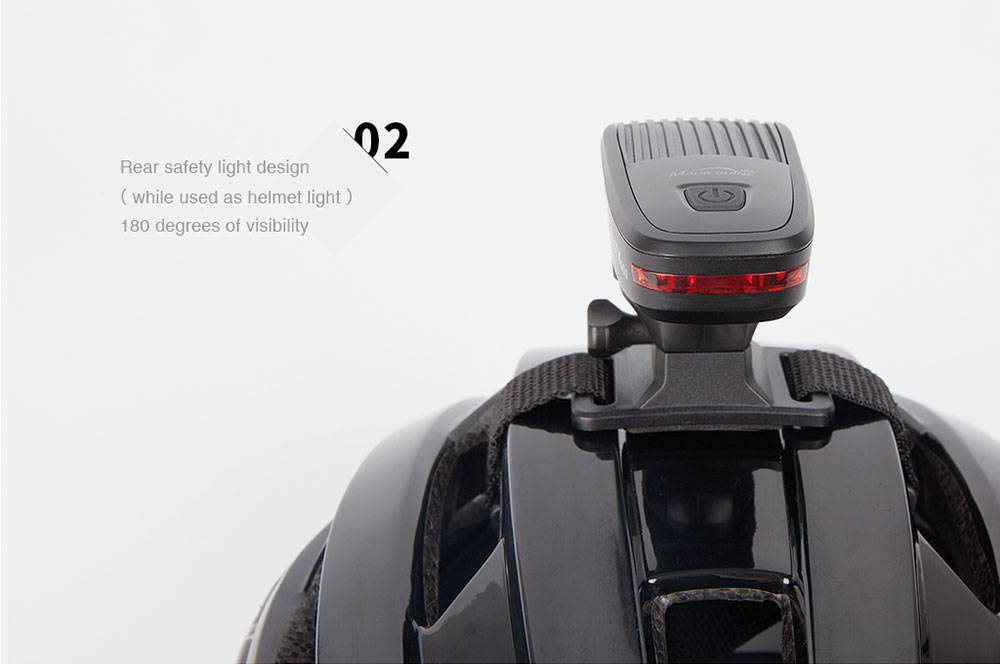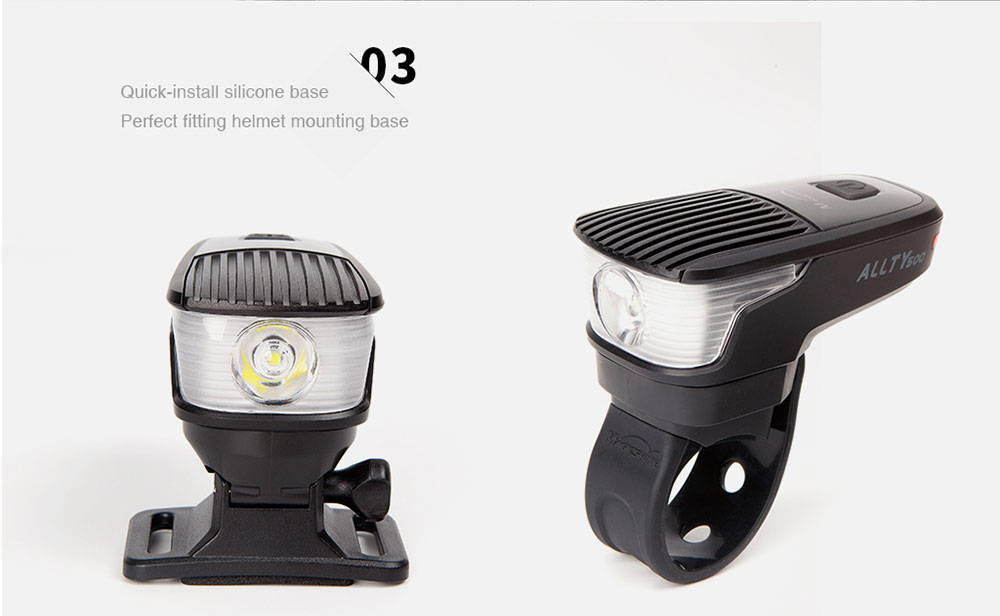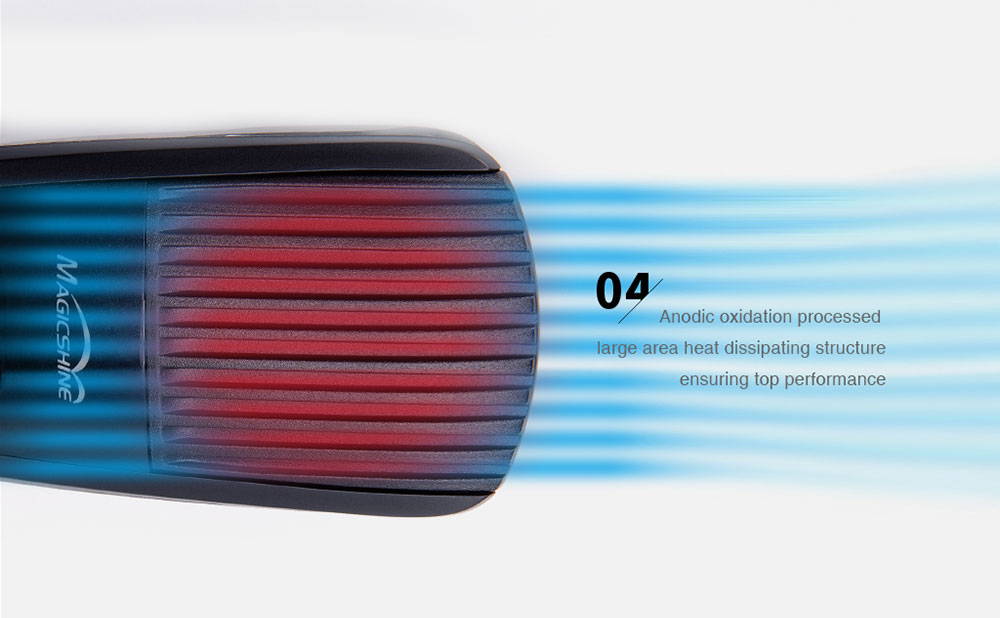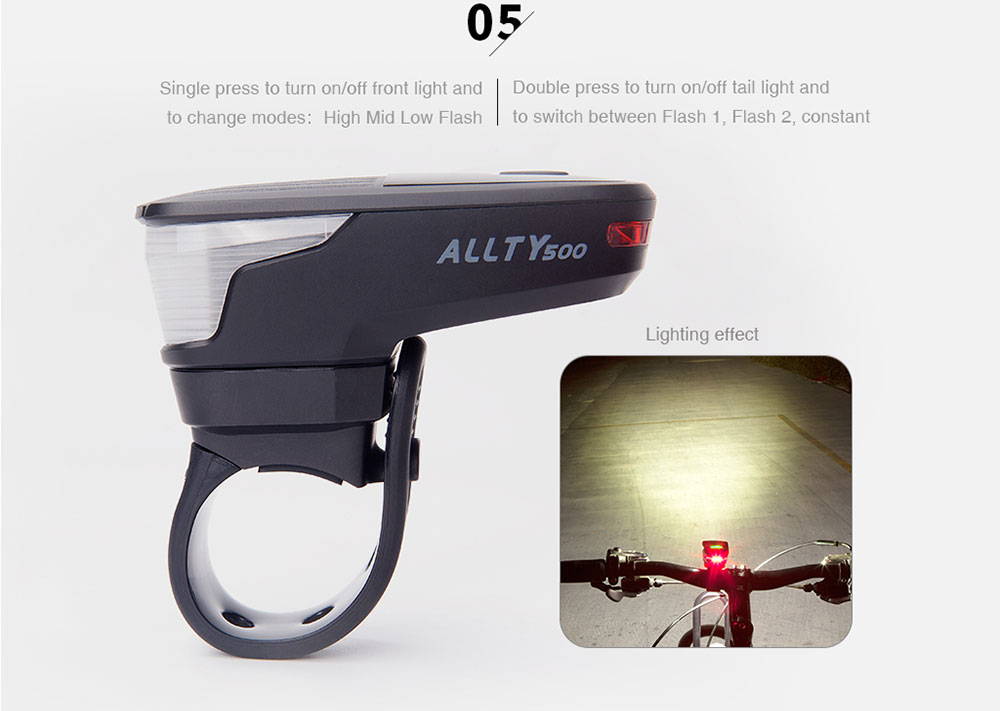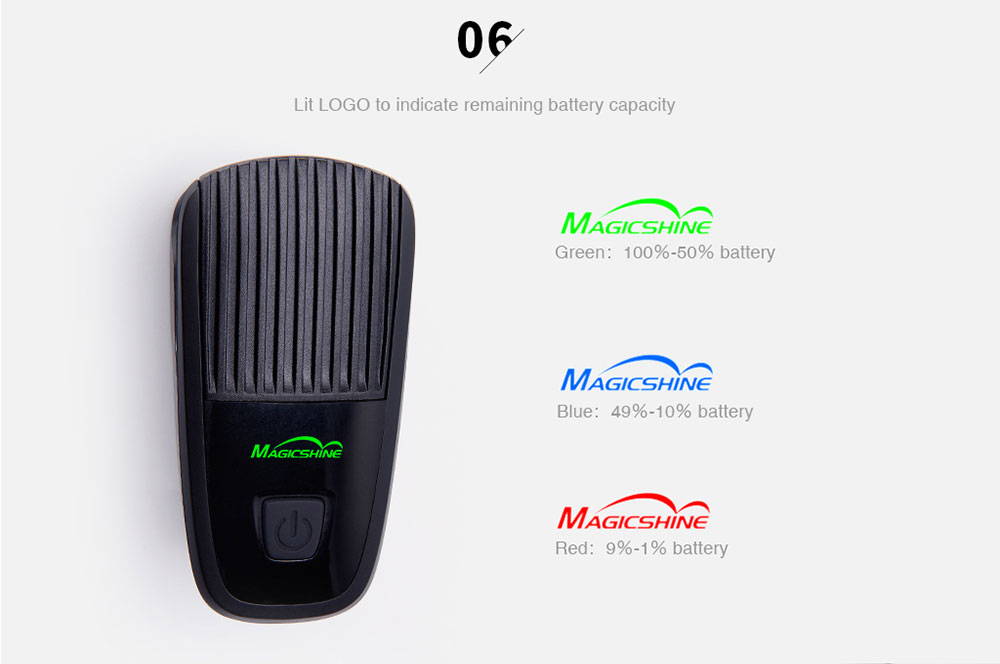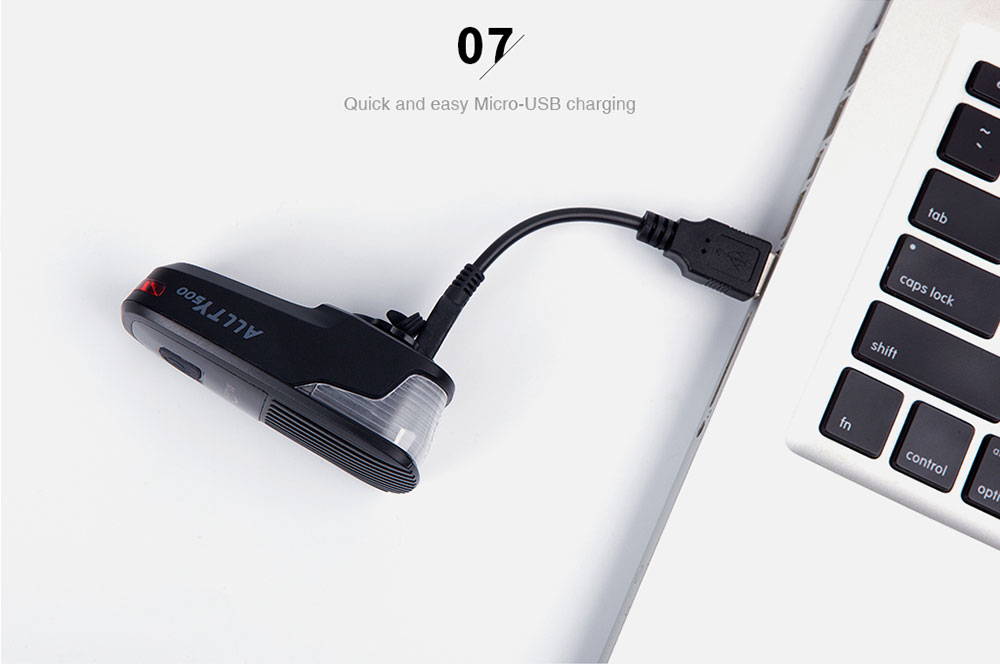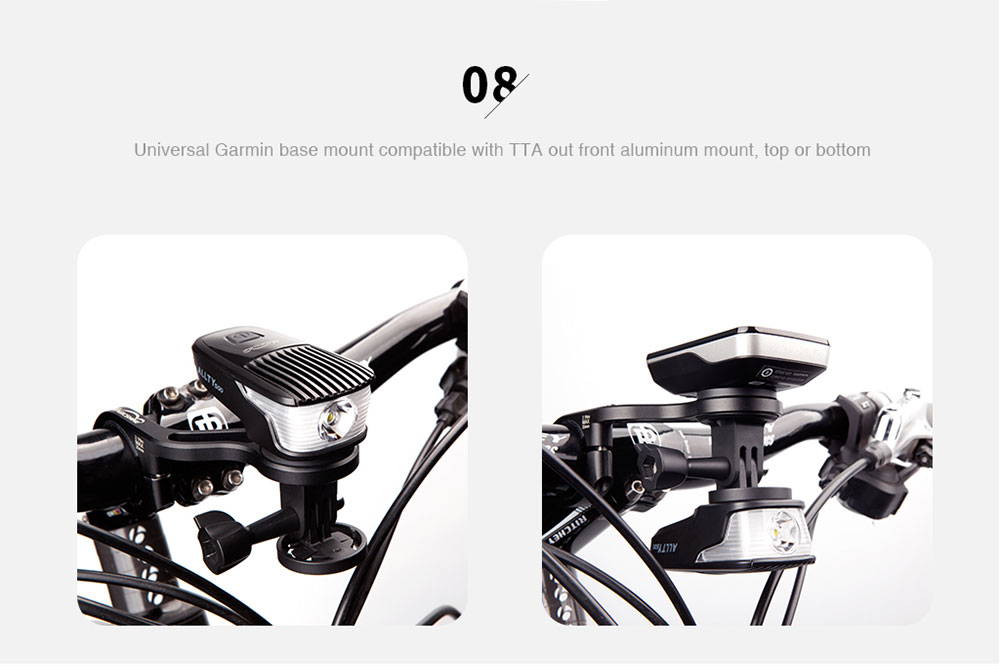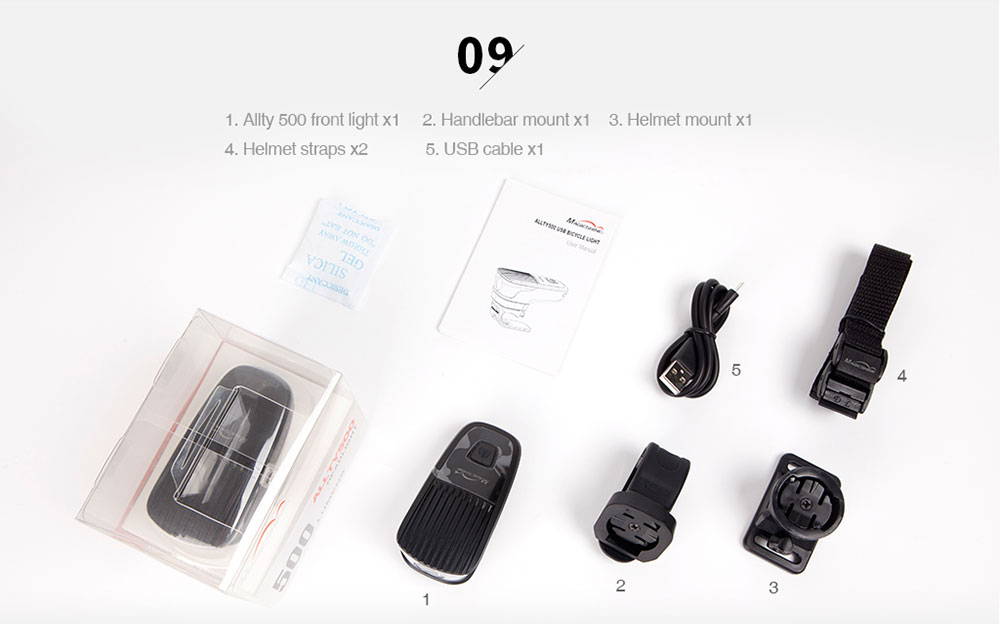 DIMENSTION
4*3*3 in
LED MODEL
CREE XP-L
OPERATING TEMP
-20 to 40 Celcius
LIGHTING MDOE
Front: high,mid,low,flash
Tail: constant, flash1,flash2
LUMEN
High:500 Mid:250 Low:75 Flash:0-120
RUNTIME
High:1.5 Mid:2.8 Low:8.5 Flash: 5
CHARGINGTIME
1.5-2H
Unlike most traditional all in one bicycle headlight models, the Allty 500 has a 180 degree visibility red LED safety light built into the rear, this is especially useful when used on the helmet.
The Allty 500 utilizes its CREE XP-L LED to produce a max output of 500 lumens with its front light. Conveniently USB rechargeable, universal mounting base and by default 2 methods of mount straps makes the Allty 500 our most versatile LED light for bike for casual cyclists.

Area right above the LED light source sits a large heat dissipation sink, efficiently cooling the light head even at max setting and with limited air flow. Single quick press on the power switch to turn on/off the front light and cycle through high, medium, low and flash modes. The red LED built in safety light offers a constant mode and 2 flash modes, controlled independently by double quick pressing the power switch.
Allty 500 uses universal Garmin style base, and is compatible with our TTA out front aluminum mount.

The package includes the rubber handlebar mount strap and an adjustable angle helmet mount. If you are looking for a budget friendly, light weight, highly portable and convenient all in one bicycle headlight, you should definitely give Allty 500 a Go !

1. How to check my order status?
A: After you register on our website, log in from our system, you can check your order status in real time.
2. What's the shipping method?
A: There are two ways of logistics, express and postal. According to the region, our system will automatically allocate logistics, you can contact us directly if you want to change your shipping method to express. Order inquiry: mkt1@magicshine.com
3. How long does it for my order to get to me?
A:Usually delivered within 5-15 working days.
4. What's the shipping cost?
A: Order over 69.99$. Free shipping cost
order shipping cost
39.99$-69.98$ 9.9$
19.99$-39.98$ 14.99$
-19.98$ 29.99$
5. How / when will you refund my tax?
A: Providing logistics company documents, sent to mkt1@magicshine.com.
We will refund the amount to your payment account within 24 hours.
6. How to contact customer service?
A: For any question on product or availability, please feel free to contact us below:
Service Inquiry: service@magicshine.com
Order inquiry: mkt1@magicshine.com
PS: The order confirmation email will be sent to you after you place your order, maybe you can check it in your spam box.
Tel: (+86)755-29553669
WhatsApp: +86 137 6169 2016