MJ906S All-Around Bike Headlight
MJ 906S is the updated version of MJ 906. It continued the lightweight design while upgrading the battery pack, lens design, and mounting method. Furthermore, it now supports the popular E-Bike's power system.

Lumen: 4500
Battery: 7.2V 10000mAh
Waterproof: IPX 6
Runtime: 1.5-50 H
Application: Bike and E-Bike

MJ 906S

MJ 906S+TTA

MJ 906S+MJ 6276 Helmet Mount +MJ 6275 Extension Cable
Guarantee safe & secure checkout
Product Review
Main Features
Tech Specs
What's in the box
Video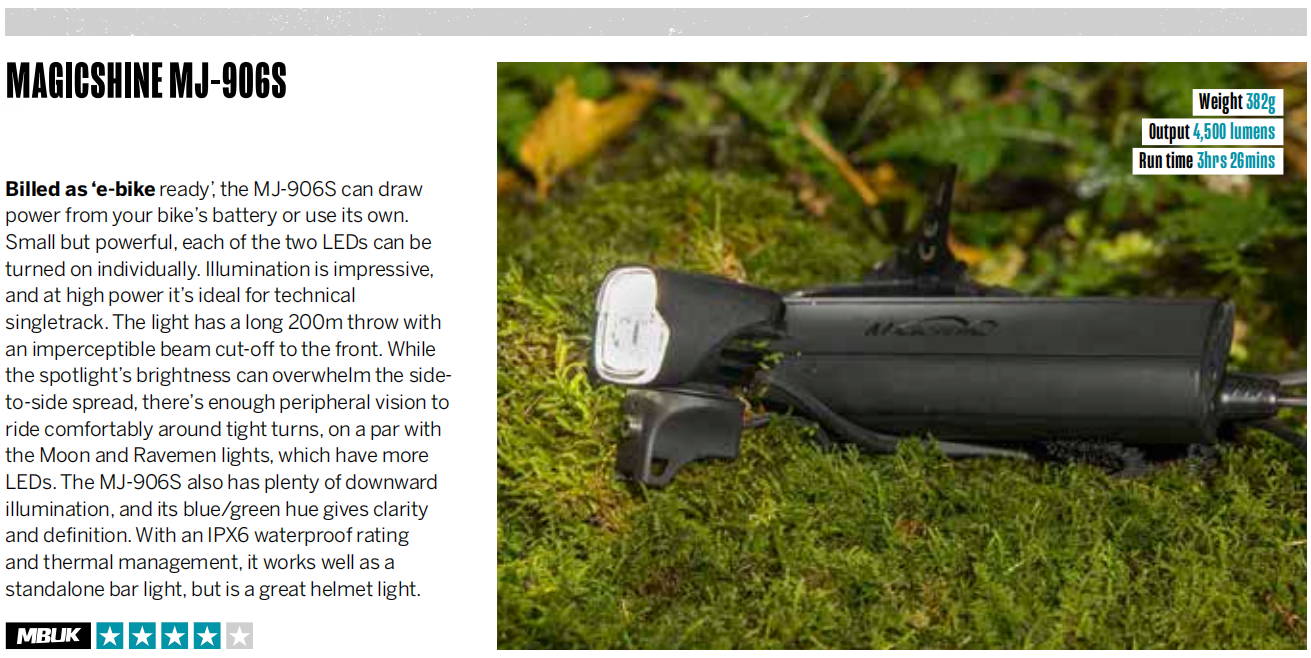 Feburary 19th, 2021 - Andy Lloyd - BikeRadar
The roll-off-your-tongue MJ 906S from Magicshine is a compact yet bright light with a vast array of beam strengths and a number of beam patterns.
Daytime running through to 'burn all the retinas in a mile radius' amounts of light (4,500 lumens) are pumped out by the two main LEDs, with backups providing daylight riding (DLR) capability.
One button on top lets you toggle through the modes, while the light unit itself is attached to bar and helmet alike, via a Garmin-style quarter-turn bracket.
The supplied battery is charged (and also outputs, should you wish) via USB-C, and has a capacity of 10,000mAh for up to 50 hours of burn time.
Battery indicator levels are present too.
However, what's really smart is the electric bike integration. Yes, this light can be integrated in to your ebike's power supply, so you'll never forget to charge your light battery again (unless you count your ebike battery as your light battery). It works with Brose, Bosch, Shimano and Yamaha systems.
October 28th, 2021 - Alex Evans - BikeRadar
For its weight and size, the MJ-906S is an impressive performer, packing a big punch.
It's perfectly usable as a standalone bar-mounted light, but because of its lightweight, I think it would be best as a helmet-mounted light accompanying a dedicated bar unit.
Pairing this with the Monteer 8000S would create a formidable package.
February 2nd, 2021 - Thesweetcyclists
October 7th, 2021 - MTB Telly
February 5th, 2021 - Locked in
MJ 906S Best Mountain Trail Bike Lights
Magicshine MJ 906S is equipped with two super bright and power efficient LEDs, with a maximum verified output of 4500 lumens.

It provides 15 possible brightness settings including Daytime Running Light mode, covering all environments and riding scenarios.
Aside from the independent Daytime Running Light mode, we have further improved on the safety features for the road and urban cyclists, including side lighting and vertical lens grating, making it easier on the eyes of oncoming traffic.

MJ-906S is powered by our latest and most advanced USB-C battery pack MJ-6118, with a total capacity of 10,000mAh, making the MJ-906S a long lasting night cycling light as well as a travel companion for outdoor camping, road trips.

When powered by an e-bike's electric motor, MJ-906S auto adjusts its output within 6V-12V DC voltage. Compatible with mainstream motors from manufacturers like Bosch, Brose, Shimano and Yamaha. When the day comes to an end, MJ-906S will switch from daylight mode to night mode automatically without user input.

No matter day or night, MJ-906S is always with you!
MODE:
HIGH
MID
LOW
ECO
DRL
Lumen:
4500LM
2500LM
1800LM
800LM
35LM
Runtime:


1.5H
3.0H
5.5H
17.5H
50H
E-BIKE MODE
Brightness VS Power
Limited Power(W)
Product Power (W)
Brightness
(LM)
10
4-8
400-1000
20
10-18
1800
30
20-28
2800
50

100
30-45

45-51
4000

4500
Box Contents

1* MJ-906S Light Head

1* MJ-6118 Battery Pack

2* Battery Straps

1* Handlebar Mount(Compatible with Garmin)

1* Handlebar/Helmet Mount Adapter(Compatible with GoPro)

5* Silicone Straps for Handlebars Ø25.4 to Ø35mm & Aero Bars

1* USB Type-C Charging Cable

1* Hex Key

1* User Manual