Monteer 5000S Storm MTB Headlight
Magicshine Monteer 5000S Strom is designed to meet and exceed the expectations for the mass majority of mountain bike riders. Lightweight design and extremely high output with perfect beam pattern for hardcore mountain biking and off-road cycling.

Lumen:5000
Battery:7,000 mAh
Charging Time:2.5-4 Hours
Waterproof:IPX 5
Runtime:2 - 90 Hours 

Guarantee safe & secure checkout
Main Features
Tech Specs
What's in the box
Video
Magicshine Monteer 5000S storm is an ideal mountain bike light for the mass majority of MTB bike riders, high output with balanced beam pattern for hardcore mountain biking and off-road cycling.
5000 lumens of verified max output by custom-engineered lamp cups. The beam pattern was fine-tuned through multiple iterations with the sole purpose of achieving the best possible performance for hardcore mountain bike riders.
The top 3 LEDs offer up to 3200 lumens of max output at 32 degrees beam spread, while the bottom 2 LEDs put out up to 2000 lumens of the spotlight with a more focused 21-degree spread. Each group of LEDs can be activated separately or together for a well-rounded beam pattern. The Monteer 5000S storm mountain bike light is well suited for hardcore mountain bikers, off-road, and Enduro riders, allowing almost daylight performance level.
As a mountain bike light, the Monteer 5000s is expected to endure a fair degree of punishment, the light body is well built with high-quality materials and craftsmanship. IPX65 rating meaning it can withstand heavy rain or snow. The aluminum alloy heat fins are engineered to offer top efficiency in transferring and dissipating heat build-up inside the light casing. The internal thermal protection will throttle max output if the light gets too hot. The Monteer 5000s mountain bike light is designed to perform optimally when the rider is going at medium to high speeds.
7000mAh battery MJ-6116C offers up to 2 hours runtime on max brightness, full-beam mode, and 90 hours on 10% half beam mode. The battery uses 4x 18650 high-capacity Li-ion cells. Charging time is roughly 9 hours under 5V/2A and when not powering the light, the battery cable can detach and the connector port can be covered with a water-resistant silicon plug for mobile power bank use. On a full charge, the Monteer 5000S can be sustained at its max brightness setting for up to 2 hours. Back lit control button will show green when the battery power is above 20%, red between 5-20% remaining, and flashing red at less than 5% remaining. Note: The light's intensity mode will lock into the lowest setting when the power is 5% or less.
DIMENSIONS:

Length: 2.52 in/ 64mm
Width: 1.71 in / 43.5mm
Height: 1.77 in / 45mm
Weight: 4.32 oz/ 122.4g (Light head)
10.29 oz/ 291.7g (battery)
BATTERY SOURCE:
7000mAh Micro-USB Li-ion battery (Included)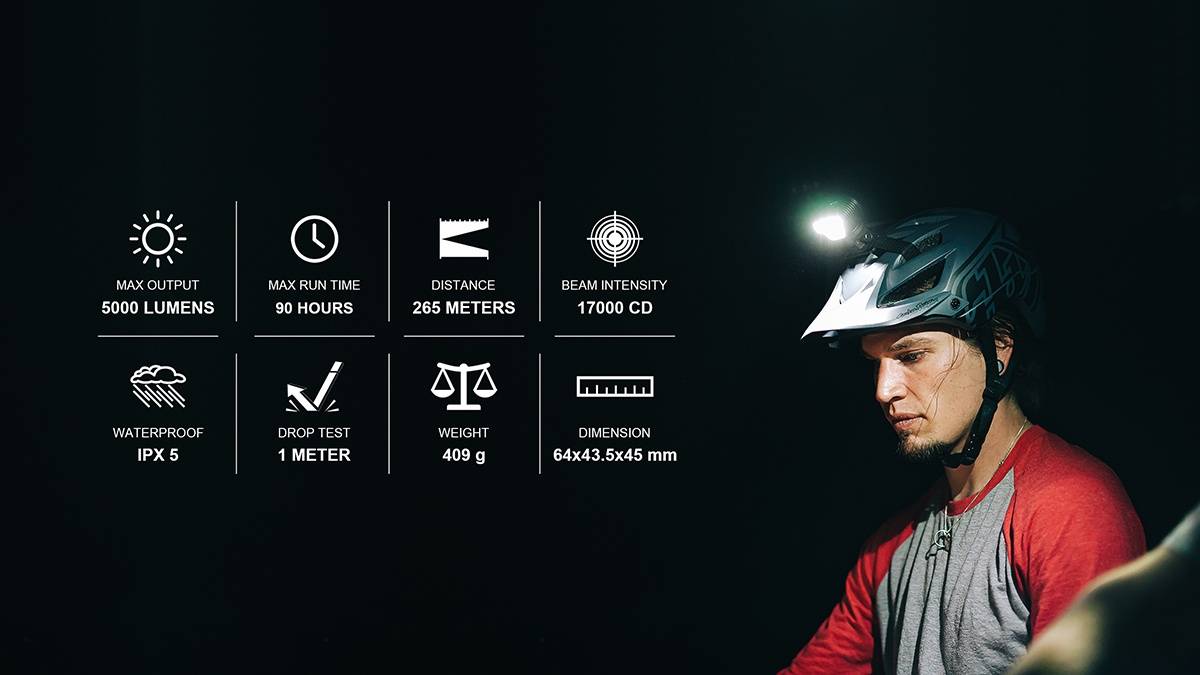 Box Contents
1* Monteer 5000S Light Head
1* MJ-6116C Battery Pack
2* Battery Straps
1* Garmin Handlerbar Mount
5* Silicone Straps for Handlebars Ø25.4 to Ø35mm & Aero Bars
1* Micro-USB Charging Cable
1* Hex Key
1* User Manual