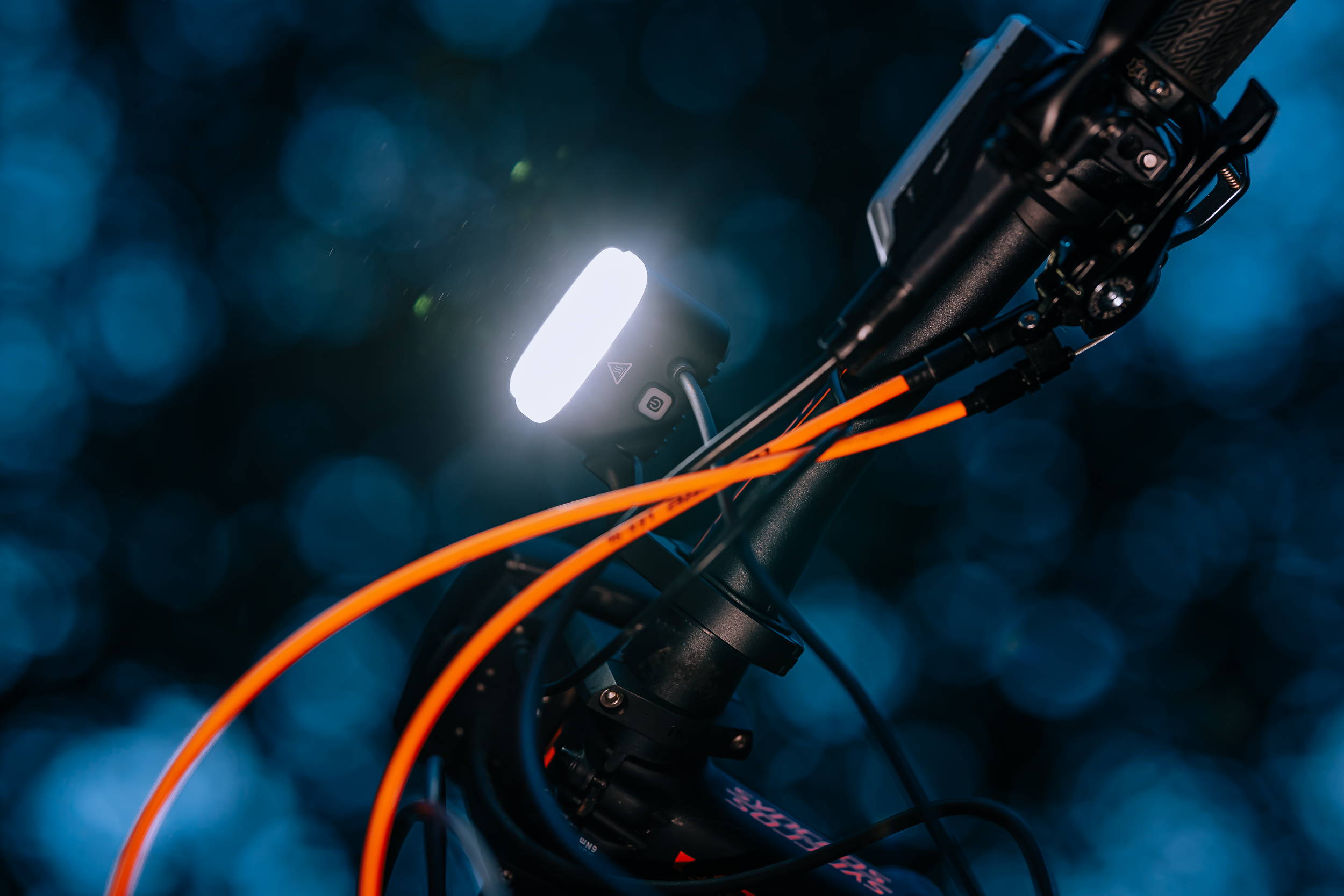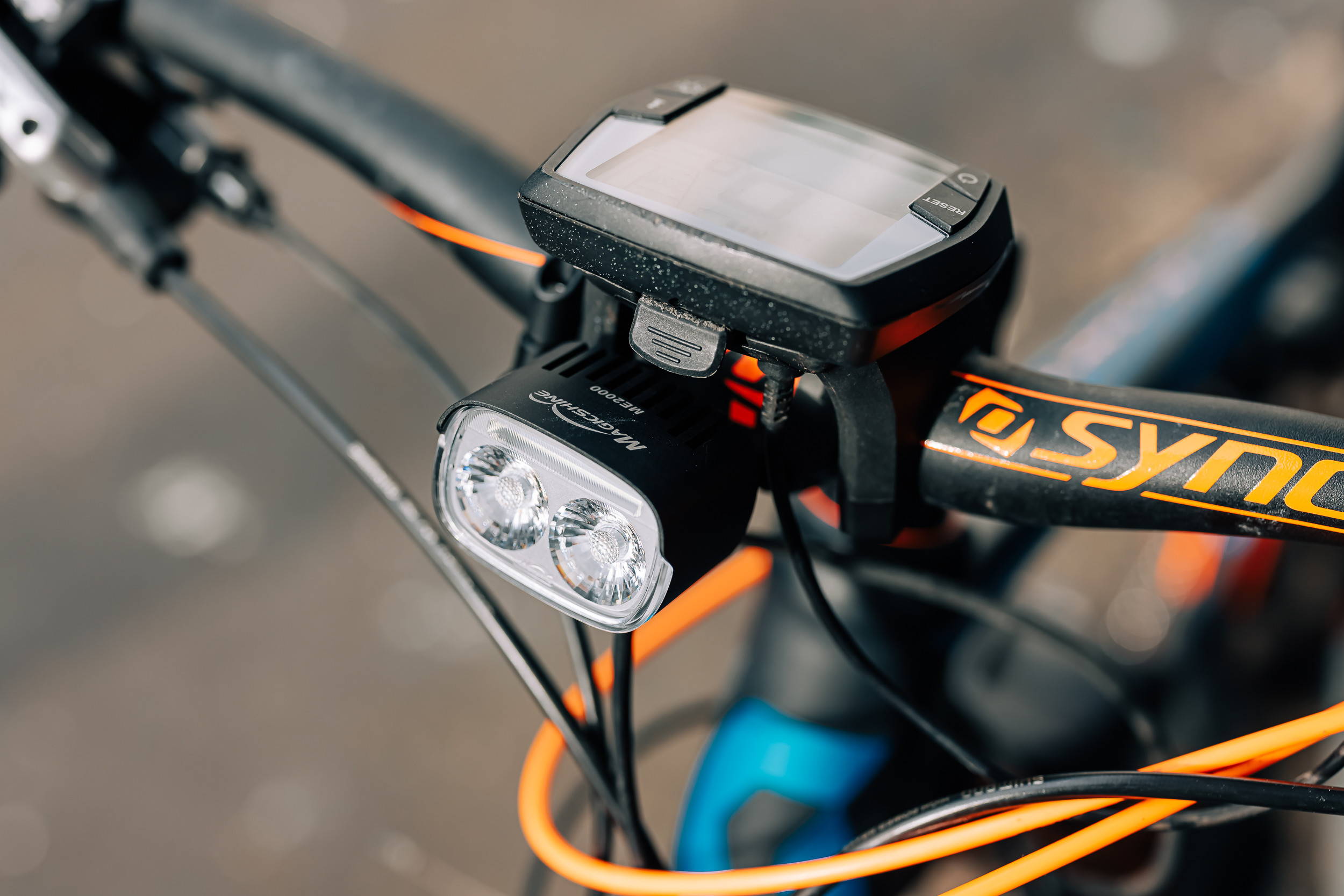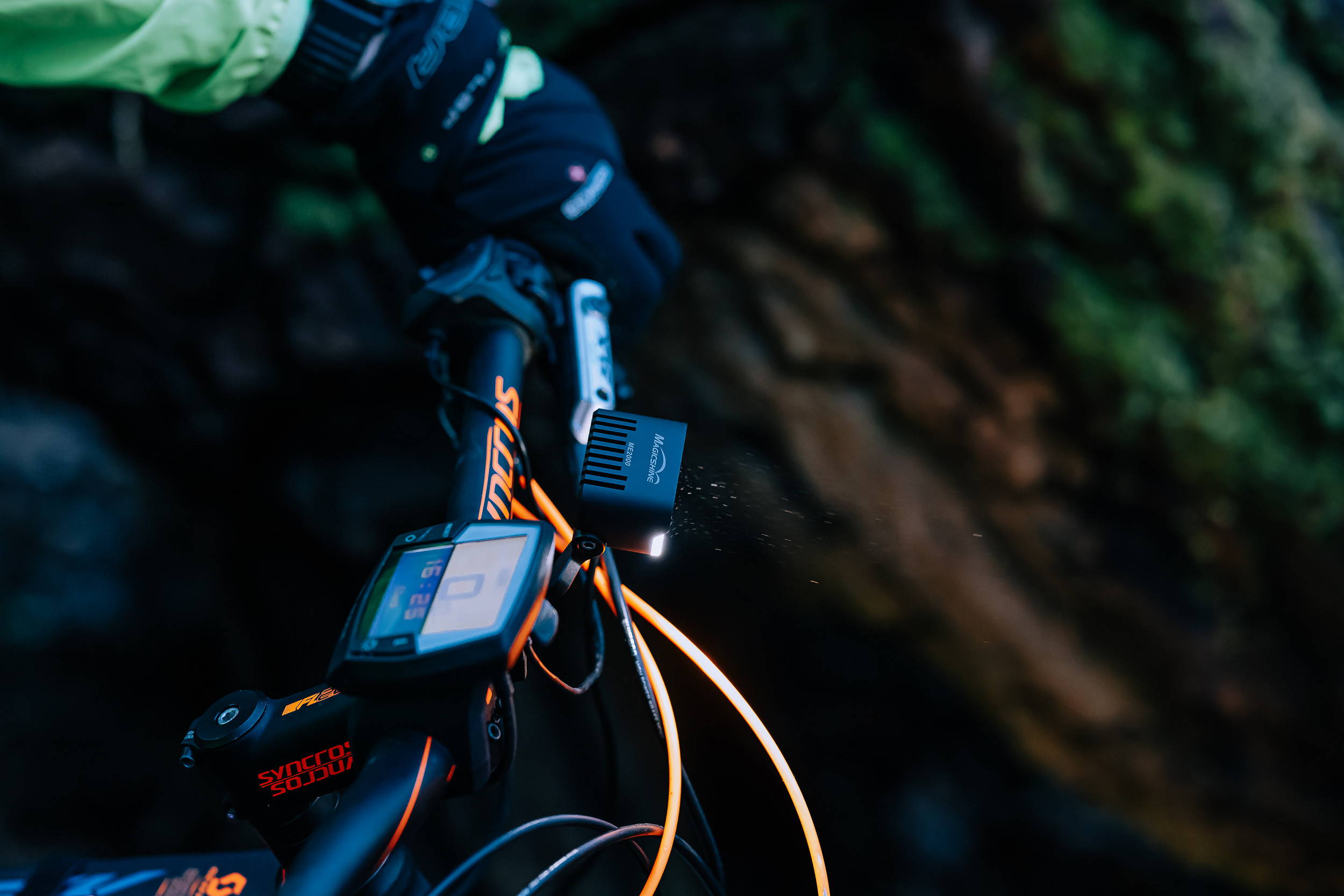 Our latest ME 2000, designed specifically for e-bike riders, is connected and powered directly by the output of the e-bike motor. 2000 lumens of max output emitted from two highly power efficient LEDs, it is well suited for mountain biking and road cycling.
The quality of a light depends largely on the power and precision of its optical components, and we sure have invested a lot of time and effort into perfecting the ME 2000's front lens. When matched with supremely powerful LEDs, the beam pattern produced is incredibly bright, yet smooth and homogeneous with soft edges and no hot spots. An always-on Daytime Running Light engineered in the lens greatly increases the level of passive visibility for riders traveling along a busy road. A brightness sensor is constantly detecting ambient light levels and automatically switches on the main LED from DRL when the environment becomes poorly lit, such as night time or when the rider has entered a tunnel.
With its one-sided aluminum holder, the ME 2000 can be installed on either side of the stem on the handlebar without removing a grip, shifters or brake levers, though only compatible with 31.8mm and 35mm handlebars. The adjustable light head provides wide arc of light(up to 45°, down to 90°). Stability is much improved thanks to the integration between the mount and the ME 2000's one piece aluminum alloy housing which offers IPX6 waterproof rating. Aside from providing excellent protection and durability, large area metallic shell is extremely conducive to heat dissipation, in conjunction with its highly advanced internal smart thermal management system, ME 2000 is able to maintain its max output throughout a very long trip without throttling nor wearing down its core components.
ME 2000 is able to adapt itself to power provided from most drive systems of various e-bike manufacturers(6v/12v Bosch, Shimano, Brose, Yamaha.) within a 6-12V range. Max lumen capable is directly correlated to input DC voltage and max allowed amps.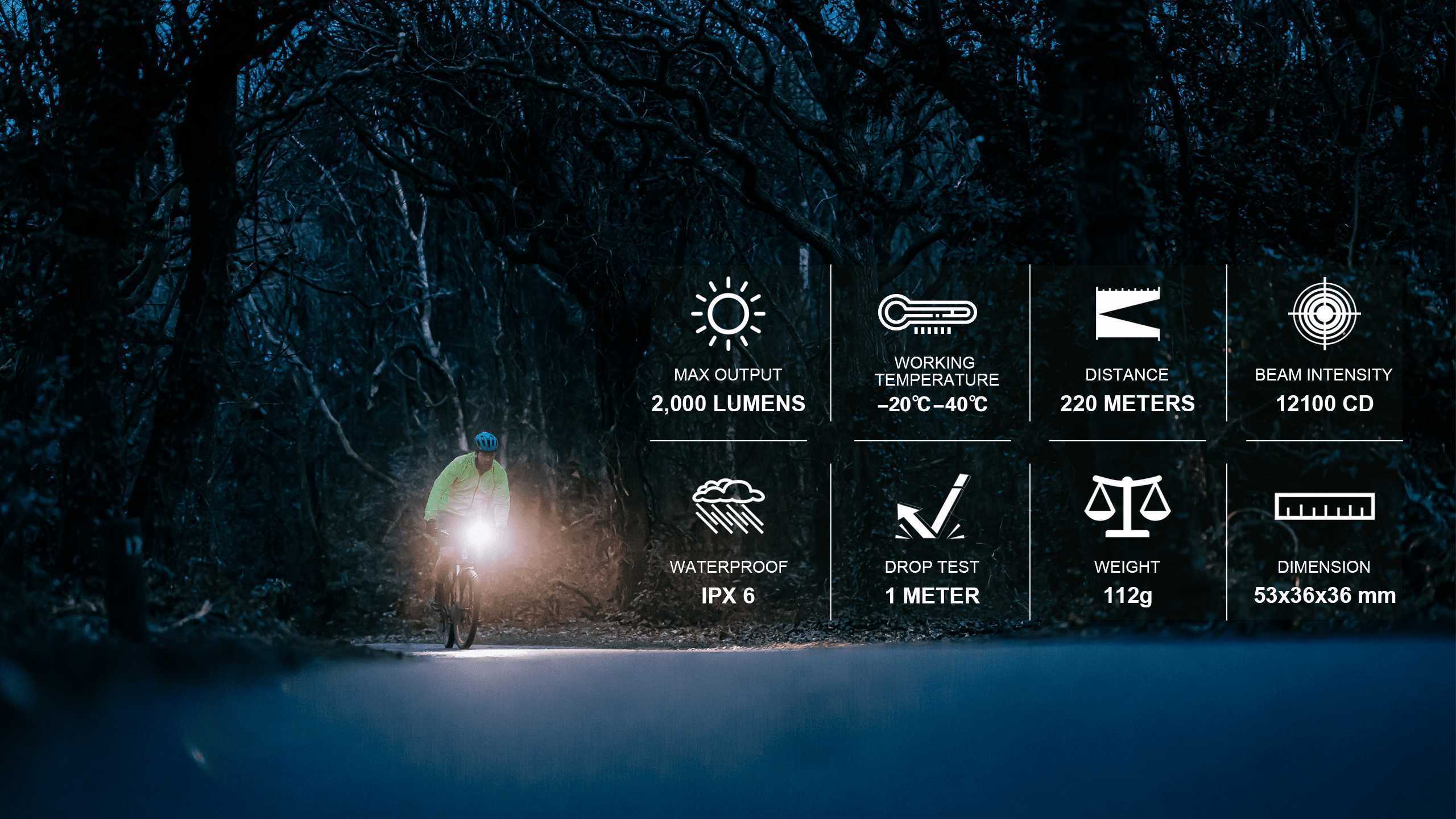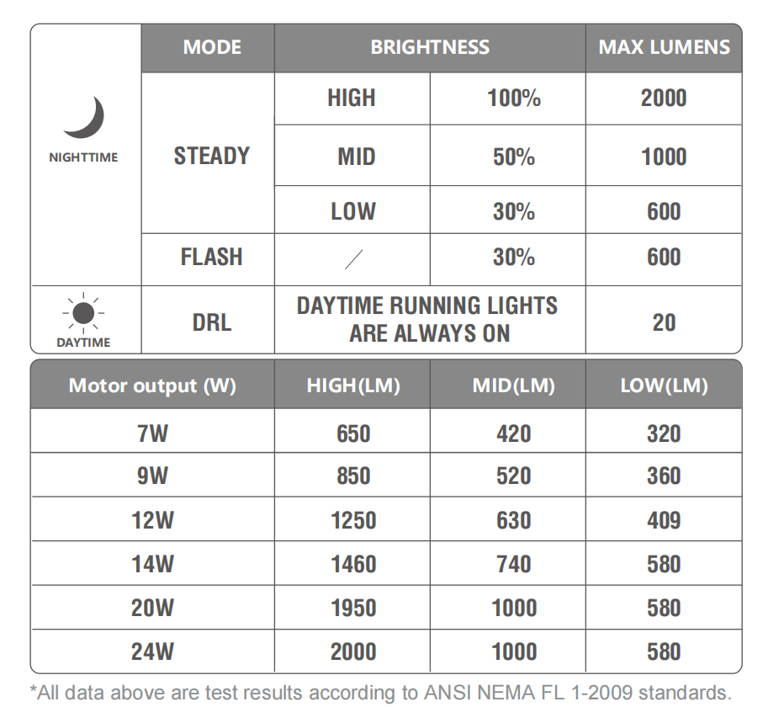 Box Contents
ME 2000 x 1
Silicone Pad x 2
3mm hex x 1
User Manual x 1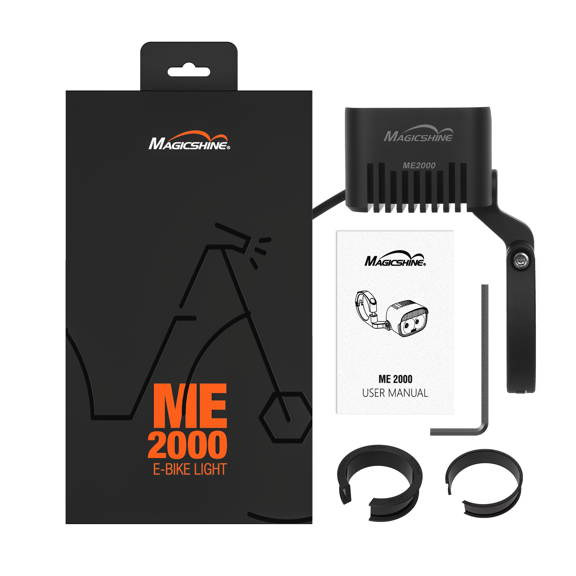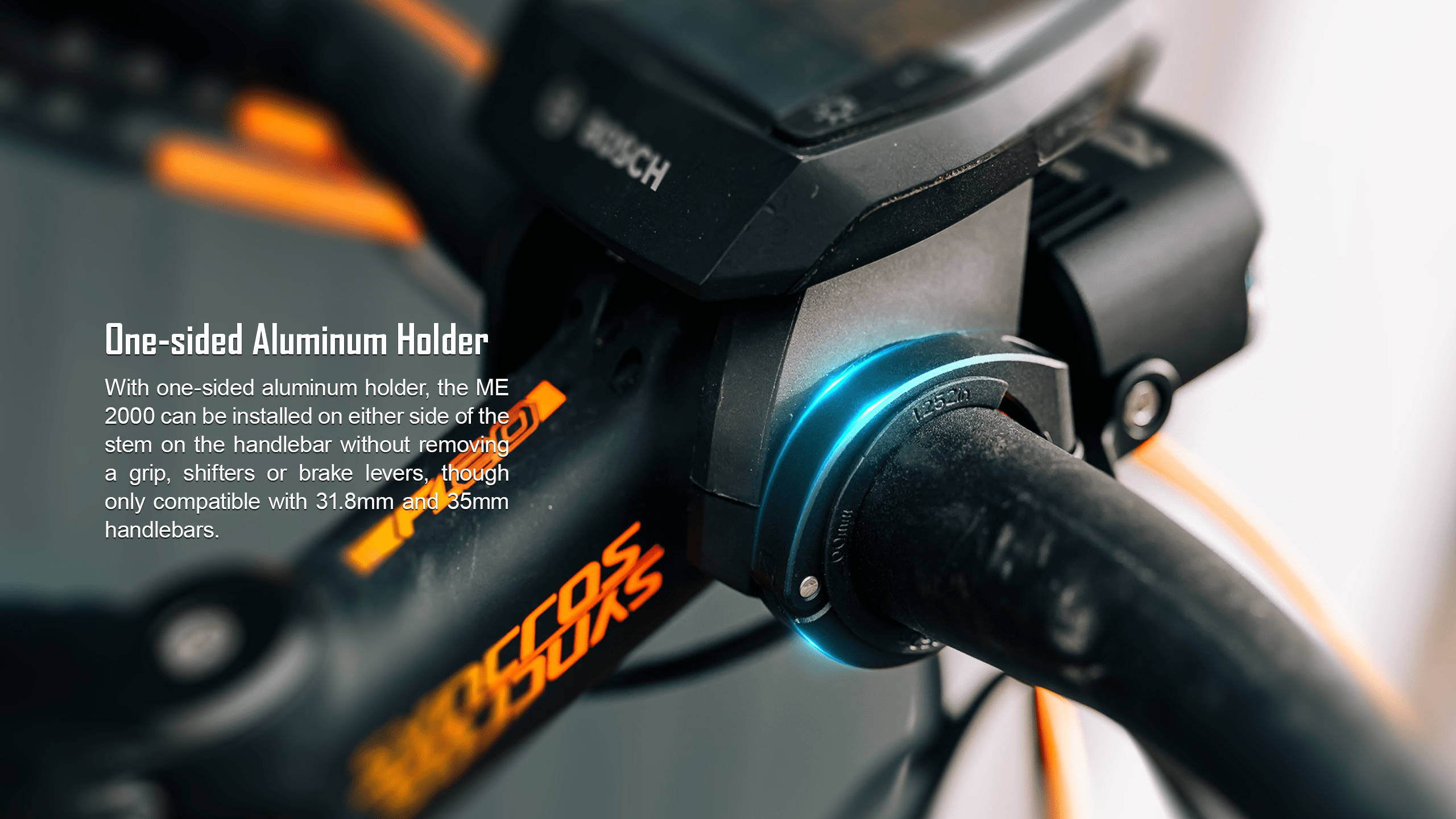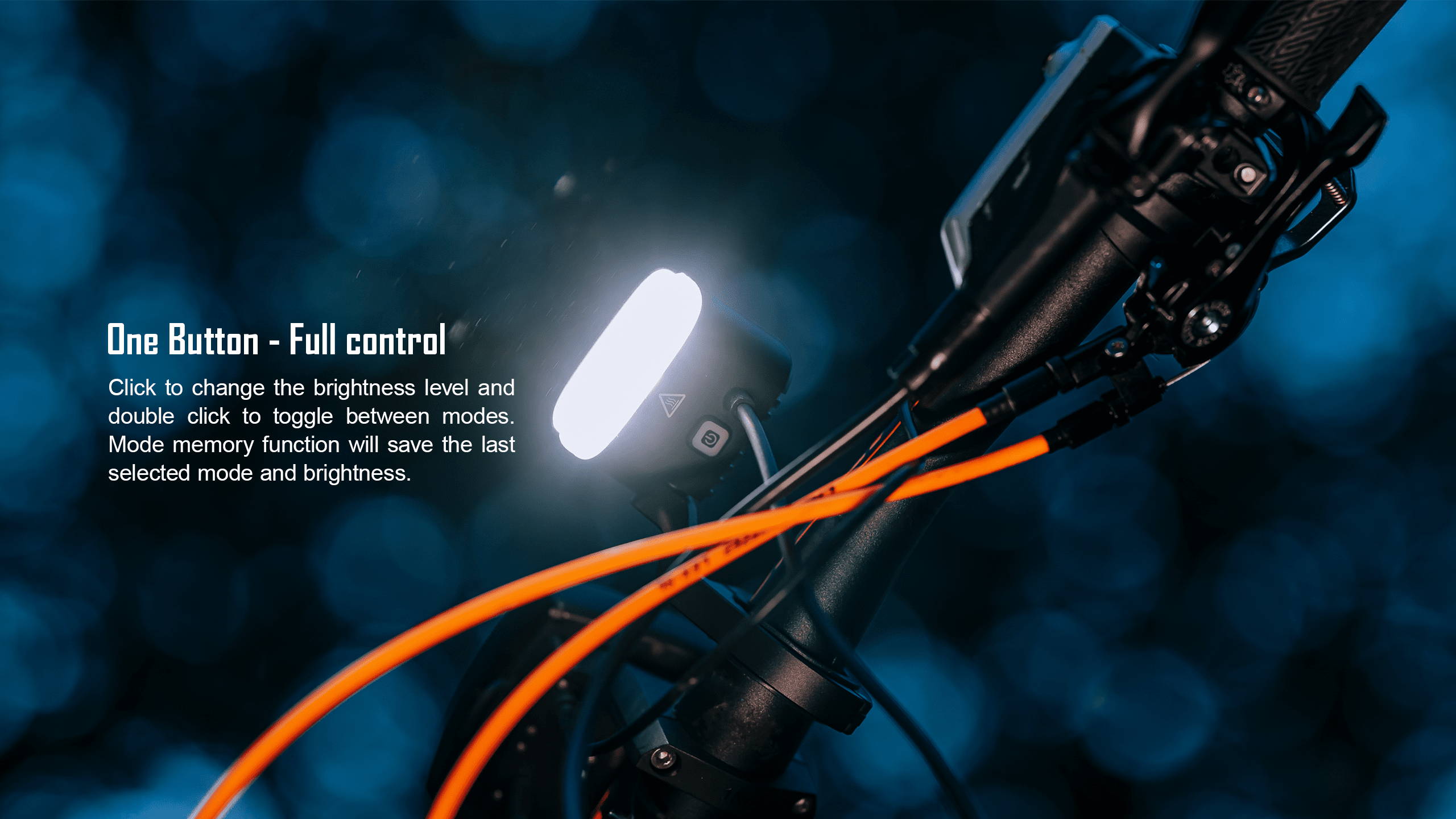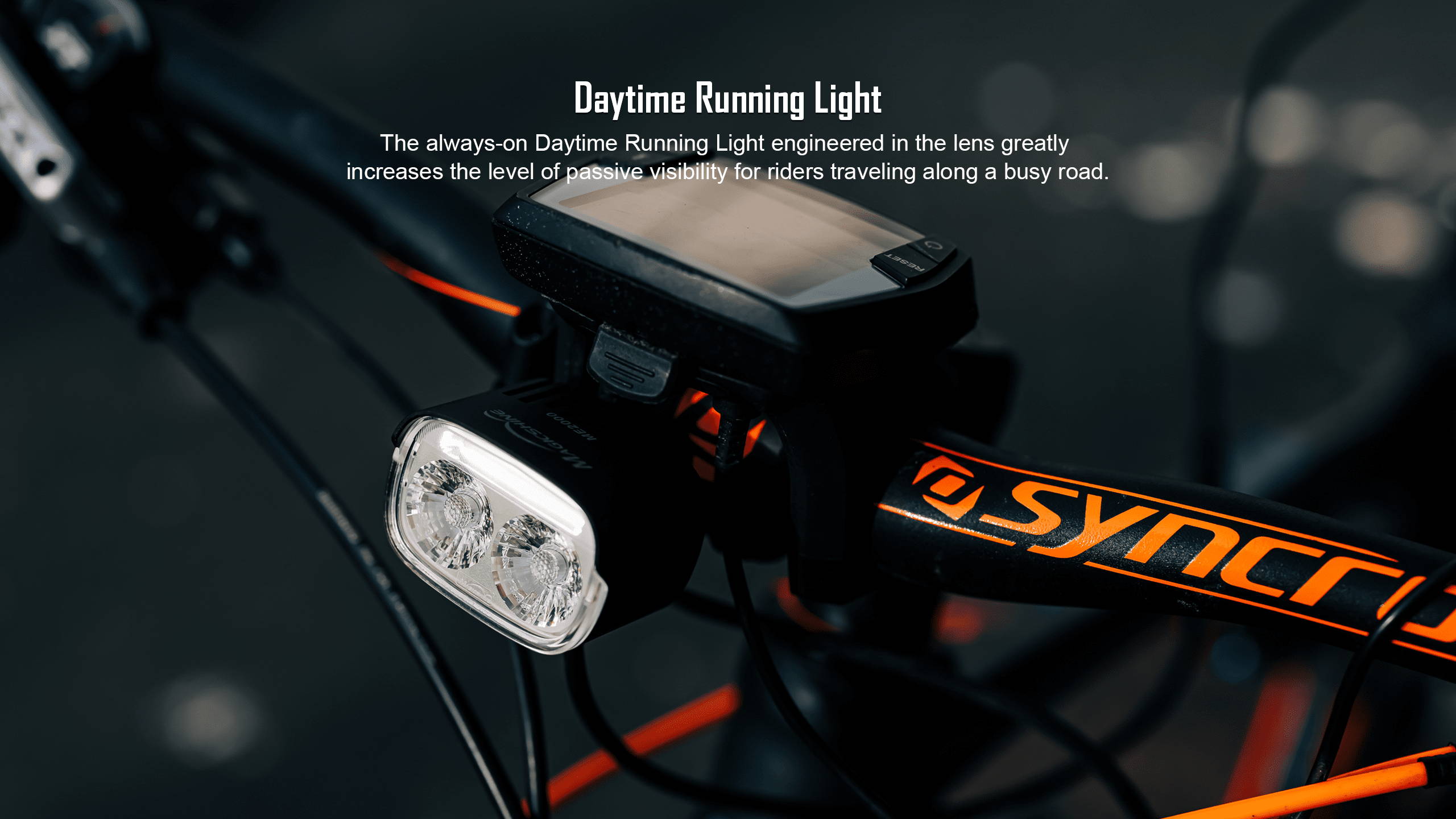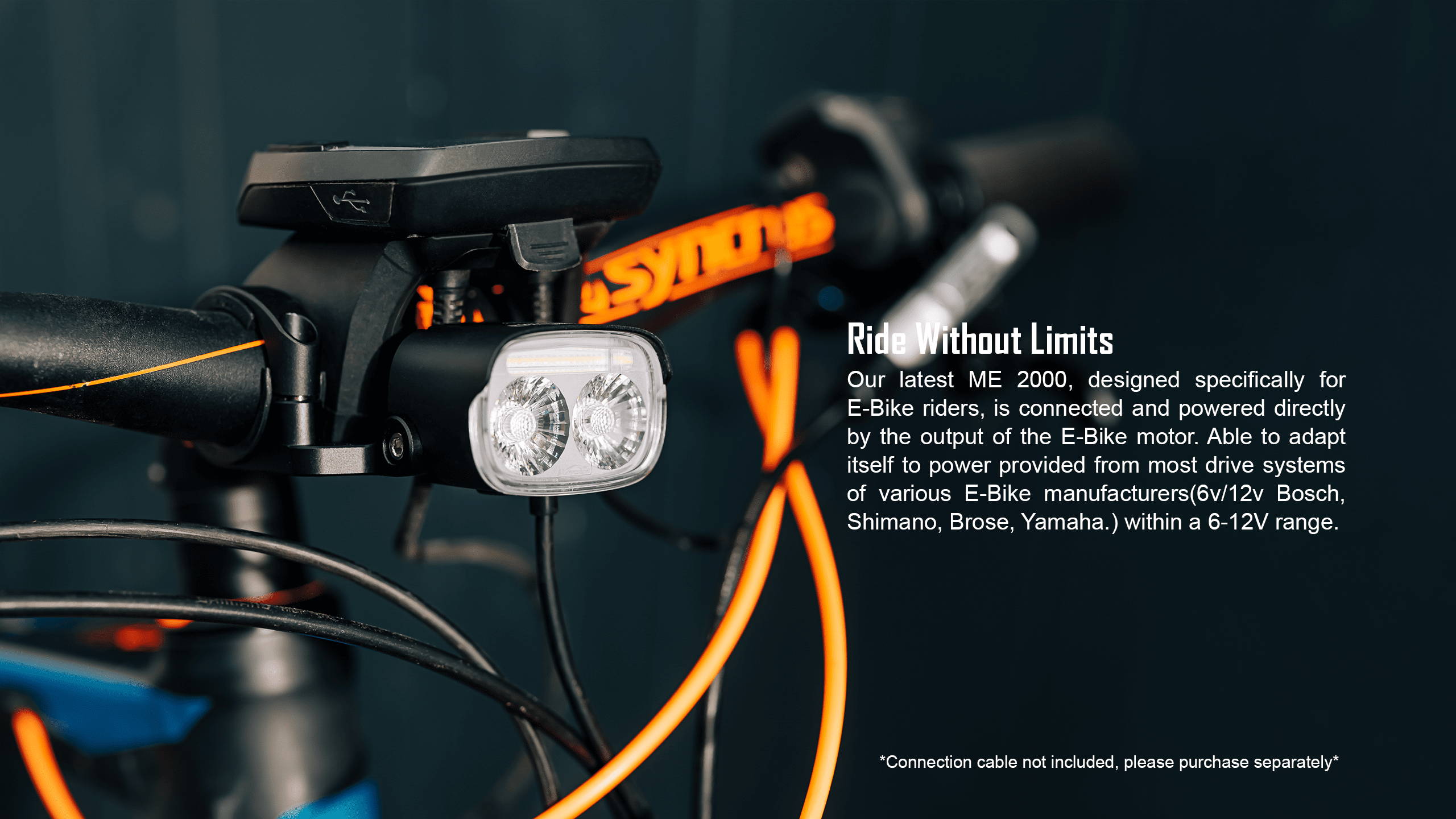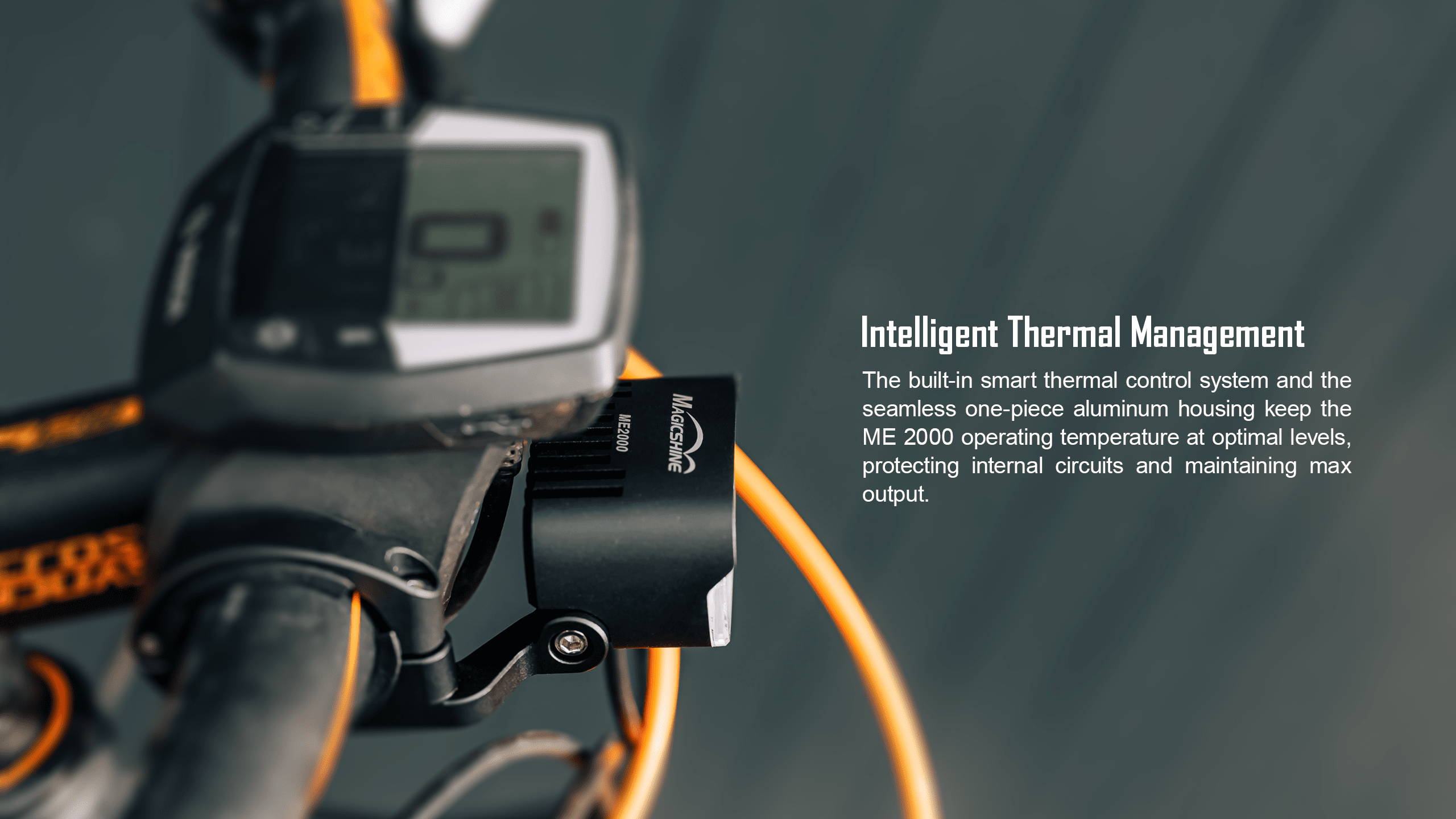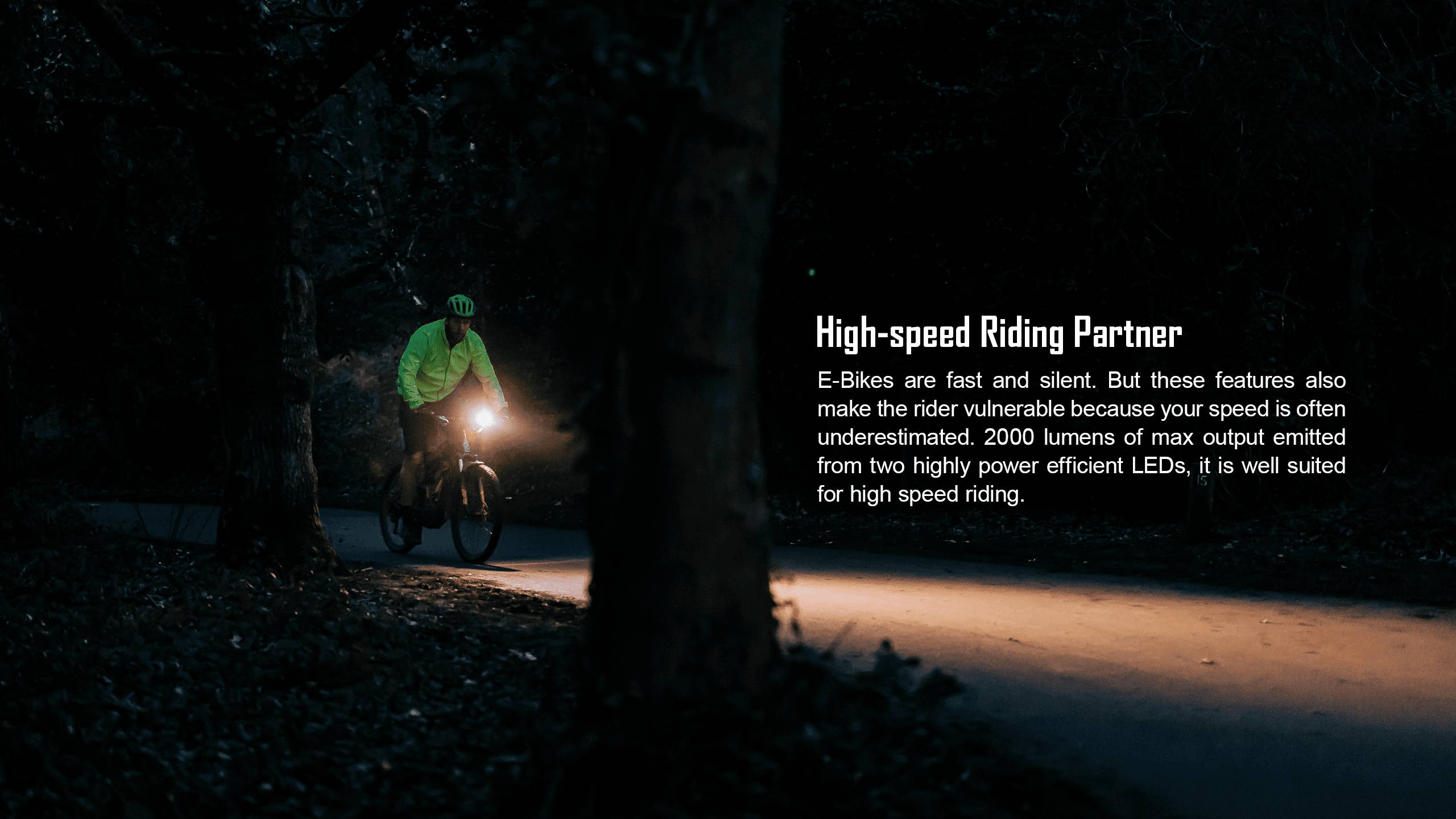 1. How to check my order status?
A: After you register on our website, log in from our system, you can check your order status in real time.
2. What's the shipping method?
A: There are two ways of logistics, express and postal. According to the region, our system will automatically allocate logistics, you can contact us directly if you want to change your shipping method to express. Order inquiry: mkt1@magicshine.com
3. How long does it for my order to get to me?
A:Usually delivered within 5-15 working days.
4. What's the shipping cost?
A: Order over 69.99$. Free shipping cost
order shipping cost
39.99$-69.98$ 9.9$
19.99$-39.98$ 14.99$
-19.98$ 29.99$
5. How / when will you refund my tax?
A: Providing logistics company documents, sent to mkt1@magicshine.com.
We will refund the amount to your payment account within 24 hours.
6. How to contact customer service?
A: For any question on product or availability, please feel free to contact us below:
Service Inquiry: service@magicshine.com
Order inquiry: mkt1@magicshine.com
PS: The order confirmation email will be sent to you after you place your order, maybe you can check it in your spam box.
Tel: (+86)755-29553669
WhatsApp: +86 137 6169 2016