SEEMEE 30 Lightweight Bike Rear Light
WHAT IS SEEMEE 30?

SEEMEE 30 is a new version of rear light with high transparent optical lens and ambient light sensor.  
WHAT ARE THE FEATURES?
*
EFFICIENT ENERGY CONSUMING
--SEEMEE 30 emits stronger light outputs while consuming less energy with a high transparent lighting strap, more efficient lighting performance compared to traditional red case tail light.
* DESIGN FOR YOUR SAFETY
-- SEEMEE 30 lets you be seen from up to 800 meters, and its elegant translucent anti-scratch case provides 230-degree high side visibility, to make you more visible at risk moments.
*
AMBIENT LIGHT SENSOR
-- Sensitive infrared light sensor built-in, automatically change the light mode according to the environment, thus increasing the warning effect during the day.
*
LOW POWER MODE
-- When the battery level is lower than 5%, SEEMEE 30 automatically changes to economic flash mode, which can run up to 20 minutes before it totally powers off.
*
IPX6 WATERPROOF RATE
-- Storm or wind, SEEMEE 30 will resist the water from anywhere in any challenging environment.
*
COMPATIBLE FOR ALL
-- With Multiple mounting methods, solid silicon straps can be mounted safely to different bar shapes conveniently.
*
MEMORY FUNCTION AND MULTI-MODES
-- Satisfy different riding scenarios.
* CONVENIENT USB *
SIZE: 61x14x21mm.
*
 WEIGHT:
24g. 
Guarantee safe & secure checkout
Product Review
Main features
Tech Specs
What's in the box
Video
FEB 24th,2021 - JAMIE WILLIAMS - Road.cc
The Magicshine Seemee 30 Combo is a set of 30 lumen LED lights aiming to get you seen. The slim profile means they easily attach to seat posts, seat stays, forks or handlebars, and features such as infrared ambient light sensors are rarely found at this price. They're easy to use, stuffed with useful features and very visible around town.
June 28th, 2020 - Thesweetcyclists
Magicshine SEEMEE30 red light wide angle bicycle tail light
* EFFICIENT ENERGY CONSUMING--emits stronger light outputs while consuming less energy with high transparent lighting strap, more efficient lighting performance comparing to traditional red case tail light

* DESIGN FOR YOUR SAFETY-- it lets you be seen from up to 800 meters, and its elegant translucent anti-scratch case, provides 230 degree high side visibility, to make you more visible at risk moments

* AMBIENT LIGHT SENSOR-- sensitive infrared light sensor built in, automatically change the light mode according to environment, thus to increase warning effect during the day

* LOW POWER MODE-- when battery level is lower than 5%, SEEMEE30 automatically changes to economic flash mode, which can run up to 20 minutes before it totally powers off

* IPX6 WATERPROOF RATE-- storm or wind, SEEMEE30 will resist the water from anywhere in any challenging environment

* COMPATIBLE FOR ALL-- multiple mounting methods, solid silicon strap can be mounted safely to different bar shapes conveniently

* Convenient USB charging with charging indicator

* Memory function and multi-modes to satisfy different riding scenarios
LUMEN: 30 LM
-Ambient Light Sensor
-DRL (Daytime Running Light)
-Battery: 7.2V (2*3500mAh)
-Waterproof: IPX6
-Size: 61x14x21mm
-Weight: 0.84oz (24g)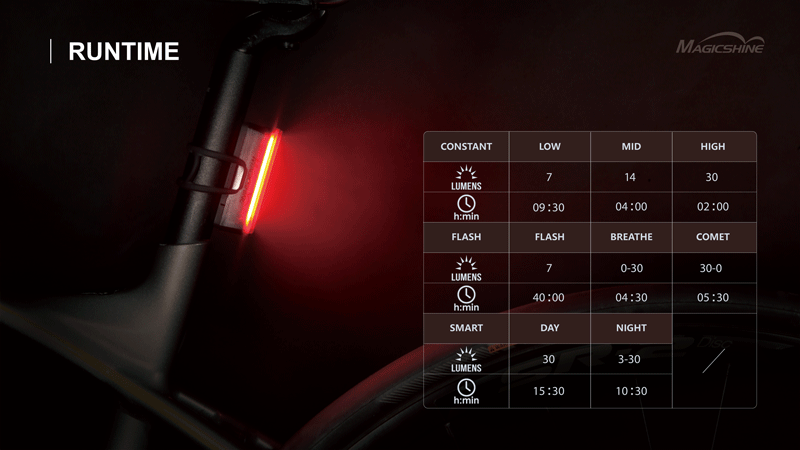 Box Contents
1* SEEMEE30 TAIL LIGHT
1* USB cable
1* Manual
1* Warranty card