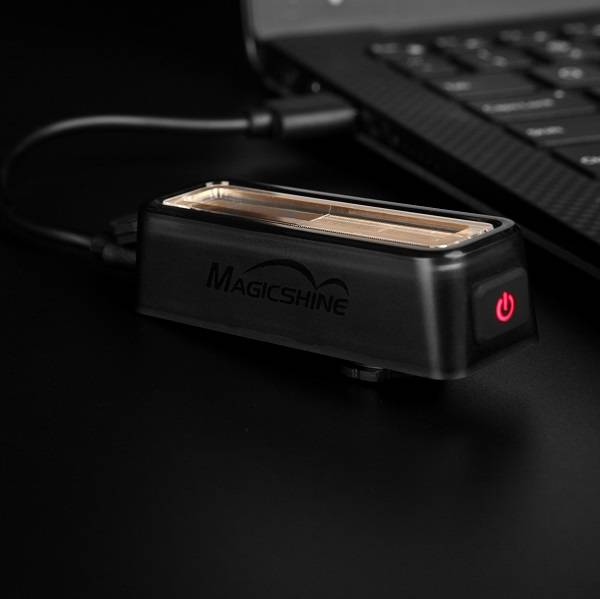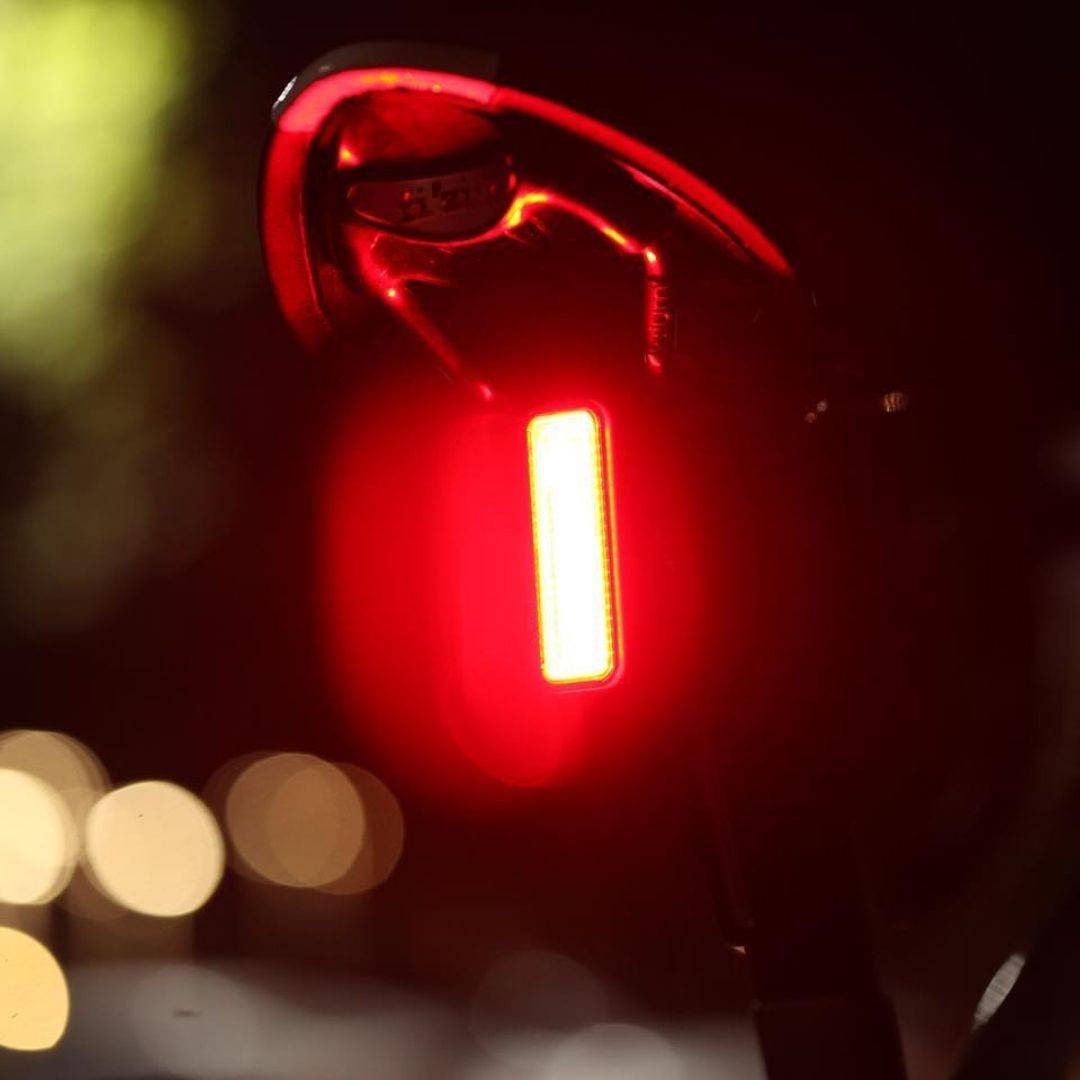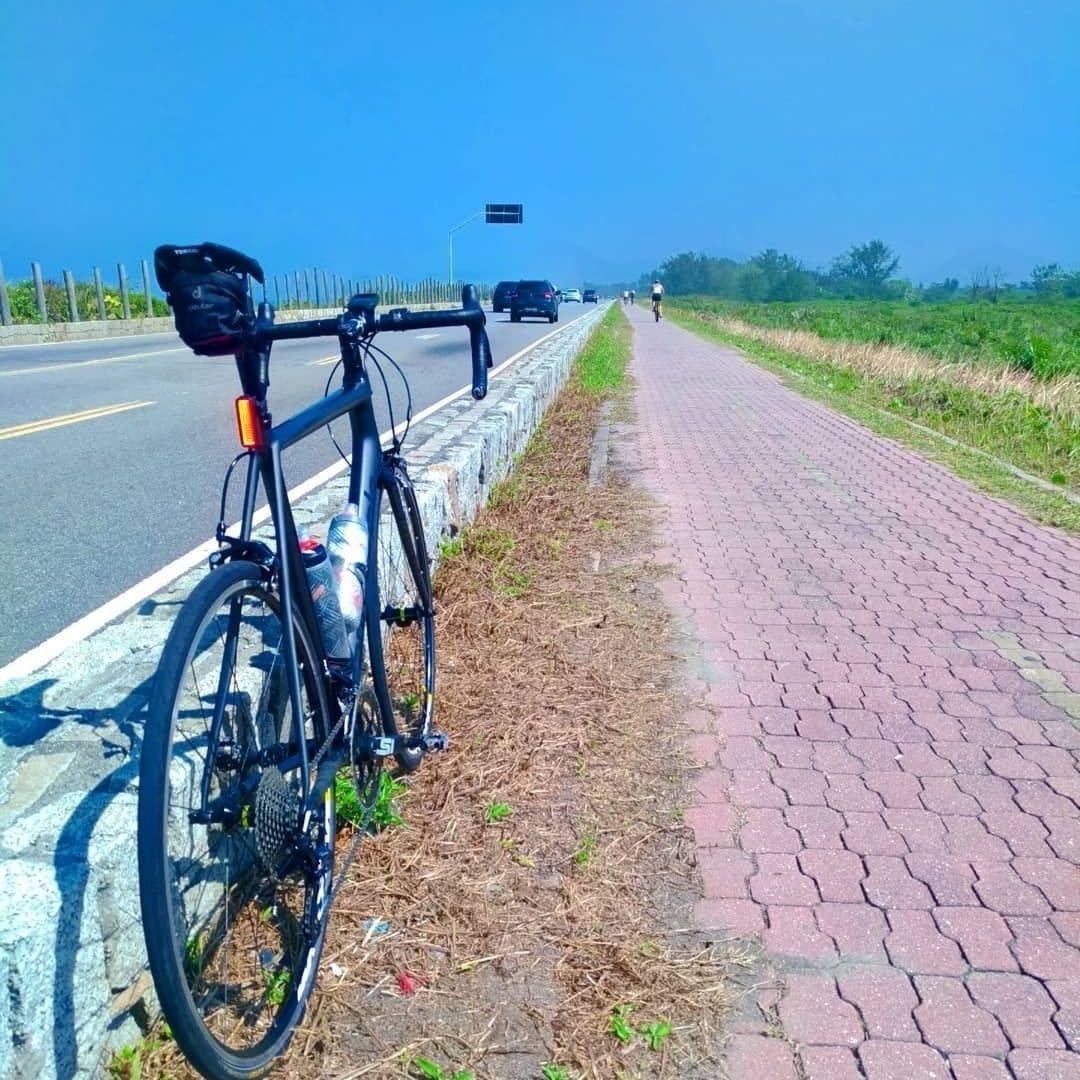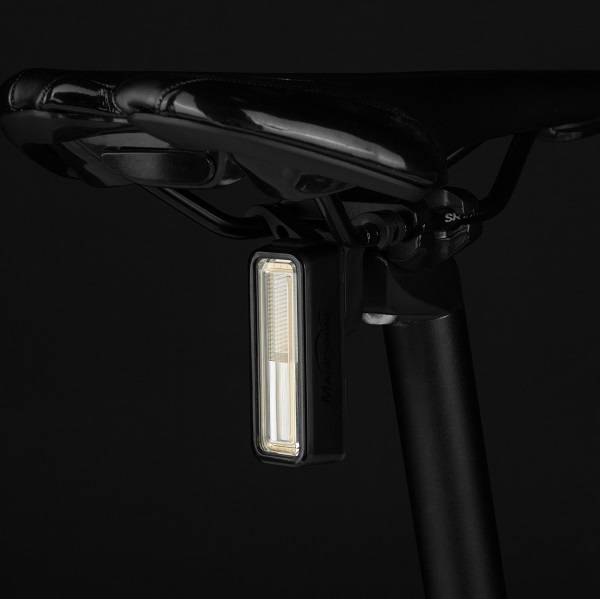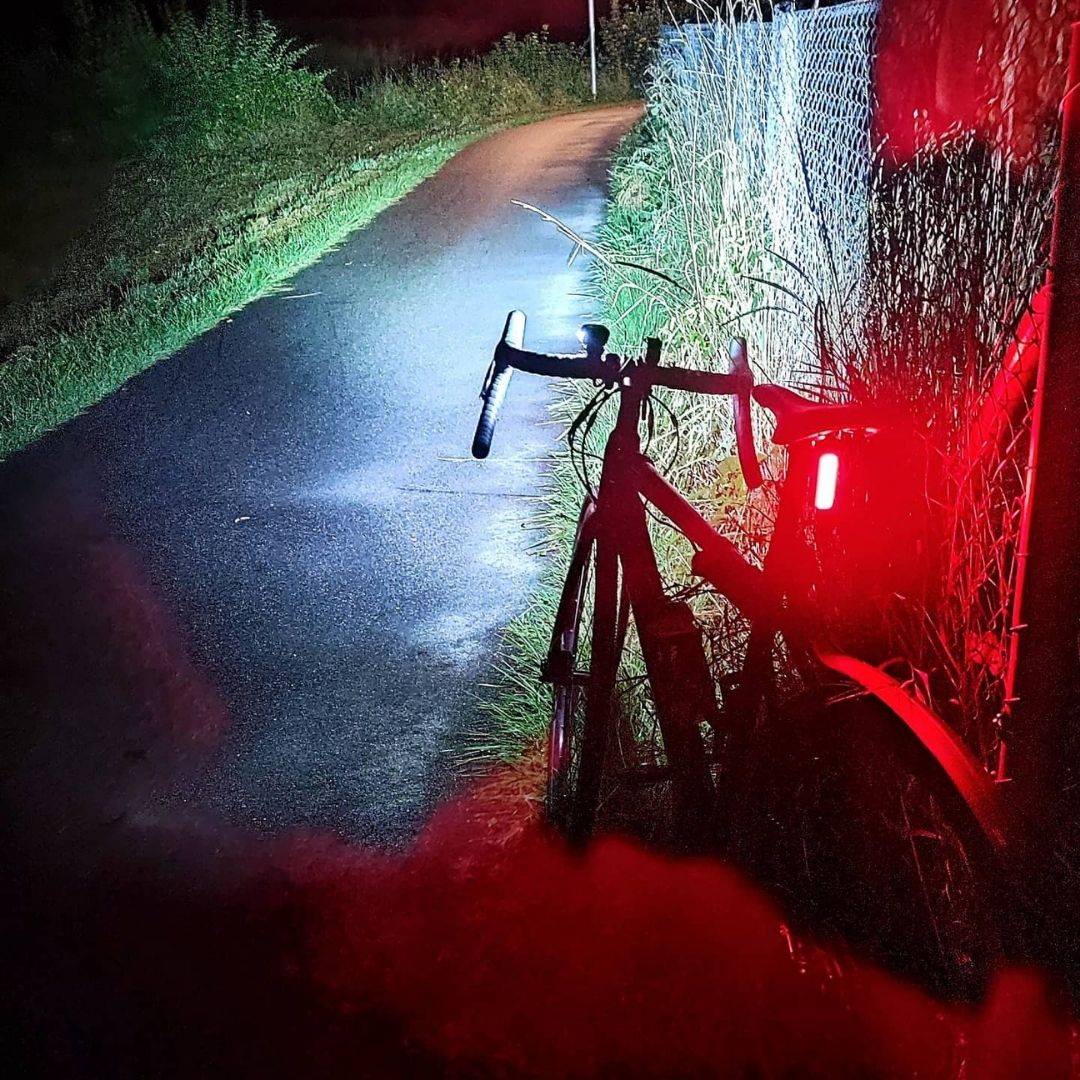 SEEMEE 180 is a smart and powerful bicycle tail light with convenient USB recharge.
The max output can reach to 180 lumens.
Smart motion sensor and ambient light sensor give you much enhanced using experience.
Efficient Light Output-- Transparent optical fiber emits stronger and uniform light outputs while consuming less energy.
High Visibility-- SEEMEE 180 allows riders to be seen from up to 2000m, distinguishes you from the traffic effectively.
Smart Motion Sensor-- Motion sensor turns on automatically when braking, and lights on for 3 seconds at maximum 180 LM.
Senstive Ambient Light Sensor

-- Under smart mode, the built-in light sensor automatically adjusts the brightness according to ambient lighting conditions, and thus to increase warning effect efficiently during day and night.

Low Power Mode-- When battery level is lower than 5%, SEEMEE 180 automatically changes to economic flashing mode(27LM), which can run up to 20 minutes before it totally powers off. This feature ideally extends the burning time.

All Around Visibility-- The translucent hard case gives SEEMEE 180 strong side visibility, which lets riders to be seen from all directions.

Smart Battery Indicator-- At standby mode, click the power button to activate battery indicator for 3s.

Multiple Mounting-- With the versatile mounting strap, SEEMEE 180 is easy to be mounted under saddle or different seat posts.
WHAT ARE INCLUDED:
1* SEEMEE180
1* Mounting strap
1* Saddle mount
2* Tie Band
1* Micro USB cable
1* User manual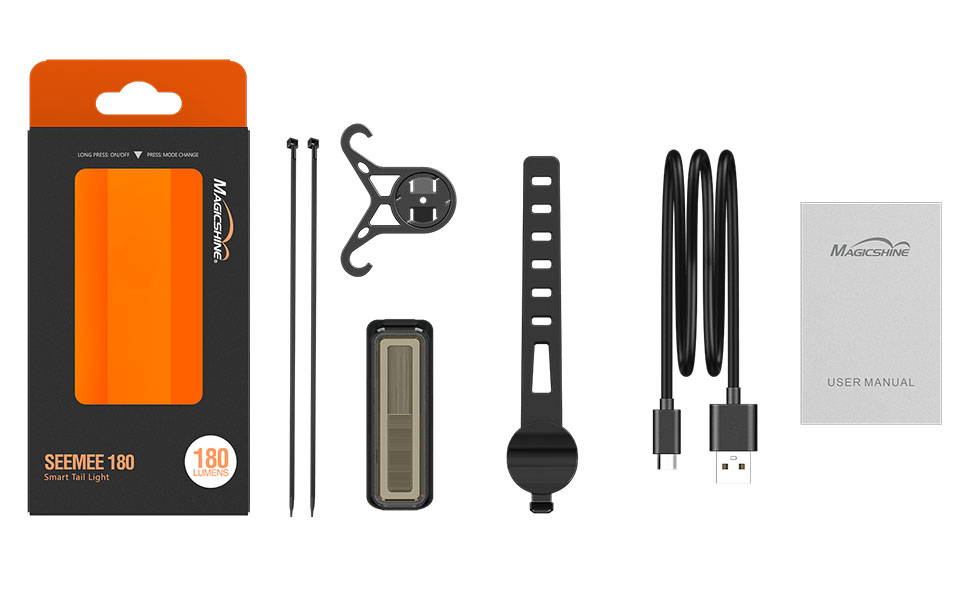 -Lumen: 180 LM
-Visibility: 260 °
-Distance: 3000 m
-Waterproof Rate:IPX6
-Weight:1.26oz (34g)
-Impact resistance: 1 m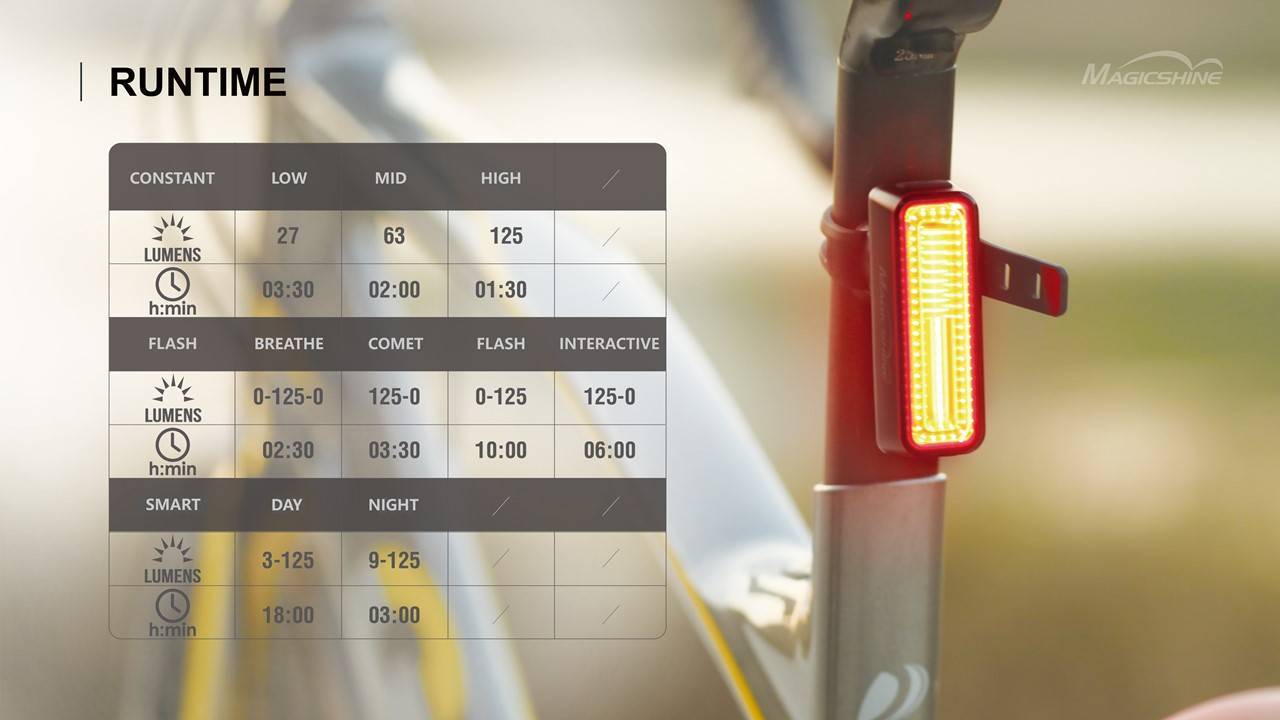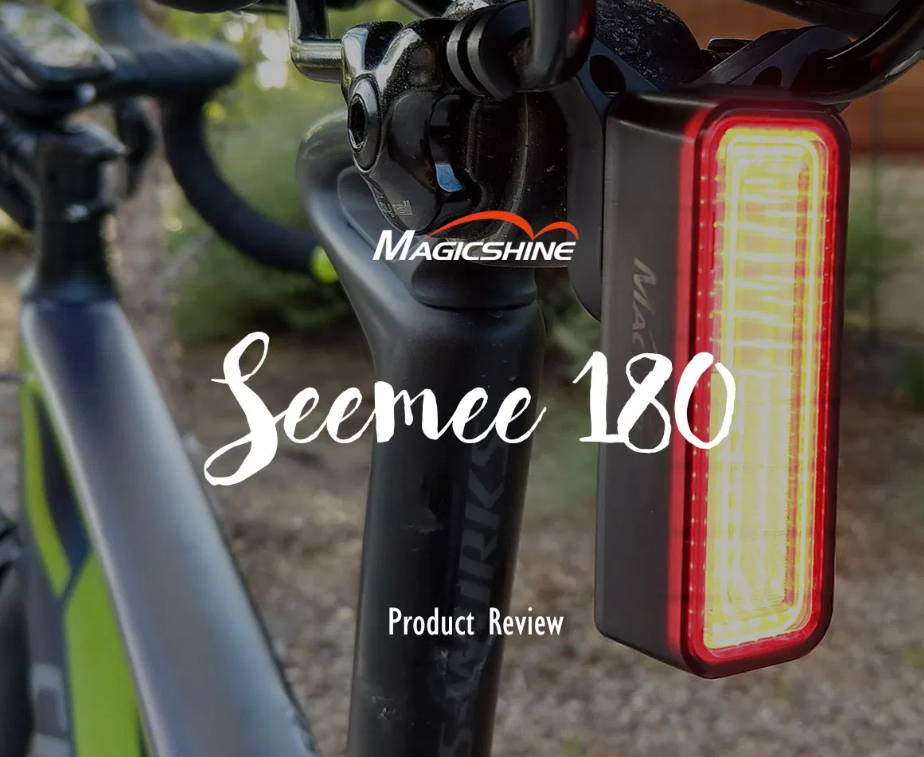 Magicshine has recently released a number of new Seemee taillights that combine smart features with impressive output. In this review, we'll be looking specifically at the Magicshine Seemee 180, one of the higher output variations that has a unique LED design. The Seemee 180 is well priced at $39.99 for the features, and also boasts a maximum of 180 lumens of output. With this latest generation of tail lights, Magicshine has incorporated both an ambient light sensor as well as a brake sensor.
These two sensors allow the taillight to automatically adjust the output based on the current conditions as well activate a boosted output mode during deceleration to attract attention.The Magicshine Seemee 180 is a bright tail light with unique optics and integrated sensors to keep you visible at night.
Category Bicycle Tail LightRating 9/10
Retail Price $39.99
Measured Weight (in g) 36 (taillight): 12 (seatpost mount) + 4 (saddle mount)
Likes + Battery status checker+ Ambient light sensor and brake sensor+ Excellent side and daytime visibility
Dislikes – Integrated battery– Body clip mount not included– Confusing number of output modes

The Seemee 180 comes in a simple box with the characteristic black and orange graphics. Another nice feature is the large opening in the center of the packaging that allows you to interact with the tail light.
In the box you'll find:
Seemee 180 tail light
Seatpost mount
Saddle mount2x Zip ties
Micro USB charging cable
User manual
Warranty card
he Seemee 180 comes with two mounts out of the box: a seat post mount and a saddle rail mount. While the seatpost mount has the same design as most mounts, a plastic mount with flexible rubber strap, Magicshine has added a clever design detail.
The rubber padding has the standard round cutouts for round seatpost mounts, as well as a second smaller round cutout at the center. Tiis second cutout allows the seatpost mount to also work on aero seat posts that have sharper trailing edges which would cause typical seat posts mounts to not sit flush. With a simple second cutout, Magicshine has created an easy to use seatpost mount that should work with nearly any seatpost.Magicshine Seemee 180 - mountThe Seemee 180 has a simple rectangular design and quarter-turn mountIn addition to the seatpost mount, a simple plastic seat rail mount is included right out of the box. It is a single sided piece of plastic that has two rounded hooks that snap onto your saddle rails (note elliptical saddle rails will not work).
On our saddles, the saddle rail mount had a satisfying click when installed and felt secure. We prefer the higher mounting of the tail light as it has a cleaner look on the bike and better visibility. However, if you are using a saddlebag or high-mounted fender you may not be able to utilize this mount. We do wish Magicshine had included a body clip as it would've been convenient to mount the light to a saddle bag or backpack.Magicshine Seemee 180 - seatpost mountClever seat post mount works on both round or aero seat posts

The Magicshine Seemee 180 has a tall rectangular profile with a unique lens design that utilizes transparent optical fibers. There is a two part illumination pattern with a uniform outer ring plus an eye catching inner portion that is horizontal on the upper portion and vertical on the bottom. The Magicshine logo is ghosted onto the left and right sides of the housing. With the light off, the lens is not visible from side angles, which initially had us worried about side visibility. However, part of the housing surrounding the lens of the Seemee 180 is transparent and becomes illuminated when the light is on allowing for 260° visibility.
Magicshine Seemee 180 - LEDThe Seemee 180 has a unique illumination patternOn the back of the light is a simple quarter turn style mount (a feature shared with the other Seemee tail lights), and a micro USB port under a rubber cover. The light is rated for IPX6 which means wet weather riding should not be a problem. Although we wish the battery was replaceable (like the Lupine Rotlicht), the integrated battery provides great runtime and allows for a better sealed tail light.Magicshine Seemee 180 - Power buttonThe user interface on the Seemee 180 is well designed, as it utilizes a single click to change the setting within a mode or a double click to switch between output types (steady – flash – smart).
A long press turns the light on or off in any mode with the built-in mode memory ensuring the tail light is always restored back to the last selected mode. Magicshine has also incorporated a battery status checker into the one-button interface (quite similar to the Fenix BC05R and BC21R v2 lights) that allows you to short press on the power button to illuminate the backlight for 3 seconds to indicate the battery status. It is a three-level indicator that turns either a green (21-100%), steady red (6-20) or flashing red (>5%). This is a feature we're excited to see, as it lets you check the battery before you start riding.

The Magicshine Seemee 180 has an integrated motion sensor that can automatically detect braking to activate the boosted 180 lumen mode. Regardless of the current output mode, the light will switch to steady 180 lumen for a few seconds to attract attention. This is a feature that's becoming increasingly popular and can provide extra safety on the road. How effective is it? That isn't clear, especially as there is no standardized implementation but the light output change should draw attention.
One downside with the brake sensor feature though is that runtime becomes reduced depending on how often the mode is triggered.The calibration of the brake sensor is an additional aspect that determines how useful the feature is. With the Seemee 180, we found that it was overly sensitive and would trigger even on bumps. This is consistent with the Magicshine Seemee 60 which also had a sensitive brake sensor and would often trigger when riding.
We prefer the calibration of the Fabric Lumasense V2, which was less sensitive but still not foolproof. Although Magicshine doesn't provide multiple sensitivity options like the Lupine Rotlicht, you can toggle the brake sensor on/off by simply holding the power button while the light is off for a few seconds. Additionally, the Seemee 180 will revert to a standby off mode if no motion is detected after 1 minute to conserve battery.
Not only did Magicshine integrate a brake sensor into the Seemee 180, they also added an ambient light sensor. Unlike the Seemee 200 which also uses the sensor to determine if the downward facing LED should be activated, with the Seemee 180 the sensor is only used for the smart output mode. If the sensor detects higher ambient light, the smart mode has a slower on-off flash output (better suited for daytime riding).
In low-light situations, the output mode switches to a low power/high power flash setting to improve nighttime visibility. We preferred to ride with the smart mode as it allows the Seemee 180 to automatically choose the best mode for the conditions. This provides a similar experience as the Light and Motion Vya Pro or Bontrager Flare RT and is one of our favorite features.
More is better. At least that's the strategy Magicshine uses when they develop the output modes for their lights. Across the Seemee tail lights (200/180/100/30), Magicshine has programmed three constant modes, four flash modes and the slick 'smart' mode for a total of 8 settings. A single click cycles through the different levels and a double click to alternate between the main steady – flash – smart setting groups. Unlike the Seemee 200 which uses the ambient light sensor to control the secondary tracer LED, the Seemee 180 only utilizes the ambient light sensor for the smart output mode.
The three steady modes are: low (27 lm), medium (63 lm) and high (125 lm) with runtimes that vary from 1.5 hrs to 3.5 hrs. Instead of only having the typical on/off flash, Magicshine has added four different flash patterns: breathe (ramps up from 0 lm to 125 lm and back to 0 lm), comet (ramps down from 125-0 lm), flash (standard on/off at 125 lm) and finally interactive (alternatively flashes the inner and outer rings at 125 lm). The runtimes for flash modes vary from 2.5 to 6 hours, and we particularly like the breath and interactive modes for their uniqueness. The last mode is called 'smart' and as we discussed in the previous section utilizes the ambient light sensor to switch between 125 lumen flash or a 9-125 lm night mode flash.Although the flash modes are distinct from each other, the smart mode is quite similar to the flash and interactive mode which makes it easy to get lost while cycling through the different modes. We would prefer if Magicshine simplified the number of output modes to 'smart' and perhaps a steady or flash mode though, something Light and Motion Vya Pro has done.
In real-world riding, there is little use to having so many modes, particularly when a light sensor can be programmed to automatically optimize the output for the conditions. Also, if you plan to do multi-hour rides, you'll need to remember to use the flash, interactive or smart mode to ensure you have enough battery runtime.
Overall, we found that the Magicshine Seemee 180 is a smart tail light that ensures you remain visible from all directions. The integrated brake and motion sensors provide automatic features that are useful in real world riding while the partially transparent housing ensures you have 260° visibility. Even though we wish the brake sensor calibration was better tuned, Magicshine has provided an easy interface to disable the brake sensor if desired. We are also very happy to see the three level battery status indicator that lets you easily check the battery status instead of only relying on a low battery warning. Although the Seemee 180 lacks the secondary tracer LED of the Seemee 200, we found that it is a very well priced tail light with unique optics that set it apart.Disclaimer: The product for this review was provided by Magicshine. The views expressed on this website are solely those of the authors and are here to help people make an informed choice before a purchase. The authors or the blog itself does not get any monetary compensation from the product manufacturer or third-party websites/vendor links that are posted here.
1. How to check my order status?
A: After you register on our website, log in from our system, you can check your order status in real time.
2. What's the shipping method?
A: There are two ways of logistics, express and postal. According to the region, our system will automatically allocate logistics, you can contact us directly if you want to change your shipping method to express. Order inquiry: mkt1@magicshine.com
3. How long does it for my order to get to me?
A:Usually delivered within 5-15 working days.
4. What's the shipping cost?
A: Order over 69.99$. Free shipping cost
order shipping cost
39.99$-69.98$ 9.9$
-39.98$ 14.99$
5. How / when will you refund my tax?
A: Providing logistics company documents, sent to mkt1@magicshine.com.
We will refund the amount to your payment account within 24 hours.
6. How to contact customer service?
A: For any question on product or availability, please feel free to contact us below:
Service Inquiry: service@magicshine.com
Order inquiry: mkt1@magicshine.com
PS: The order confirmation email will be sent to you after you place your order, maybe you can check it in your spam box.
Tel: (+86)755-29553669
WhatsApp: +86 137 6169 2016