Magicshine RAY2600 Smart Remote Bike Light
Magicshine New RAY 2600 is of tough quality. It is equipped with dual high-efficiency LEDs that create a perfect balance of spot and floodlighting, reaching 2600LM to support your fast-riding need. New creation on the remote control, motion, and light sensors.

*Do remember to lock the light by holding on the button for 5s when not using.
Lumen: 2600
Beam Distance: 183 M
Battery: 3.6V 6700mAh
Charging: USB-C fast charging and discharging
Charging Time: 2.5-3 hours
Waterproof: IPX 6
Runtime: 1.5-22.5 H
Application: Urban, Road, Off-Road
RAY 2600

RAY 2600+ TTA

RAY 2600+ Helmet Mount

RAY 2600+ Helmet Mount+TTA
Guarantee safe & secure checkout
Product Review
Main Features
Tech Specs
Describe
Video
November 30th, 2021 - SHAUN AUDANE - Road.cc
The Magicshine Ray 2600 is a very capable light, pumping out – as its name suggests – a maximum of 2,600 lumens. It also has some innovative and genuinely clever features, though I'm not overly sold on the mount which doesn't feel the most robust, but thankfully any Garmin type will host.
September 7th, 2021 - Thesweetcyclists
Overall, we found the Magicshine Ray 2600 to be a well designed smart headlight. We're happy to see Magicshine incorporate a light sensor as the Ray 2600 can automatically switch between a day and night mode. The other exciting change is the two button interface which makes it easier to make adjustments to brightness or navigate the menu. Although we think the 14 output modes is still one too many, the distinct lens designs of the left and right LEDs make the different output modes useful. For road roading the focused flood style beam of the right LED is very useful, while the spot style beam of the left LED is ideal for trail riding. While most bike companies do minor updates, the Ray 2600 introduces bright output and useful smart features to Magicshine's headlight lineup.
September 8th, 2021 - Thesweetcyclists
September 6th, 2021 - Wheelers At Large
September 8th, 2021 - El Ojo de las Ciclovias y Más(Spanish)
Flying down the mountain, blazing through the trail, and cruising on the road, RAY 2600 attempts to re-imagine the night riding experience. With two high-efficiency LEDs reaching 2,600 lumens max, an optimized beam pattern covering distances both near and far,
every detail on your path will be revealed with clarity. Giving you the confidence to ride fast and hard, pushing your limits.
Light brightness is directly and intuitively controlled by the up and down buttons, both of which act as flash mode switch, on/off switch
and battery indicator as well. Newly introduced is the smart mode, press and hold both buttons briefly when the light is off to toggle
between normal(flash blue) and smart(constant blue). Under smart mode, the bike light monitors the level of ambient light and adjusts
the output automatically. 50 lumens dual beam mode is maintained when the environment is well lit, while full brightness mode is
activated under low light conditions, such as night time or when entering a tunnel. Smart mode also enables the vibration sensor which
triggers sleep mode after 3 minutes of inaction, when the rider is ready to set out again, whereupon any vibration will turn on the light.
RAY 2600 is powered by two customized 18650 power batteries, with a total capacity of 6,700mAh, aside from sustaining super long
runtime, the battery could also act as an emergency power bank via its USB-C fast charging port for your Type-C compatible devices.
Built in thermal management and the one piece aluminum alloy housing provide efficient and consistent cooling for the extremely high
powered LEDs, protecting internal components when the light is operating at high gear. Another perk of the one piece seamless design
is that the unit is mostly waterproof, coupled with the quality of construction, RAY 2600 is easily IPX6 waterproof. For ease of use we
are also adopting the quarter turn style mounting mechanism similar to Garmin computers, literally one second to put on/take off of your mainstream Garmin bar or helmet mount. As an optional accessory we are offering a sleek little remote, connecting via the Type-C port, the wired remote straps close to your thumb and use a single button to access the most commonly used light modes.
We have never lost our passion for night time cycling, with RAY 2600, those passions have turned imagination into reality, get ready to
go into the beyond!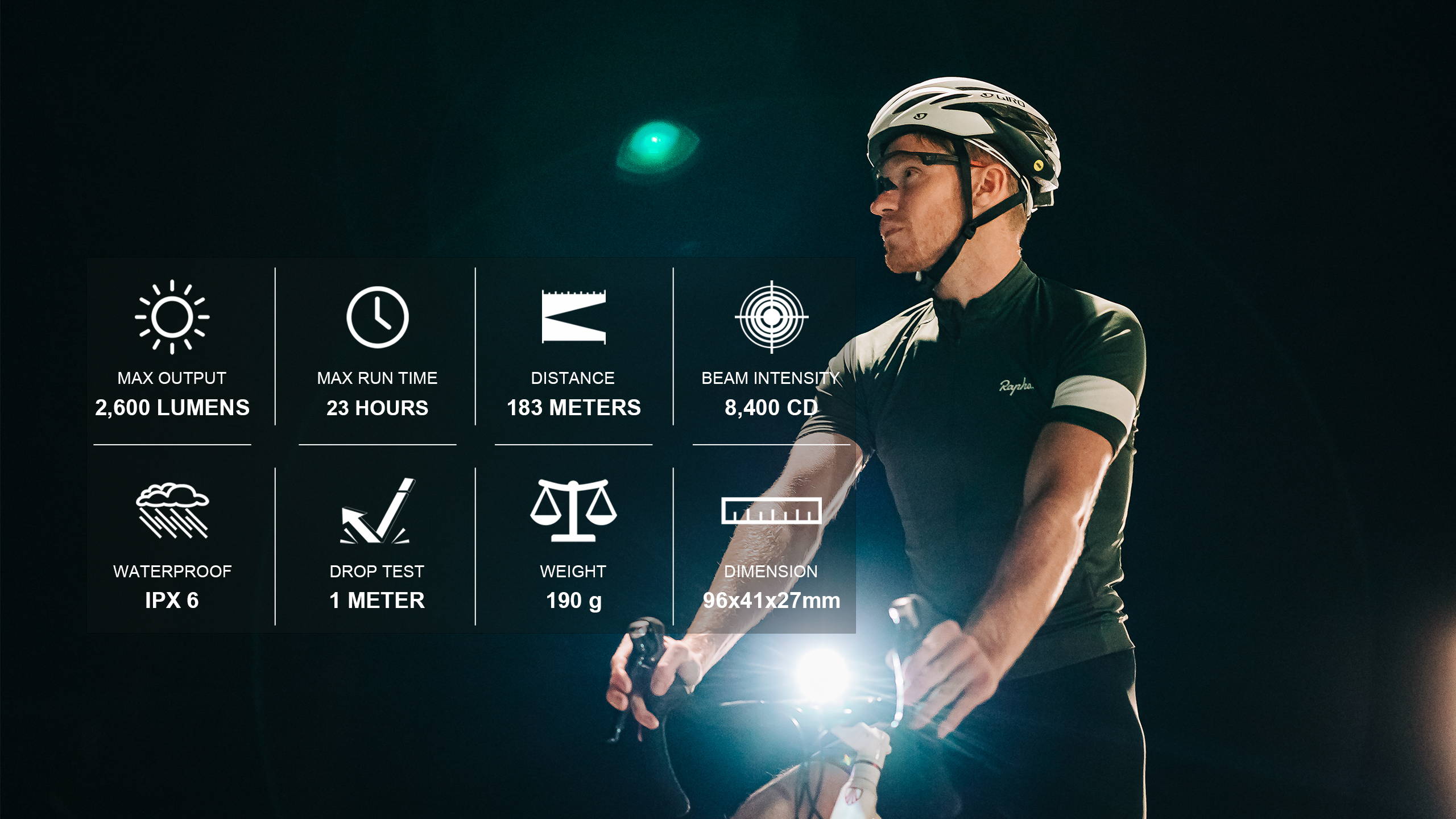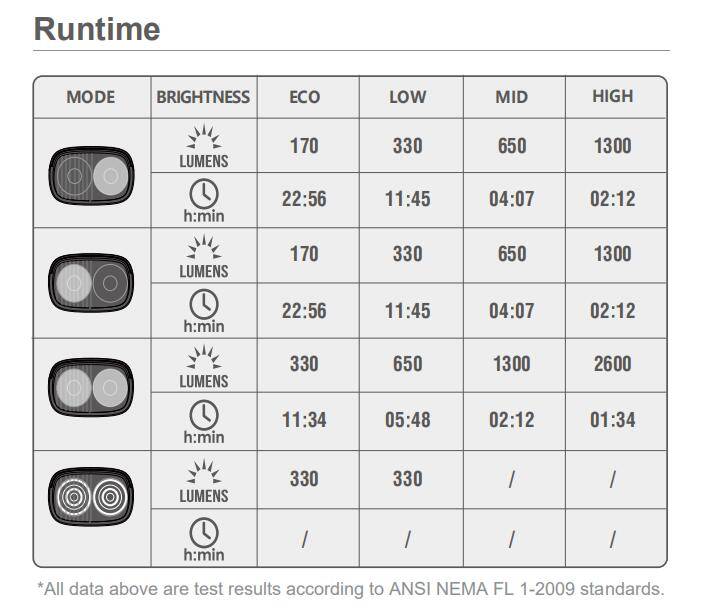 RAY2600 PROMOTION VIDEO
How to use the remote:
How to operate RAY2600: