Magicshine ALLTY 800 is a specially designed road cycling light with anti-glare lens design and support USB-C fast charging.

-- 800LM bike light with high efficiency LED
-- Anti-glare lens design, increase riding safety.
-- Enhanced side visibility with side lighting design
-- High capacity 21700 battery with 4000mAh
-- USB-C fast-charging port saves you more time
-- USB-C discharging function, can be used as a power bank
-- Easy-to-read multiple battery power indicator
-- IPX7 waterproof rate, capable to withstand water immersion up to 1 m depth.
-- Easy and multiple mounting methods with Garmin mount
-- Tough metal case, ensures longer life durability
-- Memory: memorize the last selected mode

WHAT ARE INCLUDED?
1* ALLTY 800
1* Handlebar mount
1* 3mm Hex
1* Gopro mount
2* Aero bar compatible strap
1* Type-C cable
1* Use manual
1* Warranty card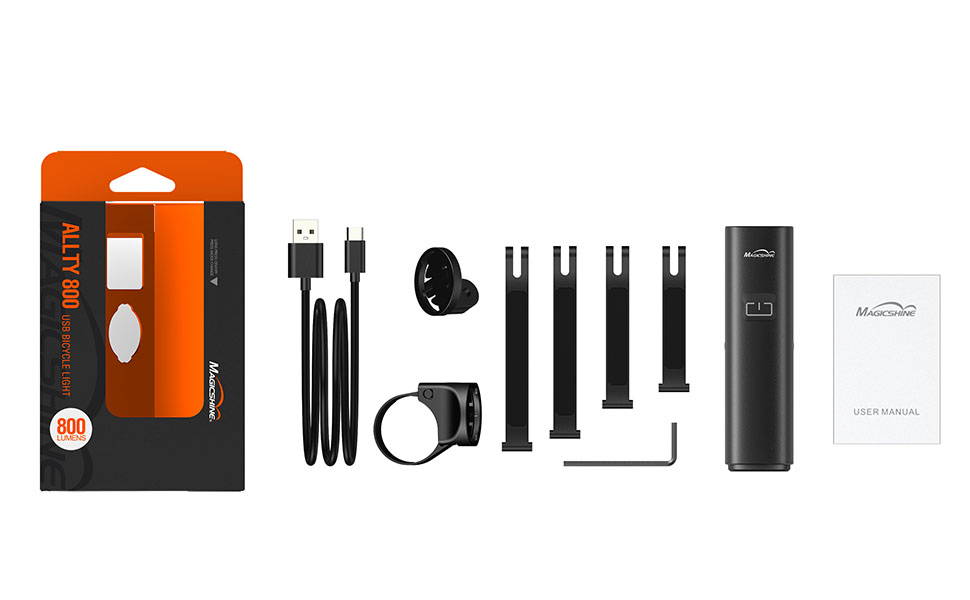 LIGHT OUTPUT : 800 Lumens
Waterproof: IPX7
Material: aluminum alloy
Size: 107x31x31mm
Weight: 172g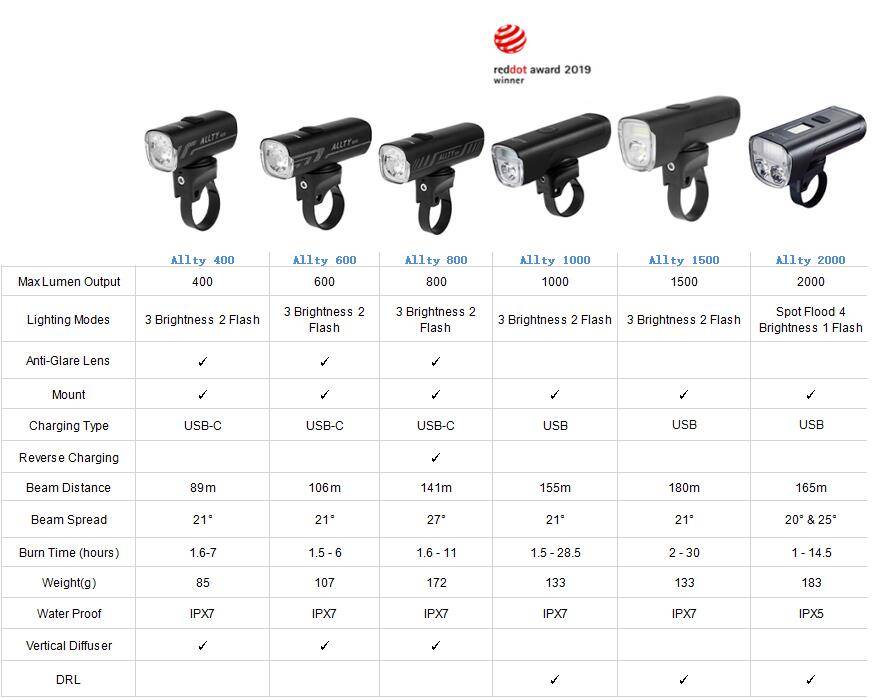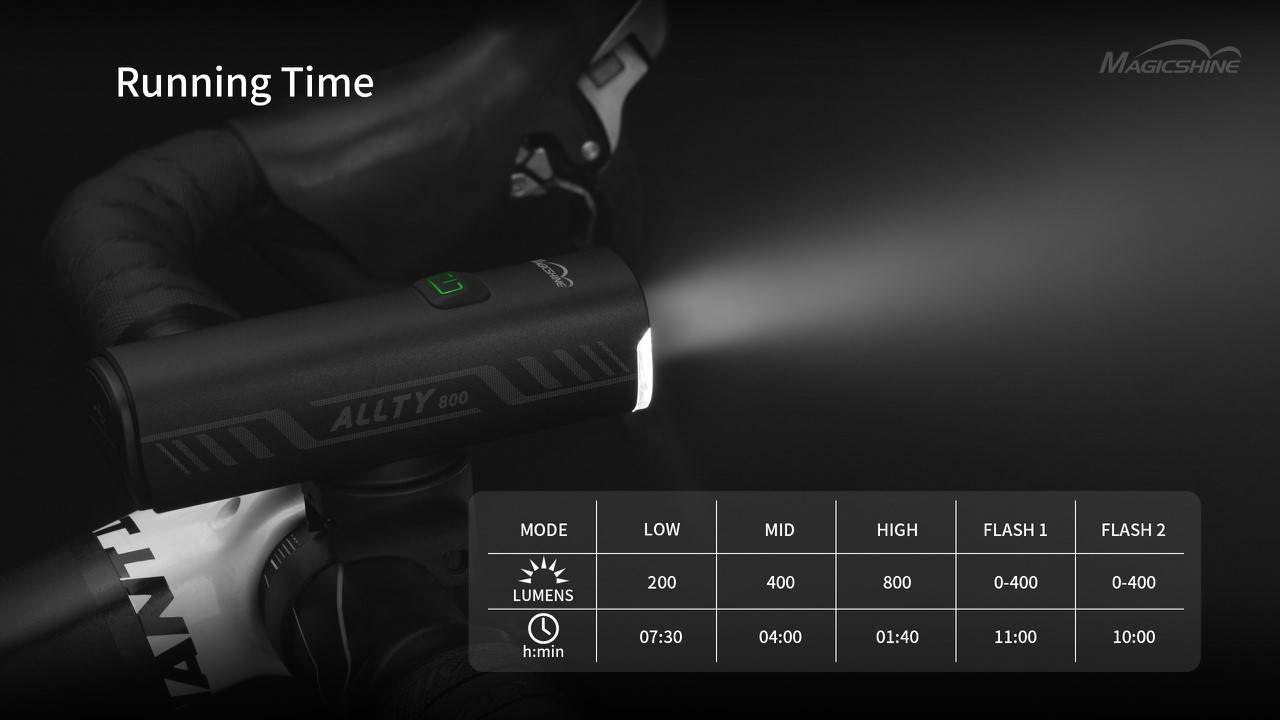 Magicshine's fun-sized commuter Allty lights
Learn more review at thesweetcyclists
The Magicshine Allty 400, 600, and 800 are the latest additions to Magicshine's commuter bike lineup. Featuring single Cree LED design and aluminium finishes, the Allty lights offer small form factor with attractive prices and 400-800 Lumen outputs. The Allty 400 is the most affordable variation with a retail price of only $29.99 while the brightest Allty 800 is only $59.99. All the headlights have impressive features such as USB Type-C charging and discharging (and even support USB C2C), Garmin mounts as well as anti-glare lens design. Despite the Allty naming, the lights share the same design as the RN 1200 but use lower capacity batteries to achieve compact form factors.
The Magicshine Allty 400, 600 and 800 are compact commuter style headlights with competitive prices and modern features such as USB Type-C charging.
Rating 9.1/10
Retail Price $29.99 (Allty 400) / $39.99 (Allty 600) / $59.99 (Allty 800)
Measured Weight (in g) 84 (Allty 400) / 108 (Allty 600) / 158 (Allty 800) / 16 (Mount)
Likes + Competitively priced
+ Versatile Garmin compatible mount
+ USB Type-C charging and discharging
Dislikes – No DRLS
– Lens design has basic beam cutoff
– Handlebar mount requires allen wrench to install
UNBOXING
The Allty lights are packaged in compact cardboard boxes with Magicshine's black and orange color scheme. Large cutouts in the boxes allow you to turn the headlights on and off. Inside the box you'll find:
Allty headlight
Garmin compatible handlebar mount
4 Mounting Straps – Aero + 35 / 28 / 24.4mm handlebars
Allen Key
USB Type-C charging cable
Instruction Manual
Garmin-to-GoPro adapter
One thing that surprised us was the inclusion of the Garmin-to-GoPro adapter. This allows the lights to be mounted on various helmet, handlebar and out front style mounts quickly and easily.
MOUNTING
As with most of Magicshine's headlights, the Allty lights use a Garmin style quarter turn mount molded into the base of the housing. This makes the lights compatible with most mounts on the market, a feature we wished other manufacturers would adopt instead of using proprietary designs with limited mounting options. That said, we're not big fans of the included handlebar mount which is shared with many of Magicshine's other headlights. It uses a flexible strap to wrap around the handlebar and a threaded metal insert at the end which an allen bolt secures against. Magicshine does provide multiple length straps, including a very long aero bar variation which means it should work on most bikes.
The design requires an allen key and takes some patience to line up and tighten down. We prefer the tool-free quick connect style mounts that other commuter lights like the Fenix BC21R or the Kryptonite Incite X6 utilize. Also, with this mount design there is no side-to-side adjustment, a feature other commuter lights offer. We highly recommend using an out-front mount like the Magicshine TTA mount or other mounts on the market instead of the provided handlebar mounts. It's also important to point out that while it may be tempting to mount the Allty lights upside down, the anti-glare lens design means they should only be mounted upright. Placing them upside down would increase glare to oncoming traffic unless you significantly tilt the headlight downward. Hopefully future Allty lights will incorporate a flippable lens or dual mounting design to avoid this issue.
FIT & FINISH
Those more familiar with the Magicshine product line may recognize the Allty lights as being quite similar to the RN 1200. For whatever reason, Magicshine has chosen to continue the Allty name with these headlights insead of the RN product name. That said, they share the same aluminium housing design, but use sleek graphics on the sides instead of the grooves featured on the RN 1200. The design gives the headlights a more premium feel compared to plastic commuter lights and doesn't add a significant amount of weight. The Allty 400 is the 'fun-sized' variation with a short and stubby design while the Allty 800 is the same length as RN 1200.
1. How to check my order status?
A: After you register on our website, log in from our system, you can check your order status in real time.
2. What's the shipping method?
A: There are two ways of logistics, express and postal. According to the region, our system will automatically allocate logistics, you can contact us directly if you want to change your shipping method to express. Order inquiry: mkt1@magicshine.com
3. How long does it for my order to get to me?
A:Usually delivered within 5-15 working days.
4. What's the shipping cost?
A: Order over 69.99$. Free shipping cost
order shipping cost
39.99$-69.98$ 9.99$
-39.98$ 14.99$
5. How / when will you refund my tax?
A: Providing logistics company documents, sent to mkt1@magicshine.com.
We will refund the amount to your payment account within 24 hours.
6. How to contact customer service?
A: For any question on product or availability, please feel free to contact us below:
Service Inquiry: service@magicshine.com
Order inquiry: mkt1@magicshine.com
PS: The order confirmation email will be sent to you after you place your order, maybe you can check it in your spam box.
Tel: (+86)755-29553669
WhatsApp: +86 137 6169 2016