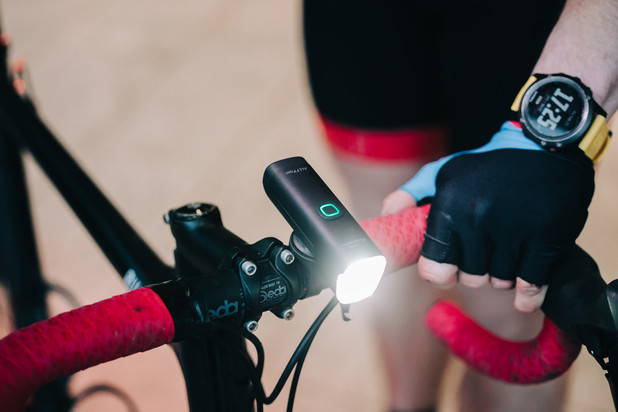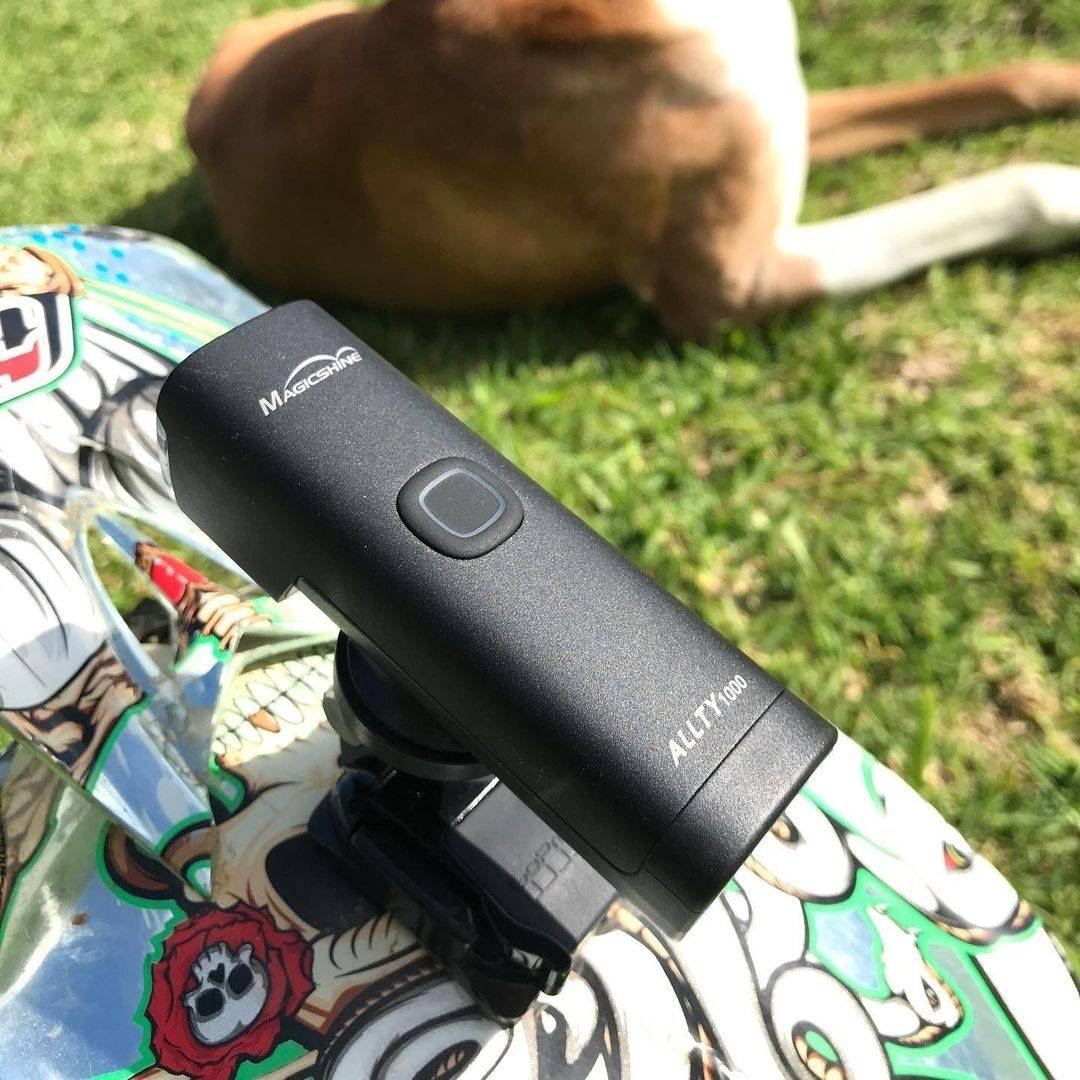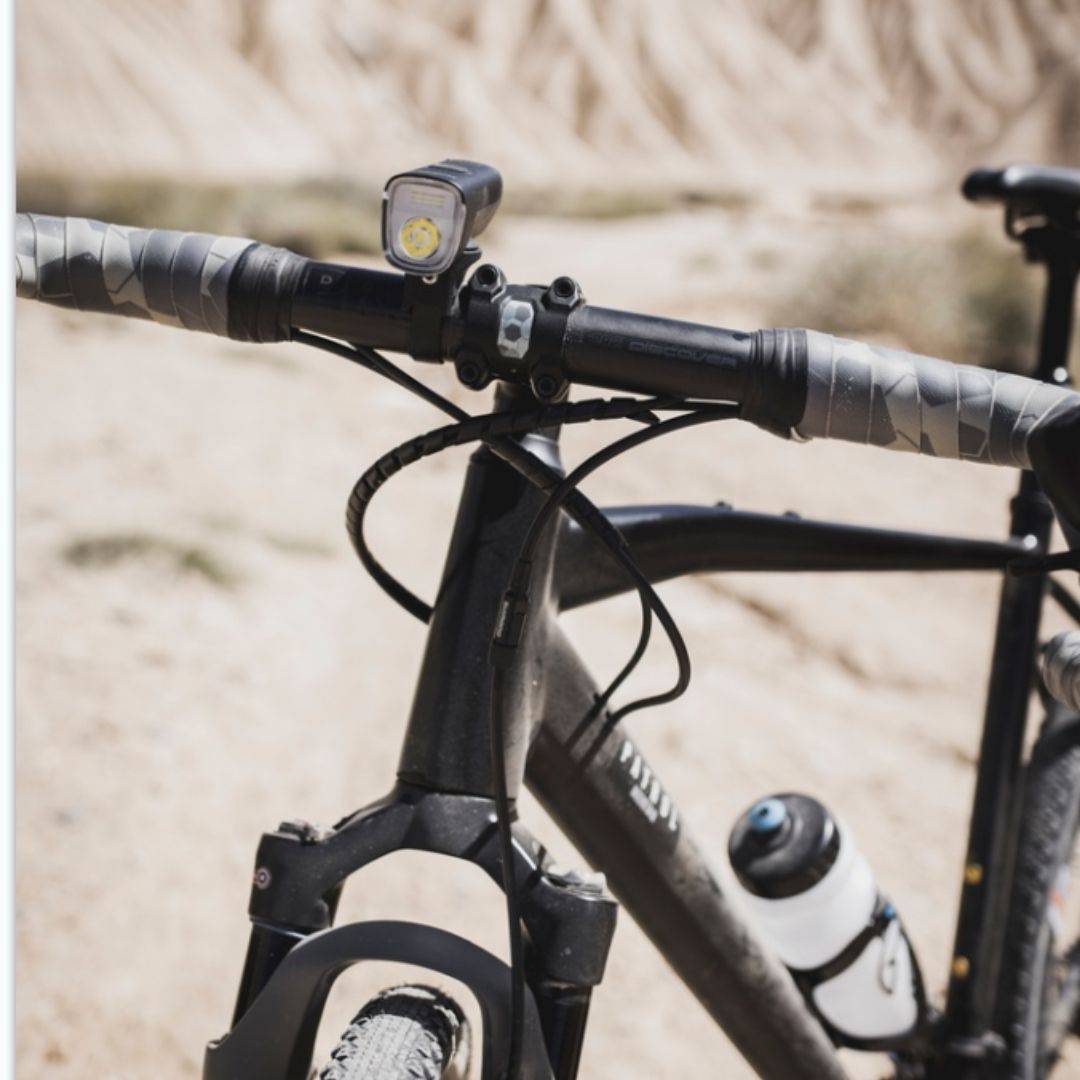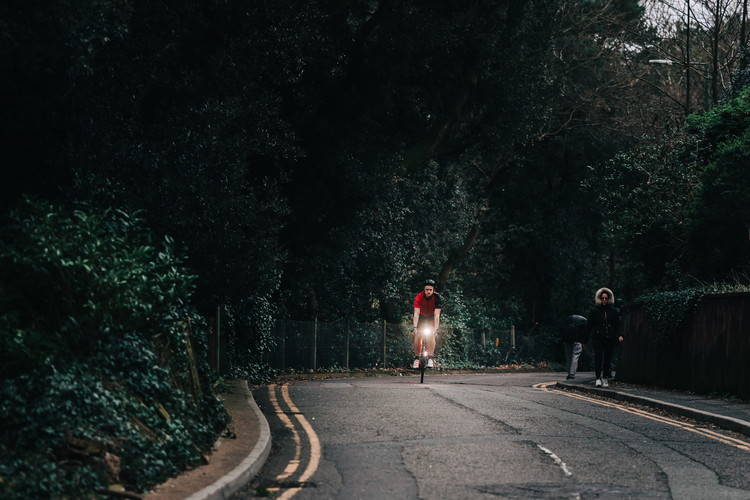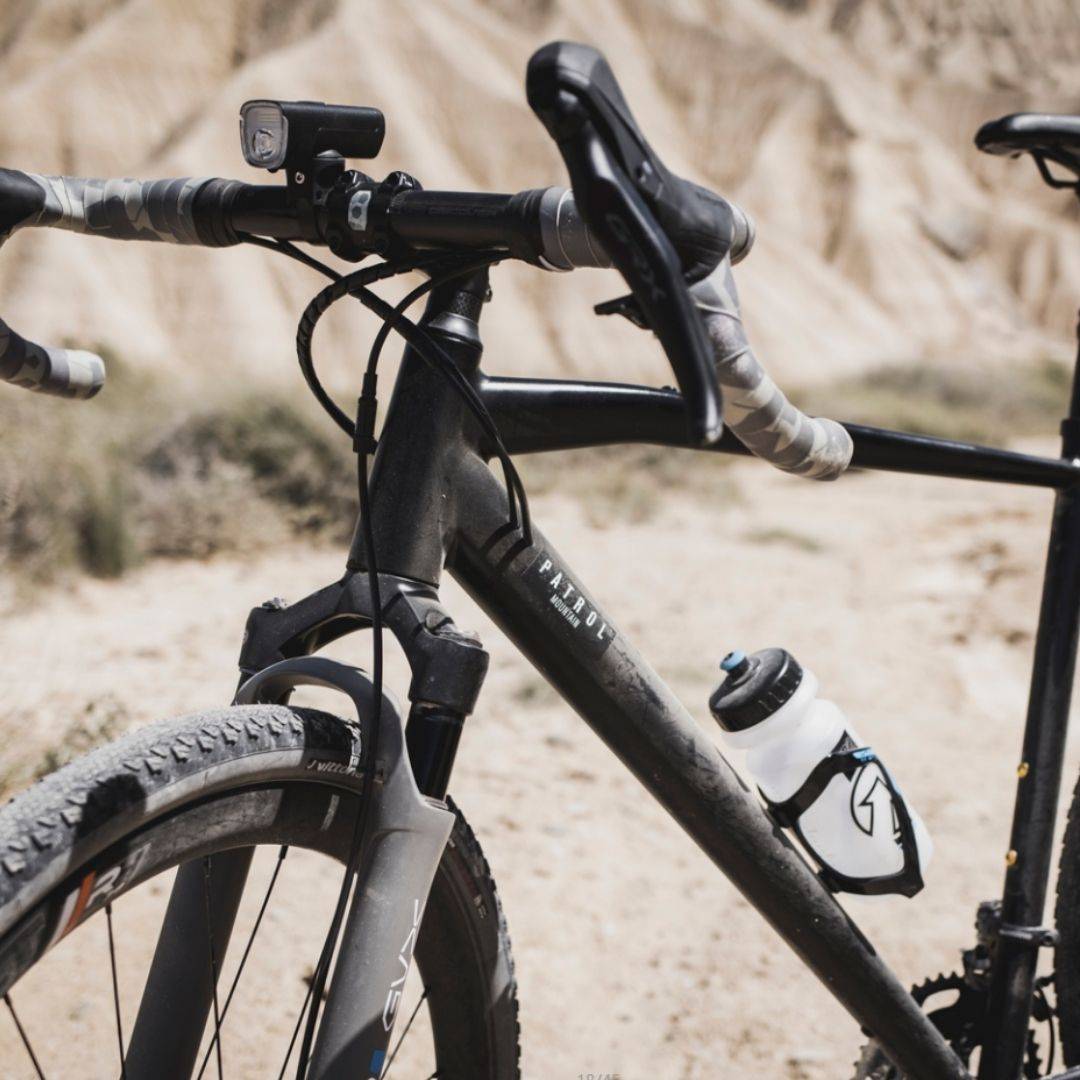 Magicehine ALLTY 1000 is a new concept 1000 lumen front light with built-in daytime running light and 4000 mAh high capacity battery to increase riding safety. Red dot design 2019 award winner.
Carefully engineered beam pattern with high transmittance optical lens
Perfect balance between beam throw and spread for both road and trail
Latest 21700 Li-ion cell with super high capacity of 4000 mAh, provides up to 28.5 hours of burning time
Easy to read 3 step power gauge and intuitive operation
CNC aluminum alloy housing with exquisite frosted finish
Garmin base mount with 3 adjustable straps fit most handlebars
Light-weight and ultra-compact all-in-one design bicycle light
WHAT ARE INCLUDED?
1* ALLTY1000
1* Handlebar mount
2* Aero bar compatible strap
1* 3mm hex
1* Micro USB cable
1* User manual
1* Warranty card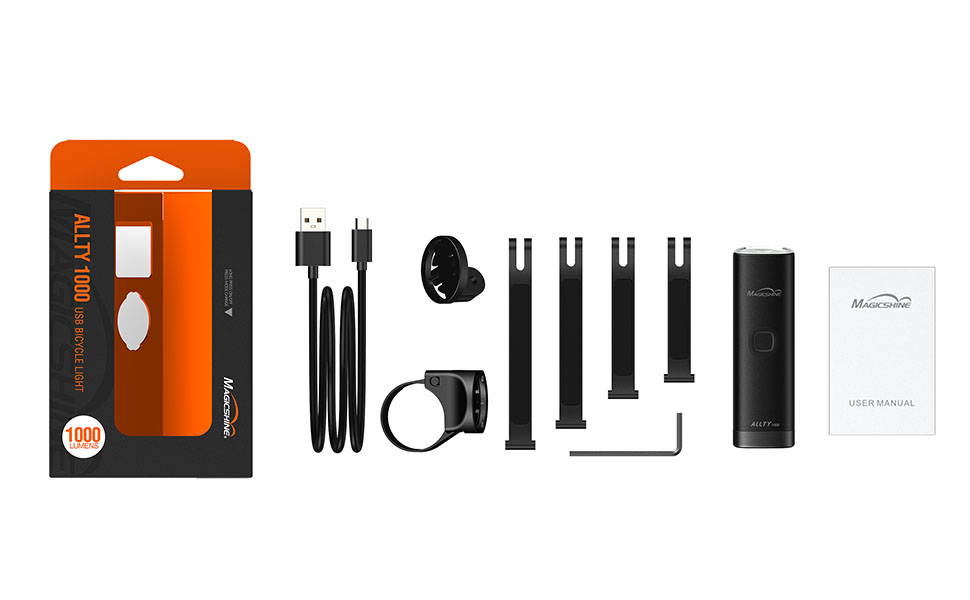 LIGHT OUTPUT : 1000 Lumens
Battery : 4000 mAh
Waterproof: IPX7
Material: aluminum alloy
Size: 96x30x36mm
Weight: 132g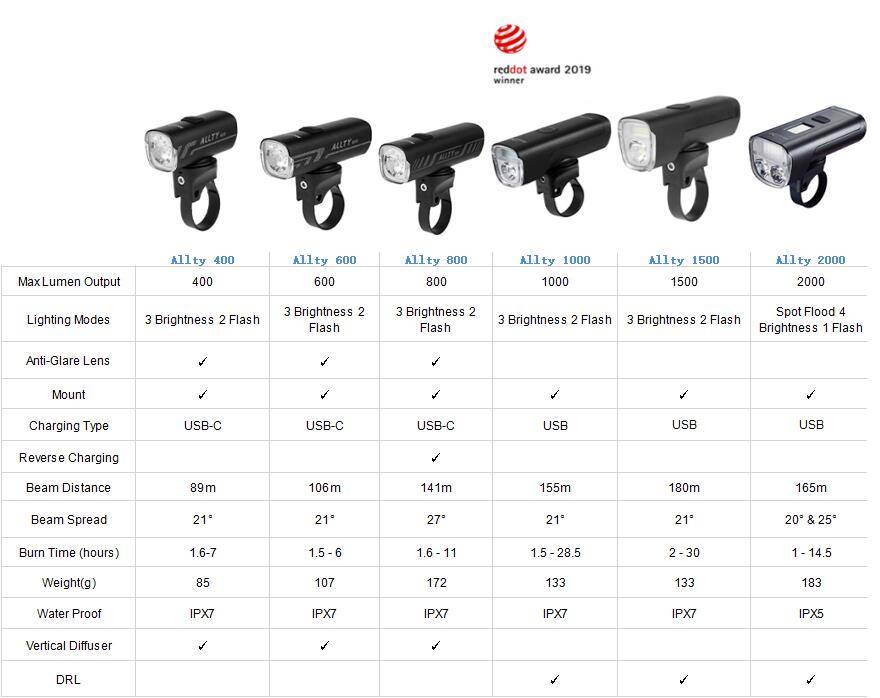 The Magicshine Allty 1000 is a compact unit that packs enough punch to illuminate even the darkest of road rides. It has a great beam, mode selection is simple, and all options are easy to navigate, even on the fly. It's not programmable and the battery indicator could be more detailed, but if you're looking for a do-it-all light road light, the Allty 1000 is very hard to beat for the price.
> Buy this online here(link is external)
The Allty 1000 features a rugged aluminium body that's nice to find at this price. Behind the lens sit two bright Cree XP-L V6 LEDs and a smaller, always-on 55-lumen LED for daytime running. The casing tapers to keep it compatible with most out-in-front mounts.
2020 Magicshine ALLTY 1000 - front.jpg
I
n the box you find a standard bar mount with three different straps to accommodate the majority of bar sizes and shapes. I mounted the Allty to everything from skinny 28.5mm bars to chunky aero ones without issue.
One thing worth noting is that the aero mount doesn't allow for rotation around the bars, meaning the angle of the beam cannot be changed. For me the light fell where I wanted it anyway, but others may not be so lucky.
> 17 best rear bike lights for 2020 — boost your day & night visibility
The included mount and clamp may be simple, but that's by no means a bad thing! For commuting especially it's useful to have a mount that stays attached when it's necessary to lock your bike up in a public place.
2020 Magicshine ALLTY 1000 - mount.jpg
The Magicshine has an integrated 4000 mAh battery which allows for decent burn times even at high power, and up to 28.5 hours on its most frugal mode. The six modes are:
DRL (25 lumen/28.5 hours) A useful and always-on option that doesn't deplete the battery quickly.
Eco (250L/12.5hrs): I didn't use this much, as it's not bright enough for full dark, but it's okay under streetlights.
Medium (500L/4hrs): Good for most nighttime riding, and four hours is long enough for most nighttime rides.
High (1000L/1.8hrs): Bright enough for even the darkest of lanes, although it might struggle with off-road singletrack.
Flash 1 (1000 L/3hrs): What I call manic mode... this one's definitely eye-catching, so brilliant for urban riding to attract attention even from a distance.
Flash 2: (500 L/7.2 hrs): A steady flash that's still bright enough to get you noticed from about 200m, but with a much longer burn time.
1. How to check my order status?
A: After you register on our website, log in from our system, you can check your order status in real time.
2. What's the shipping method?
A: There are two ways of logistics, express and postal. According to the region, our system will automatically allocate logistics, you can contact us directly if you want to change your shipping method to express. Order inquiry: mkt1@magicshine.com
3. How long does it for my order to get to me?
A:Usually delivered within 5-15 working days.
4. What's the shipping cost?
A: Order over 69.99$. Free shipping cost
order shipping cost
39.99$-69.98$ 9.99$
-39.98$ 14.99$
5. How / when will you refund my tax?
A: Providing logistics company documents, sent to mkt1@magicshine.com.
We will refund the amount to your payment account within 24 hours.
6. How to contact customer service?
A: For any question on product or availability, please feel free to contact us below:
Service Inquiry: service@magicshine.com
Order inquiry: mkt1@magicshine.com
PS: The order confirmation email will be sent to you after you place your order, maybe you can check it in your spam box.
Tel: (+86)755-29553669
WhatsApp: +86 137 6169 2016