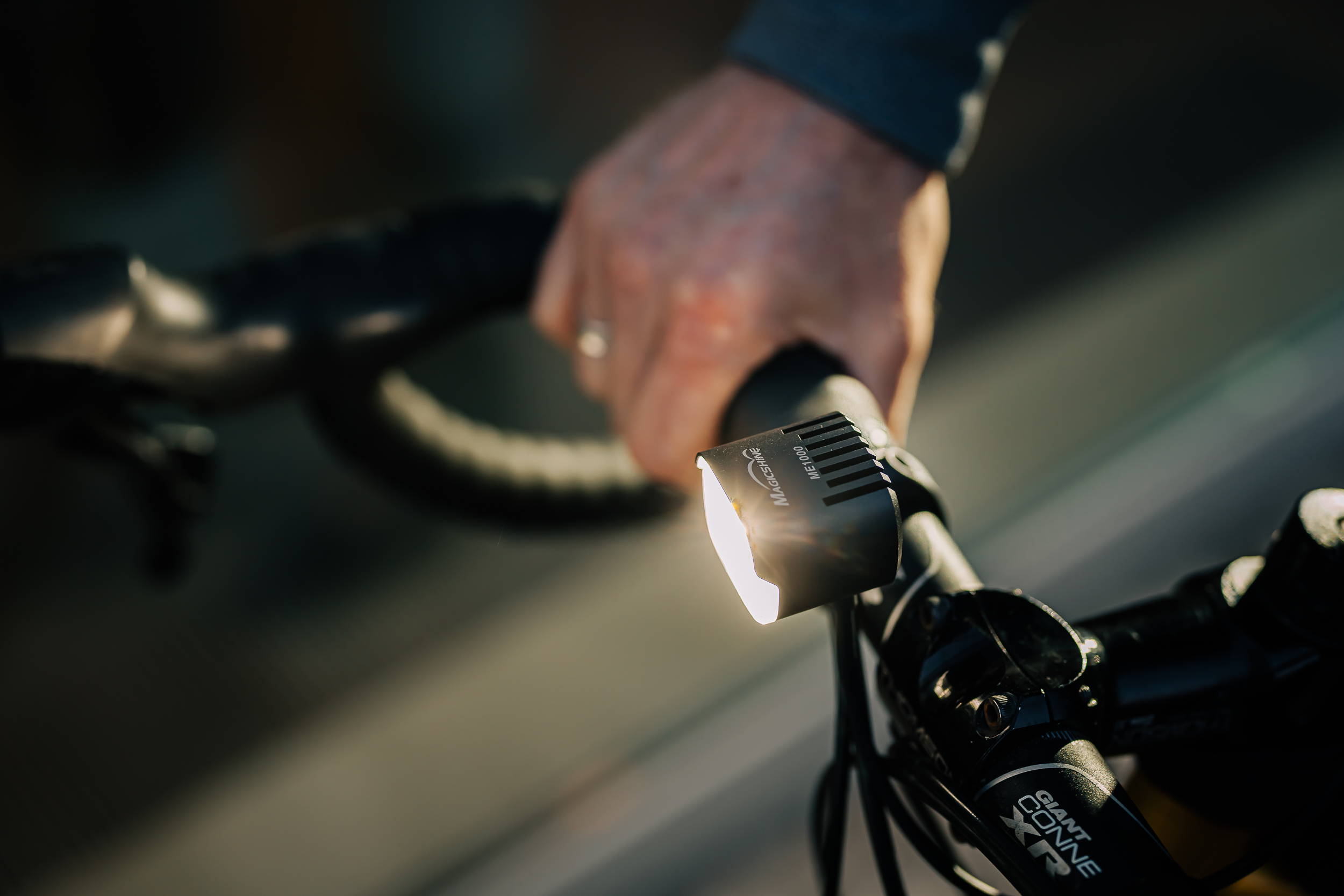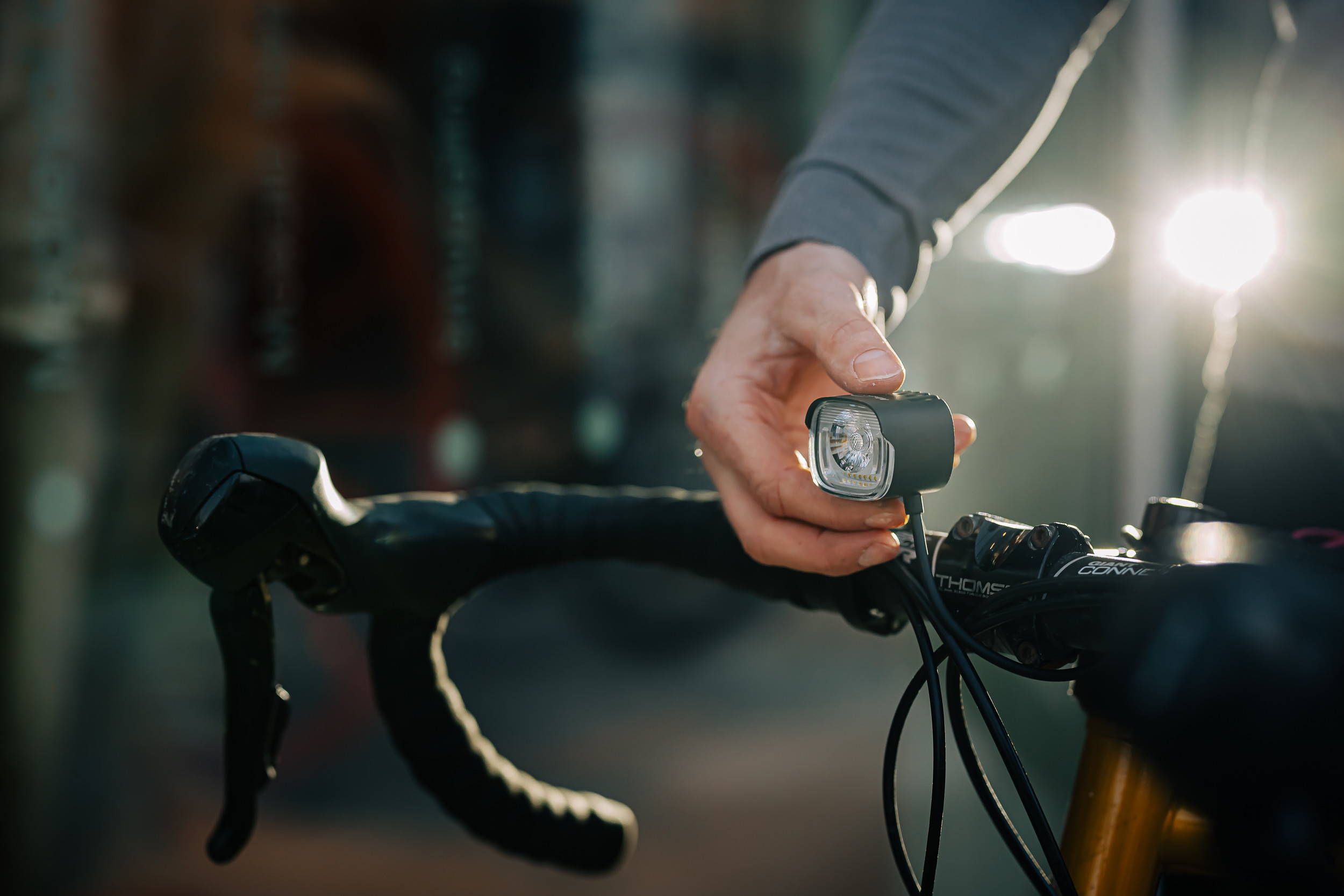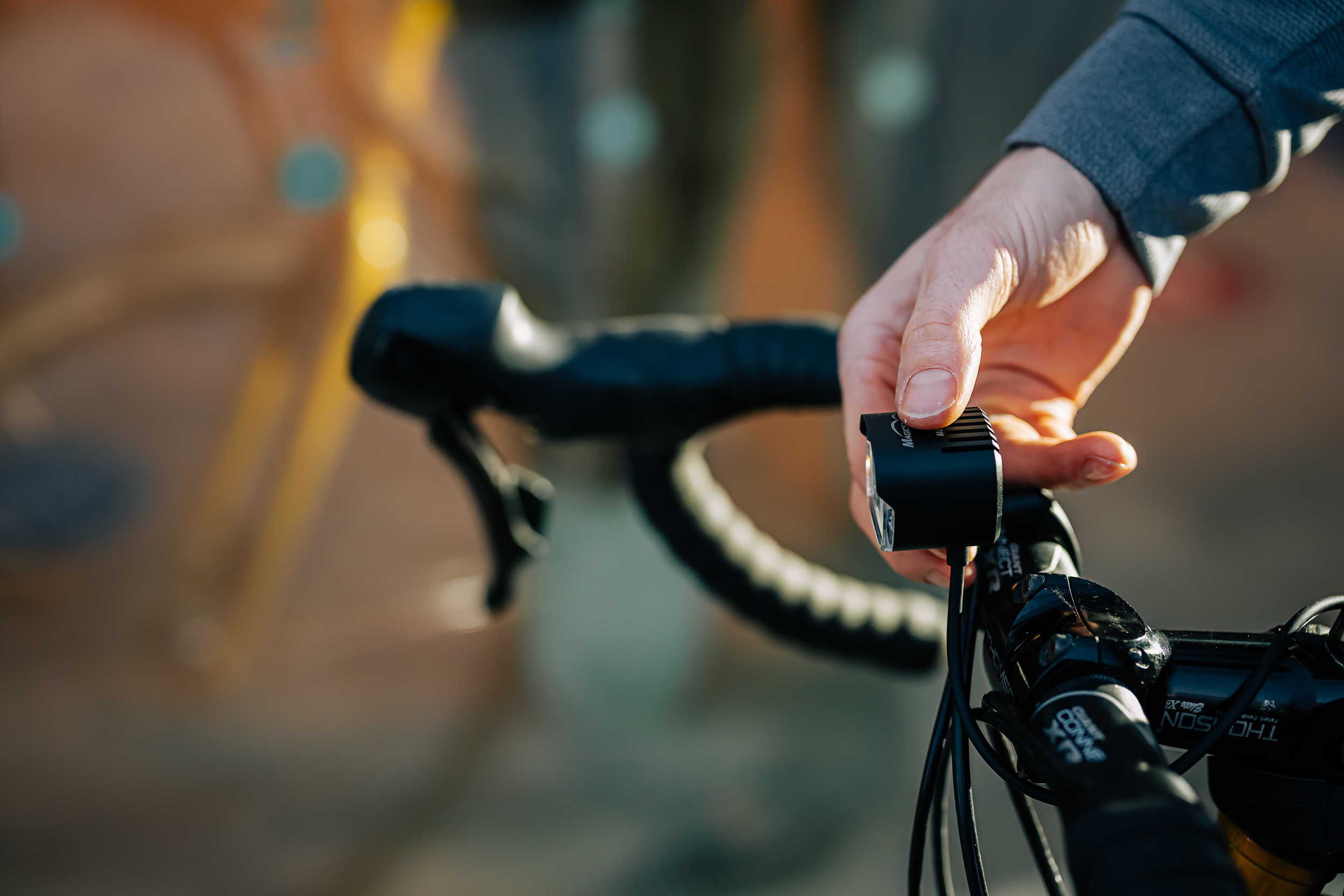 The quality and functionality of the bike lighting system are equally important during the day as in the night. When the night settles
in, a bike light's obvious purpose would be to illuminate the path ahead, alerting the cyclists of all incoming obstacles. With natural
lighting abound, a bike light's main responsibility during the day is to provide the cyclist adequate passive be-seen visibility among
and the fast moving, ironclad motorists. The cyclist's road presence is vitally important with modern day E-Bikes moving much more
quickly and silently than traditional bicycles. We have taken into account many variables unique to E-Bikes and tailored the design
of our latest
ME line of lighting system to deliver top notch performance and safety for our E-Bike cyclists.
ME 1000, the first E-Bike specific bike light of MAGICSHINE, powered via battery/motor system, allowing you to do away with the
traditional onboard battery system. After years of research and development, ME 1000's front lens has been fine tuned to make the
most of its extremely power efficient LED, the two are perfectly matched to provide a maximum output of 1000 lumens, carpeting the
entire frontal section with no sharp edge nor hot spots. Beam reach and spread has been adjusted to optimize the rider's reaction
time to incoming obstacles at moderate speeds.
During daytime, the always on Daytime Running Light significantly enhances the
rider's road presence at very little power consumption, when entering a tunnel or shortly after sun down, light's output automatically
switches to full power mode with its ambient light detection. In an effort to maximize the versatile purposes of the ME 1000, we have
added side lighting and anti-glare to fully round out ME 1000's active and passive safety features under all weather and road conditions.
The adjustable light head of the ME 1000 provides a wide arc of lighting area(up to 45°, down to 90°). Vertical light is diffused past
eye level, reducing its blinding effect for oncoming traffic, side lighting allows better visibility for traffic along side the rider. Durable
and seamless one piece aluminum alloy housing is fully integrated with its one prong aluminum mount, which can be installed on
either side of the stem on the handlebar without removing a grip, shifters or brake levers, providing unprecedented stability, though
only compatible with 31.8mm and 35mm handlebars. Heat control is streamlined with its internal smart thermal protection circuit and
dissipation properties of the shell material, max output levels can be maintained throughout your ride with internal components well
protected from overheating. Seamless design also allows IPX6 waterproof rating.
Various output specifications provided by most manufacturers are of no issue as long as the voltage is within the 6 -12 V range, the
ME 1000 automatically detects the system output and adapts to available power (6v/12v Bosch, Shimano, Brose, Yamaha).
Embark on safe journeys with ME 1000 as your guiding light!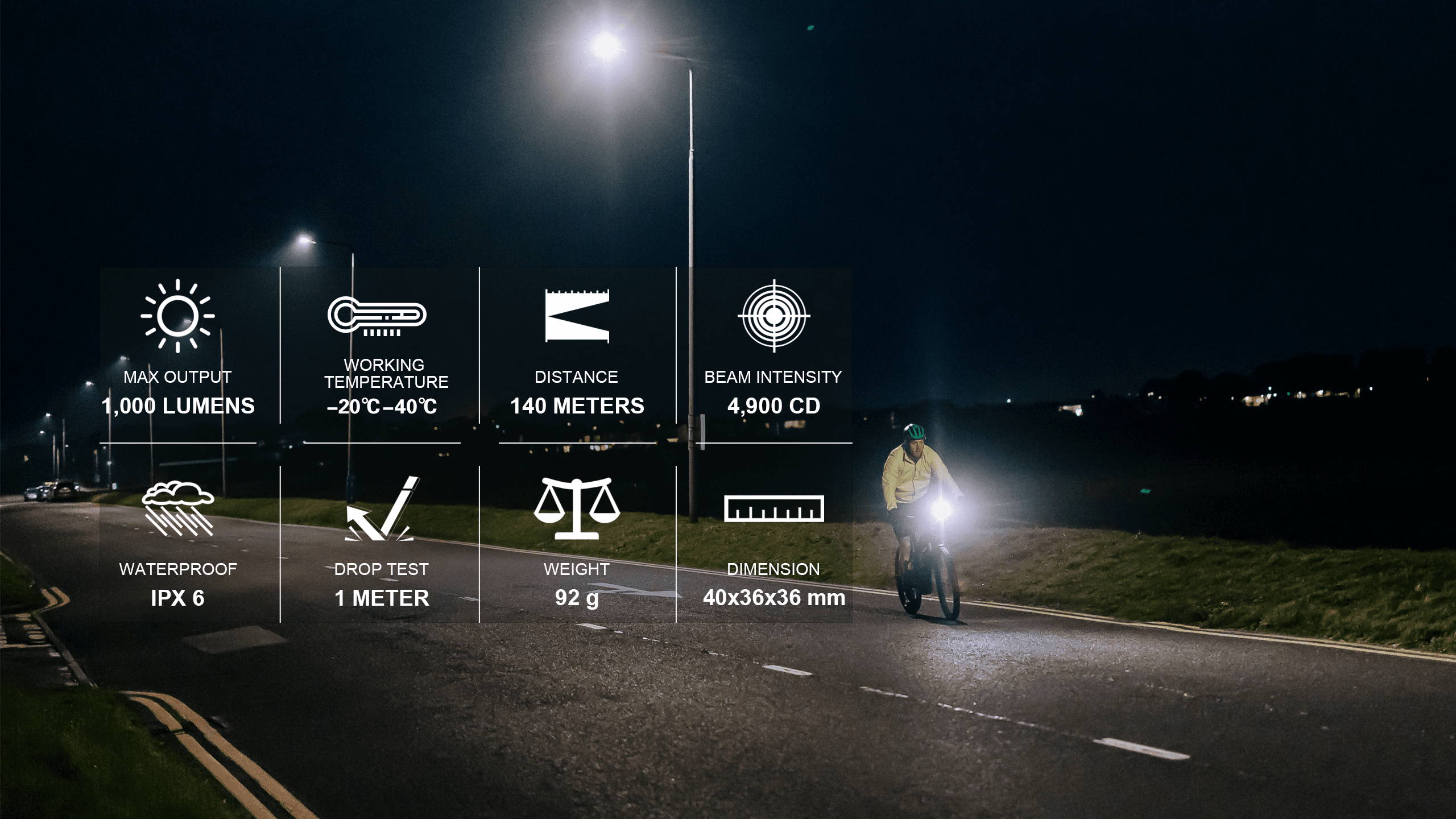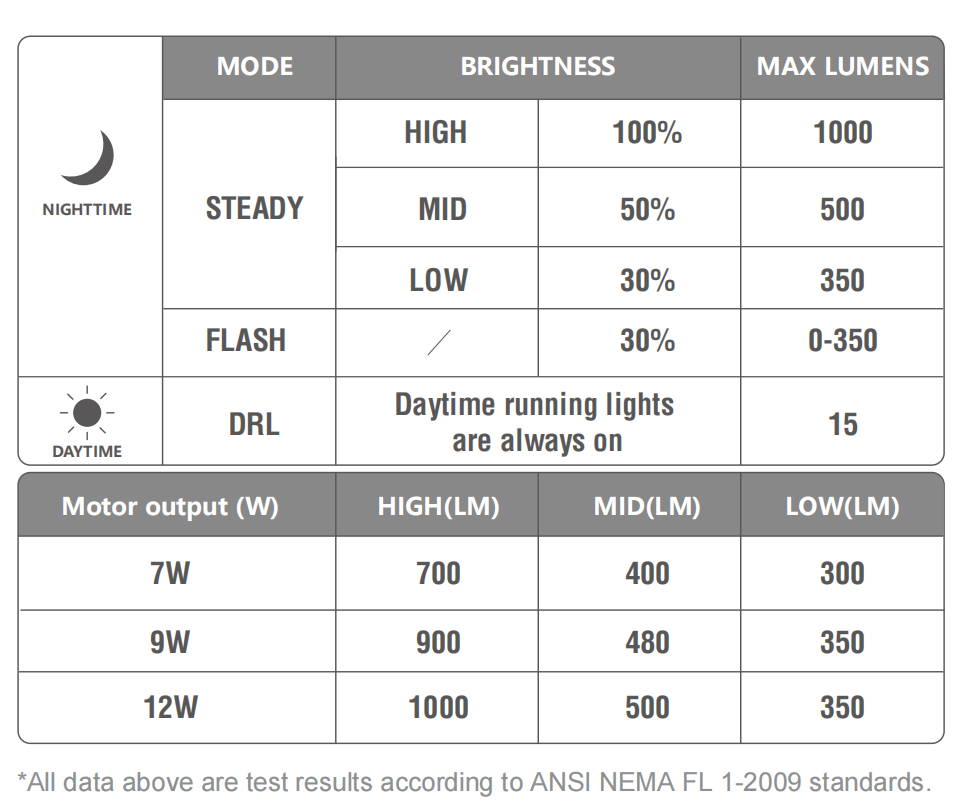 Box Contents
ME 1000 x 1
Silicone Pad x 2
3mm hex x 1
User Manual x 1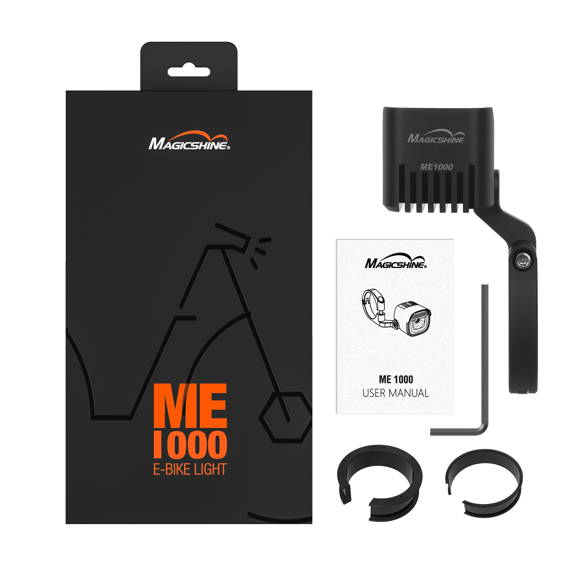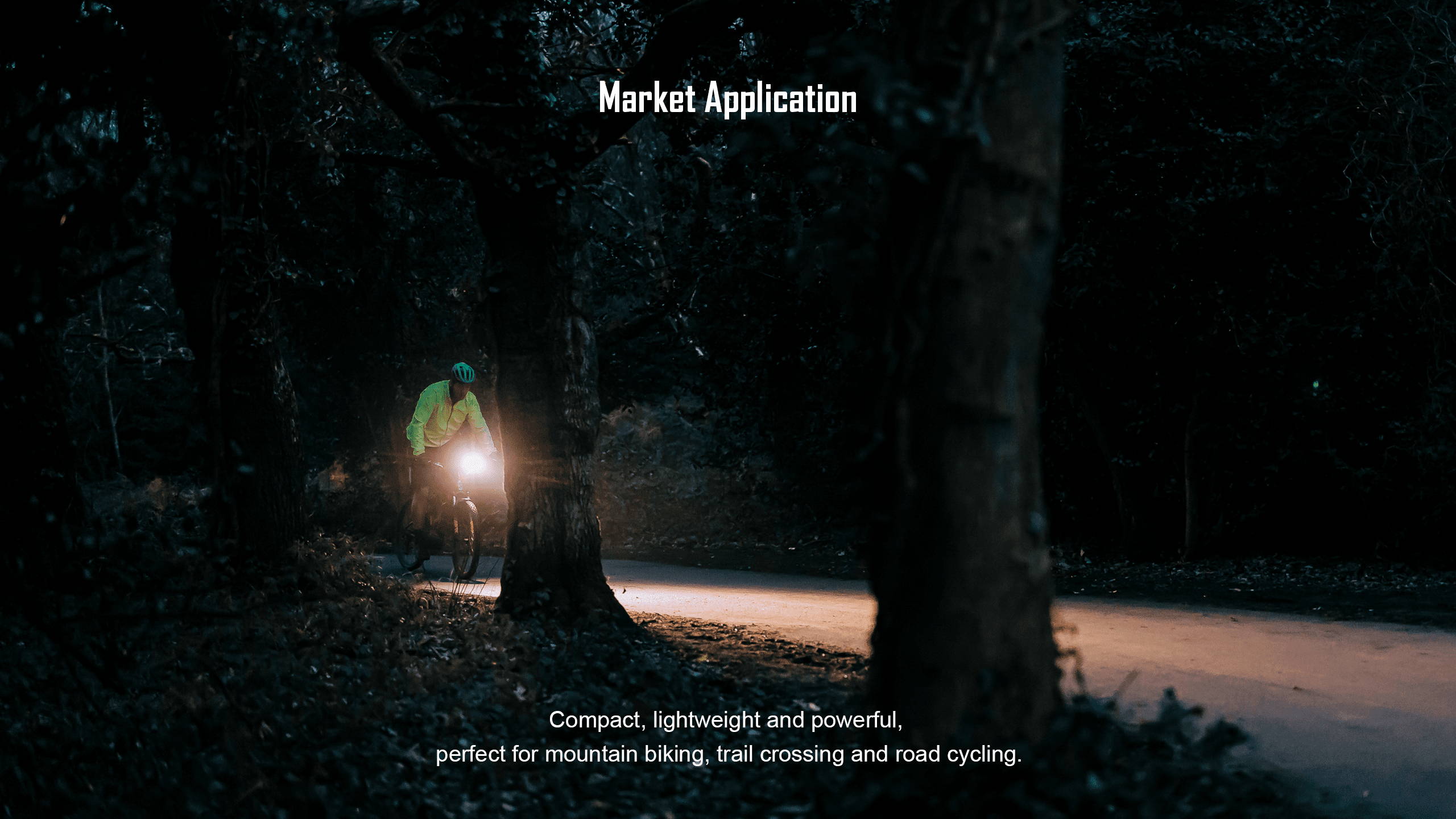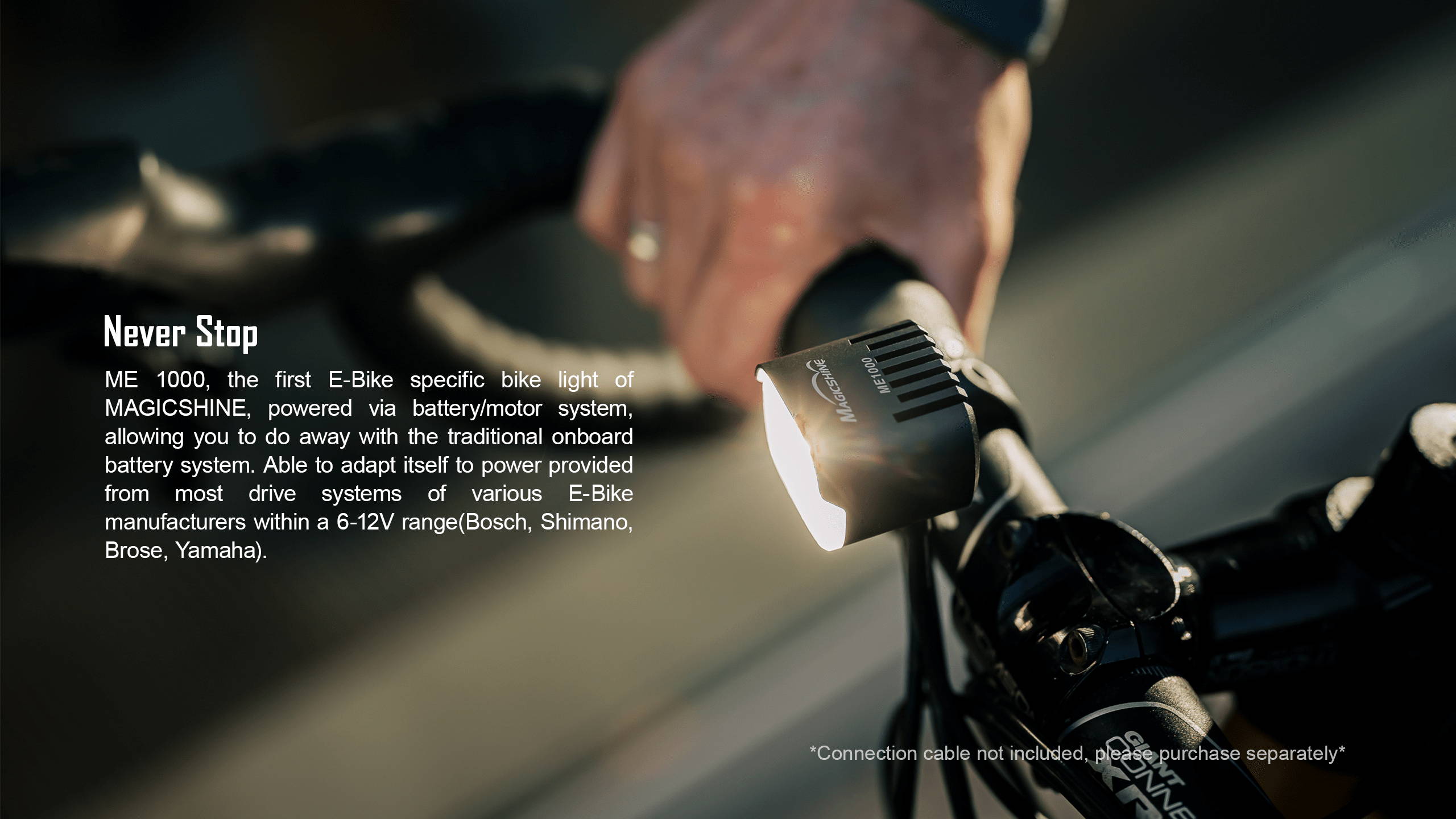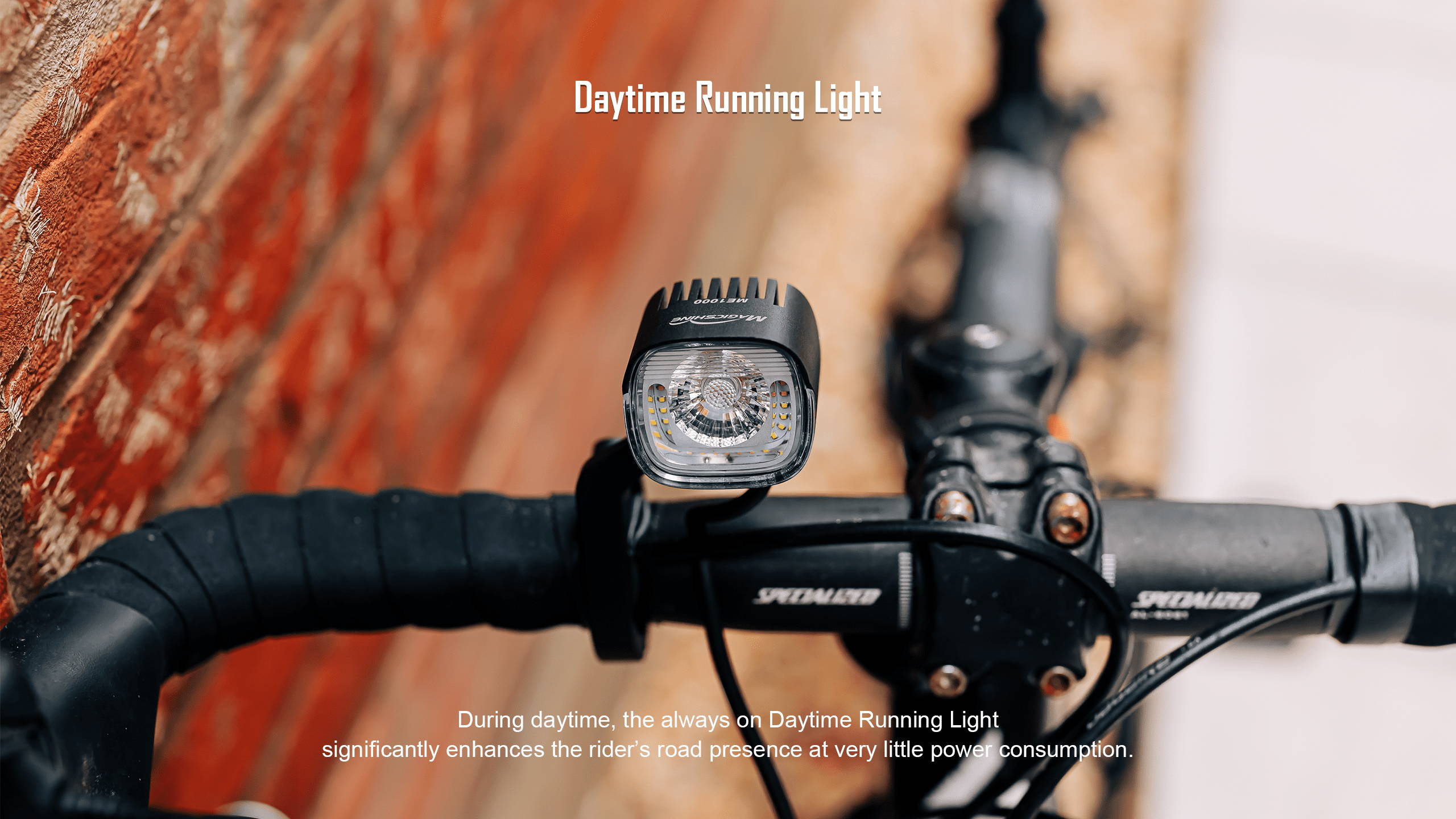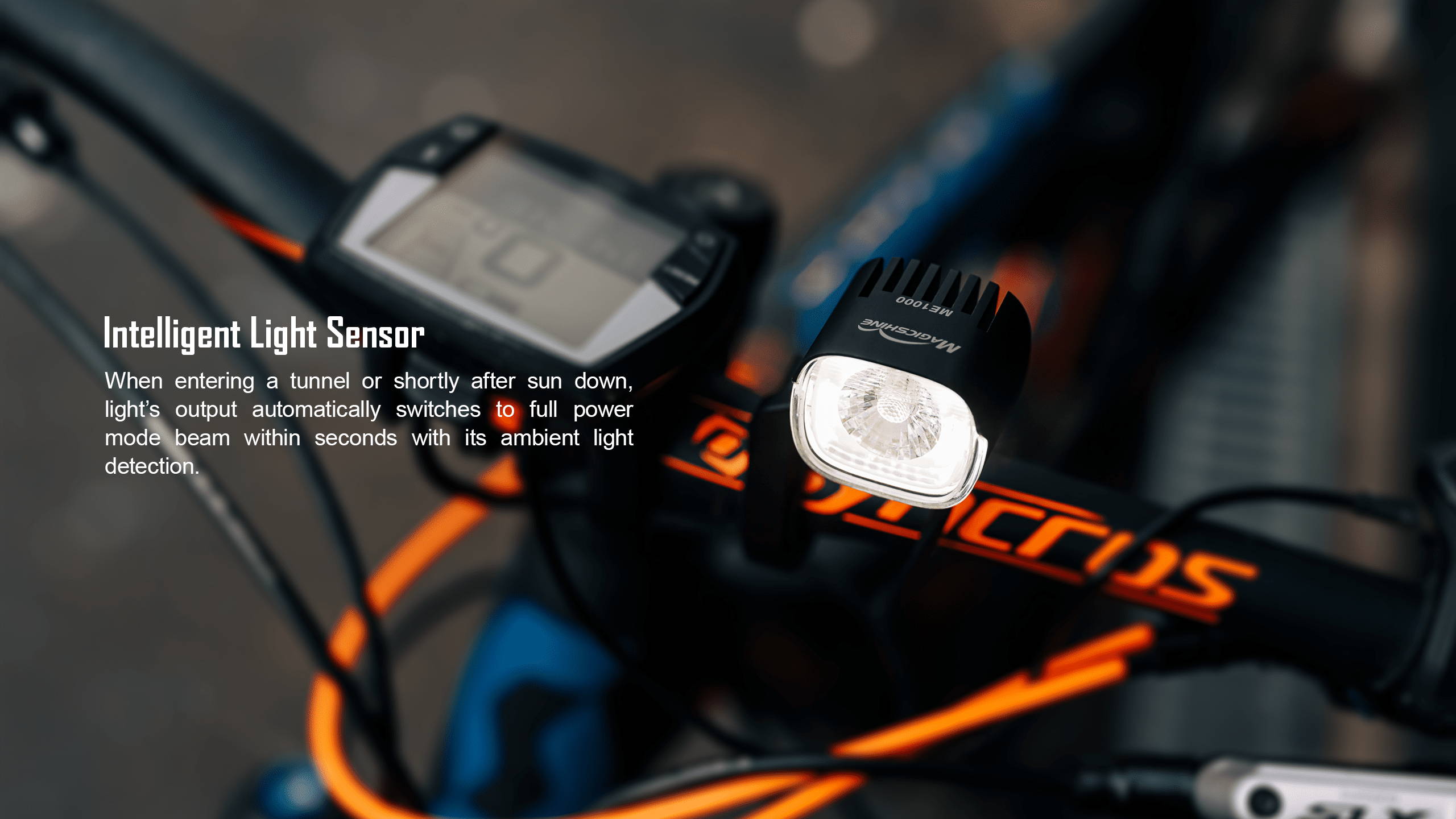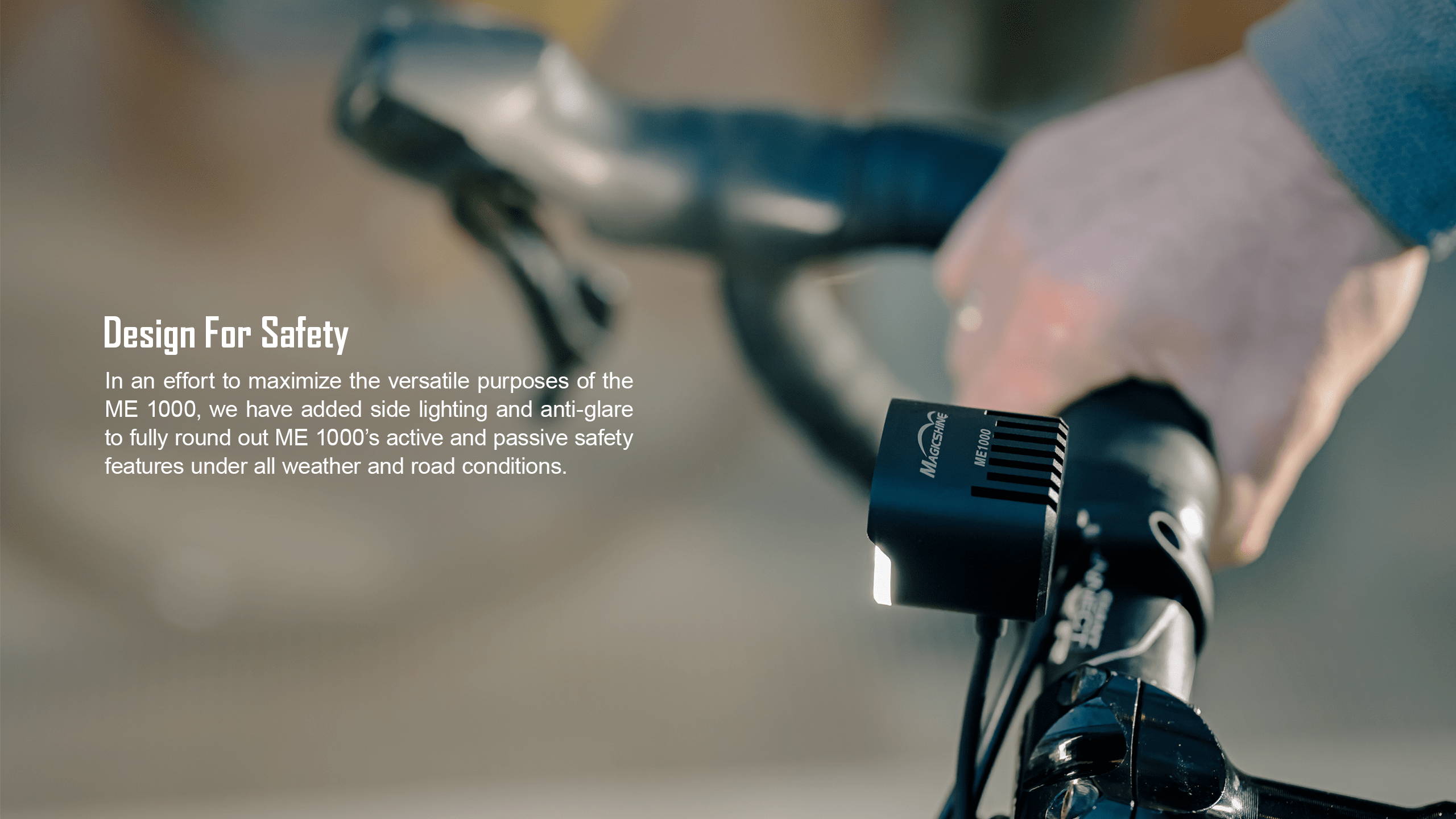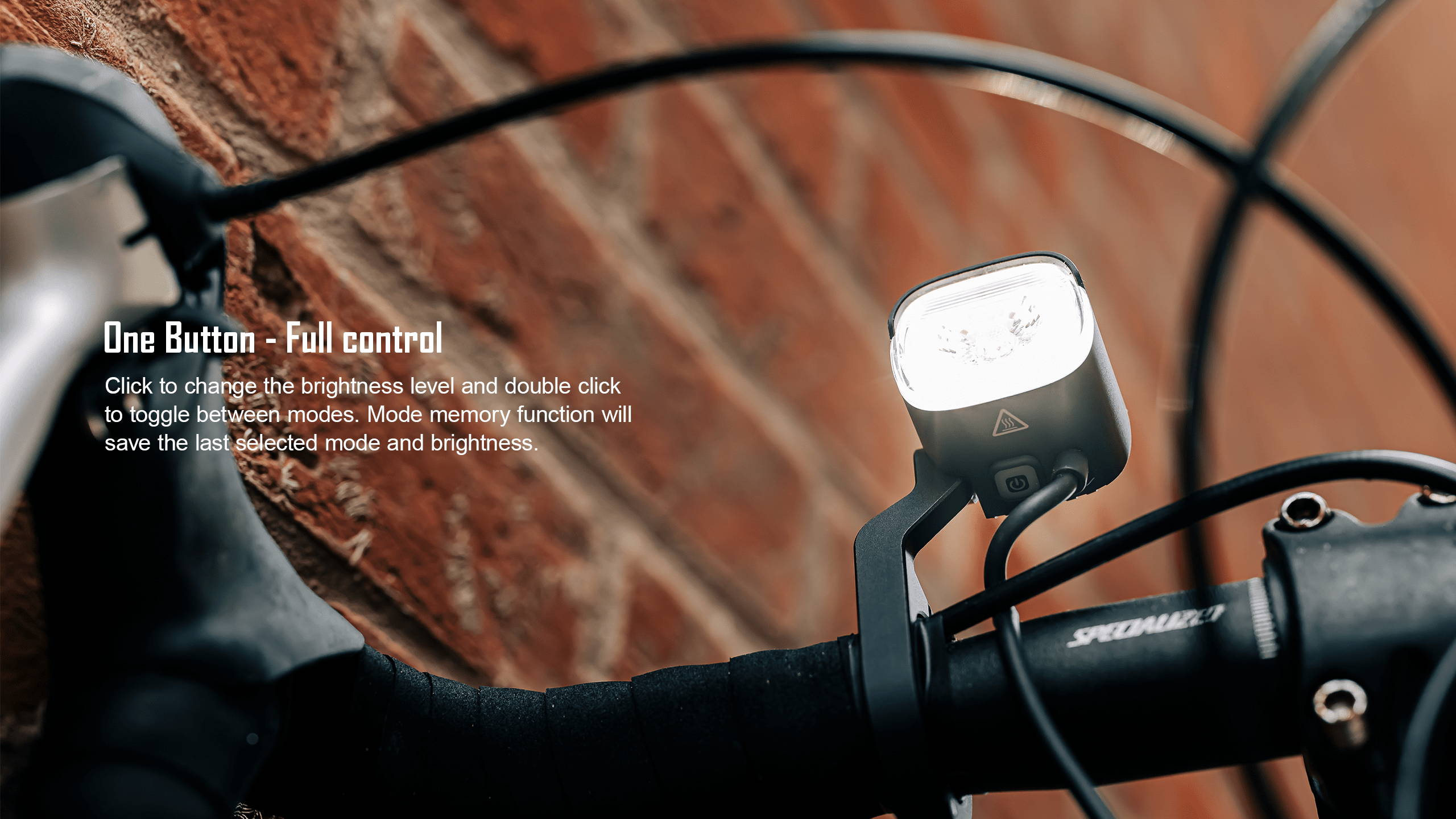 1. How to check my order status?
A: After you register on our website, log in from our system, you can check your order status in real time.
2. What's the shipping method?
A: There are two ways of logistics, express and postal. According to the region, our system will automatically allocate logistics, you can contact us directly if you want to change your shipping method to express. Order inquiry: mkt1@magicshine.com
3. How long does it for my order to get to me?
A:Usually delivered within 5-15 working days.
4. What's the shipping cost?
A: Order over 49.99$. Free shipping cost
order shipping cost
39.99$-49.98$ 9.9$
19.99$-39.98$ 14.99$
-19.98$ 29.99$
5. How / when will you refund my tax?
A: Providing logistics company documents, sent to mkt1@magicshine.com.
We will refund the amount to your payment account within 24 hours.
6. How to contact customer service?
A: For any question on product or availability, please feel free to contact us below:
Service Inquiry: service@magicshine.com
Order inquiry: mkt1@magicshine.com
PS: The order confirmation email will be sent to you after you place your order, maybe you can check it in your spam box.
Tel: (+86)755-29553669
WhatsApp: +86 137 6169 2016