SEEMEE200 Best Bike Tail Light
MAIN FEATURES:
360° Tracing light design
Smart motion sensor
Sensitive ambient light sensor
Low power mode
Smart battery indicator
IPX6 waterproof rate

SEEMEE 200

SEEMEE 200 + Bag Pack Clip
Guarantee safe & secure checkout
Product Review
Main Features
Tech Specifications
What's in the box
Video
March 31st,2021 - Dave Griffiths - bikeforce
The one I liked the look of was the SeeMee 200 which has a rear facing light as usual, as well as a dome shaped light facing downwards. The idea of this is to light up the road below you in a red circle to provide extra safety/visibility. The light also includes a braking sensor that brightens the light if you apply the brakes quickly to warn those behind you that you have slowed down a lot. Of course all these features result in the light not being the cheapest around but these safety features seemed like a great idea and worth the extra dollars. The light retails for around $80.
April 29th, 2020 - Thesweetcyclists
BREAKING THROUGH DESIGN CONCEPTION, BRINGS YOU REAL 360° VISIBILITY. POWERFUL LIGHT OUTPUT, LET YOU BE SEEN DAY AND NIGHT. SMART MODES SETTINGS, MAKE IT ALL HANDS FREE.
SEEMEE 200 is a innovative powerful tail light with convenient USB recharge.
Its max output reaches up to 200 lumens.
Breaking through 360° tracing light design conception, gives you 360°protection.
360°Tracing Light Design-- beam on the ground in a perfect halo,and allow you to be seen from all directions.
Efficient Light Output-- transparent optical fiber emits stronger and uniform light outputs while consuming less energy.
Smart Motion Sensor-- motion sensor turns on automatically when braking, and lights on at maximum 200LM.
Sensitive Ambient Light Sensor-- Under smart mode, the built-in light sensor automatically adjusts the brightness according to ambient lighting conditions.
Low Power Mode-- When battery level is lower than 5%, it automatically changes to economic flashing mode(30LM).
Easy-to-Read Battery Indicator-- At standby mode, click the power button to activate battery indicator for 3s.
Multiple Mounting Methods-- With the versatile mounting strap, SEEMEE 200 is easy to be mounted under saddle or different seat posts.
IPX6 Waterproof Rate -- SEEMEE 200 is fully sealed, and can resist water from any directions.
-Model: SEEMEE 200

-Lumen: 200 LMMaximum
-Runtime: 2-50 h
-Visibility: 360 °
-Distance: 3000 m
-Waterproof Rate:IPX6
-Weight:1.37 oz
-Impact Resistance: 1 m
-Dimensions: 32*28*43mm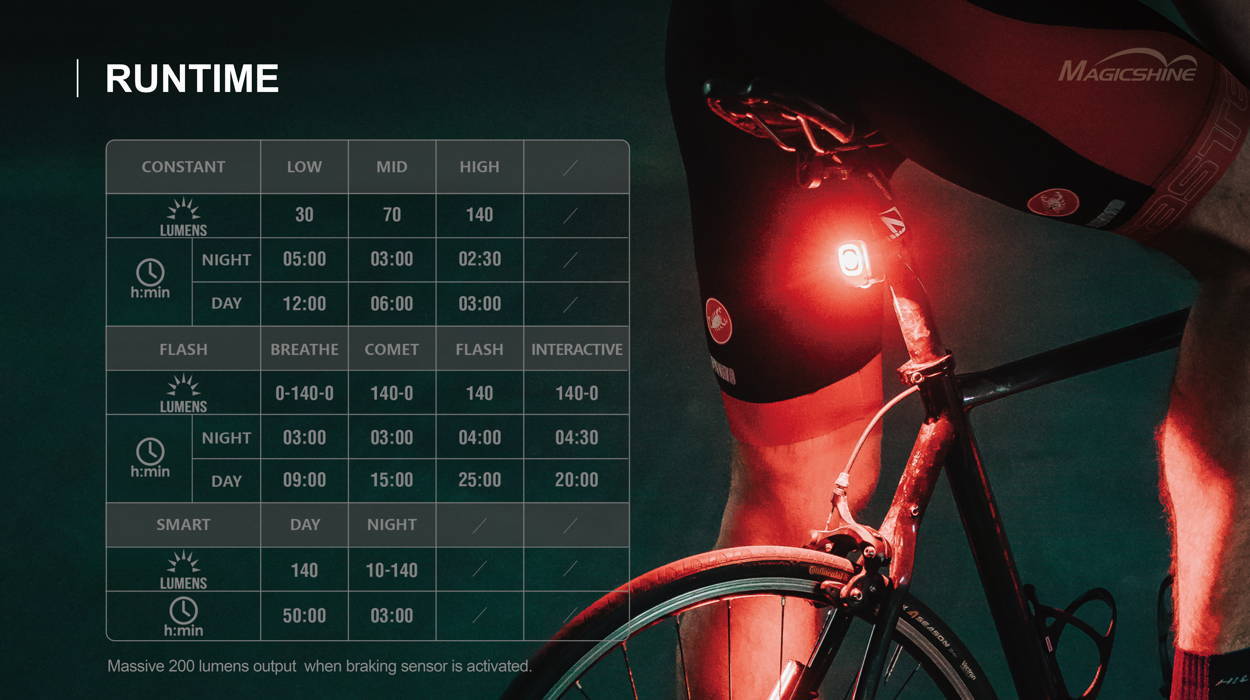 Box Contents
1* SEEMEE200
1* Mounting strap
1* Saddle mount
2* Tie Band
1* Micro USB cable
1* User manual
1* Warranty card