Monteer 6500S ZEUS Enduro MTB Light
-Max output: 6500 Lumens
-Runtime: 2 - 40 Hours
-Battery: 7.2V 10000mAh
-USB-C PD charging/discharging (10-60W)
-Waterproof: IPX5
Guarantee safe & secure checkout
Product Review
Main Features
Tech Specs
What's in the box
Video
November 5th, 2019 - Alex Evans - bikeradar
The Magicshine Monteer lives comfortably up to its name: the power, spread and colour of the light emitted from the five LEDs is magical, making it one of the best-performing lights I've used in recent times.
The side-to-side spread and cut-off is exceptional and this is what puts the light leagues ahead of some competitors' offerings.
There are a few negatives, such as the lack of countdown battery time display and mode indicator, but with the power and run-time on offer this isn't a huge issue. At $350 it's not cheap but does represent fantastic power and performance for the money.
October 6th, 2020 - Thesweetcyclists
Overall, we found the Magicshine Monteer 6500S to be an impressively bright and well designed bike light. Thanks to the updated battery pack, the run-times are improved compared to the previous Monteer 6500 while still increasing the lumen output in the lower settings. Noteworthy is the USB Type-C charging and discharging with a detachable wire design that makes it easy to use the battery pack as a power bank for other devices. We also appreciate the simple wired design which results in a compact and light headlamp for easy mounting and the durable wire connections that are easy to route to the battery pack.
We wish Magicshine had updated the user interface though, as the single button design and available 15 modes mean it is easy to get lost and requires you to cycle through flash modes if you pass your desired power setting. Additionally we think the $50 price gap between the Monteer 6500S and 8000S means that we would personally pick the 8000S over the 6500S as the $50 difference is easy to justify for an additional 1500 lumens although the 6500 lumens is really impressive in person and far brighter than anyone needs in real world riding. All in all, we're happy to see Magicshine continue to improve their lights and incorporate modern features. The Monteer 6500S has excellent optics for a mountain bike light and with the updated USB Type-C battery pack it's even a better value than before.
October 6th, 2020 - Thesweetcyclists
Magicshine MONTEER 6500S is going to cover everything on your way and be your best adventure companion. Paired with 5 top CREE® LEDs, custom- engineered multiple flats lamp cups, and the combination of 32°and 21°beam angle, MONTEER 6500S is able to deliver the perfect balance of flood and spot light beam, allows you to see every stone on the way, maintain the fastest movements and enjoy the most aggressive night riding experience.

Extreme powerful 6500 tested lumens for the most challenging night adventure.
Equipped with high efficiency lens to provide a smooth transition from the spot beam to the flood beam.
Smart heating control system with unique fin shape design, ensure high cooling performance.
Strengthened 7.2V 10000mAh strong battery pack with latest 5000 mAh 21700 battery cells and USB-C PD charging & discharging function.
Multiple modes selection that is suitable for downhill ,MTB, trail crossing, enduro and backcountry.
Straightforward operation with one button on the lamp head.
Versatile and secure mounting methods on helmet and bike satisfy different illumination requirement.
CNC machined aluminum with IPX 5 waterproof rate that suitable for various weather conditions.
Easy-to-read battery indicator both on the lamp head and battery pack.
Available for 31.8mm, 35mm handlebars.
DIMENSIONS:
Length: 2.83 in/ 72mm
Width: 1.65 in / 42mm
Height: 1.73 in / 44mm
Weight: 5.08 oz/ 144g (NOT Including battery)
15.20 oz/ 431g (Including battery)
BATTERY SOURCE:
4 X 21700 Li-ion battery 7.2v 10,000mAh (Included)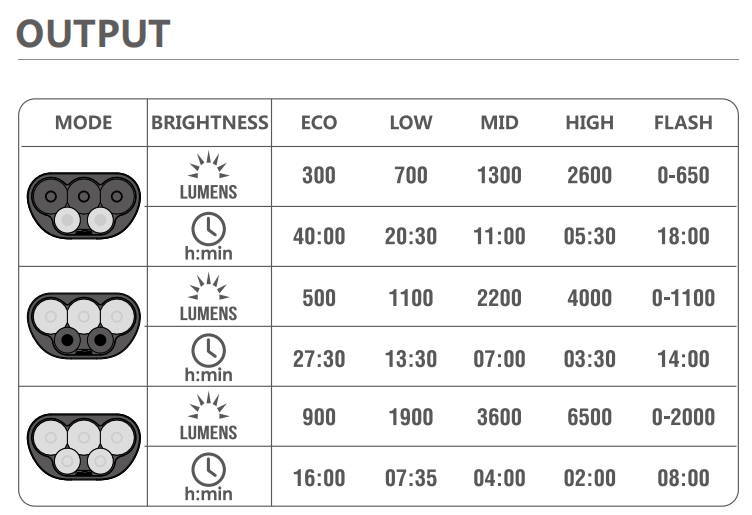 Box Contents
MONTEER 6500S x 1
MJ-6118 battery pack x 1
Aluminum Handlebar mount x 1
USB-C cable x 1
3mm hex x 1
User Manual x 1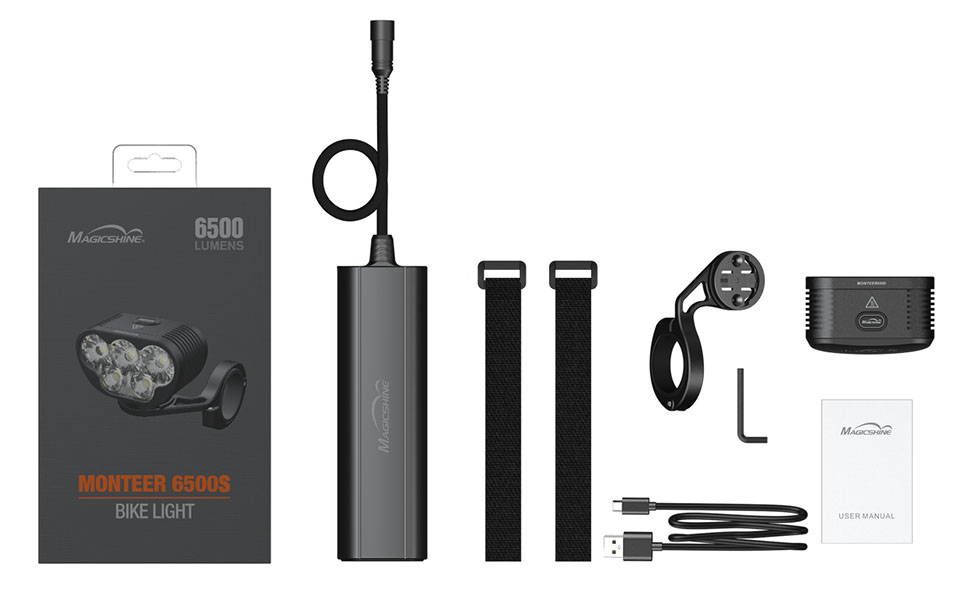 Magicshine Monteer 6500 SeeMee 60 Review and test