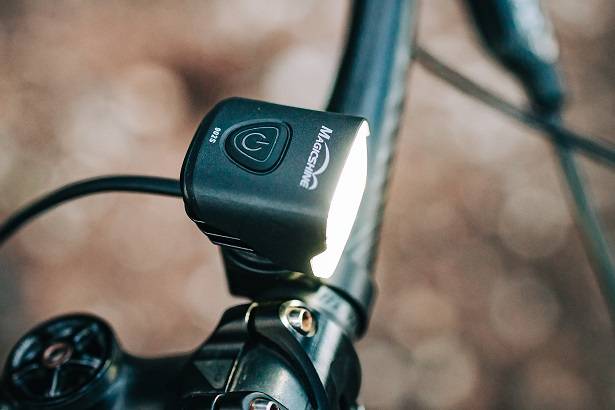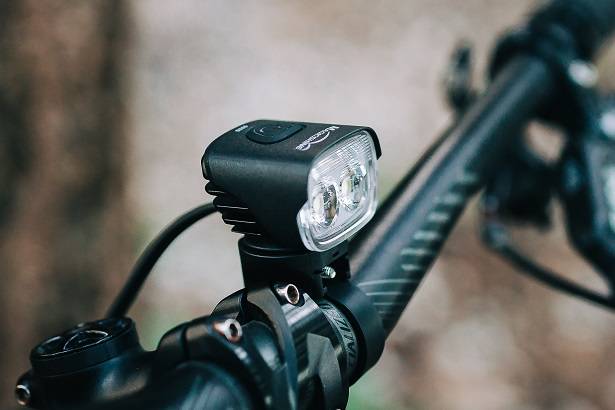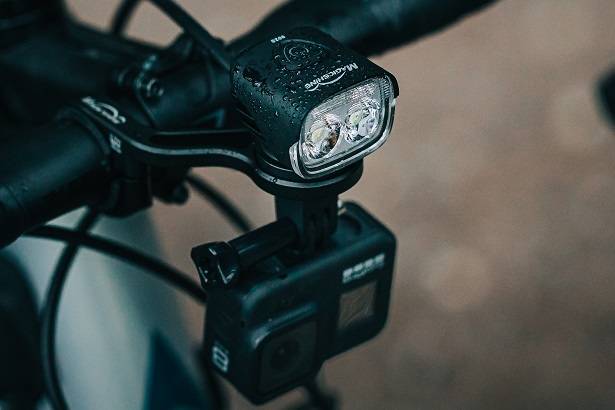 If conquering tough mountain trails, peddling through luscious forests at night is your thing, then you fully appreciate
the thrill of hardcore night time mountain biking. Here at Magicshine we are all about enhancing that experience.
Check out our latest, the MJ-902S. This powerhouse uses two super power efficient LEDs with a combined max
output of 3000 lumens. Equipped with high efficiency, high transmittance optical lenses, producing the perfect beam
pattern for your nightly adventures. Illuminating every obstacle in your path: rocks, roots, tree branches and water
puddles are revealed well in advance and in detail.

MODE:
HIGH
MID
LOW
ECO
DRL
Lumen:
3000LM
1500LM

1

0

00LM

450LM
25LM
Runtime:
H=60min

1.5H

3

H

6.0H
14H
42H
E-BIKE MODE
Brightness VS Power
Limited Power(W)
Product Power (W)
Brightness
(LM)
10
4-8
400-1000
20
10-18
1800
30
20-28
2800
40
30-37
3000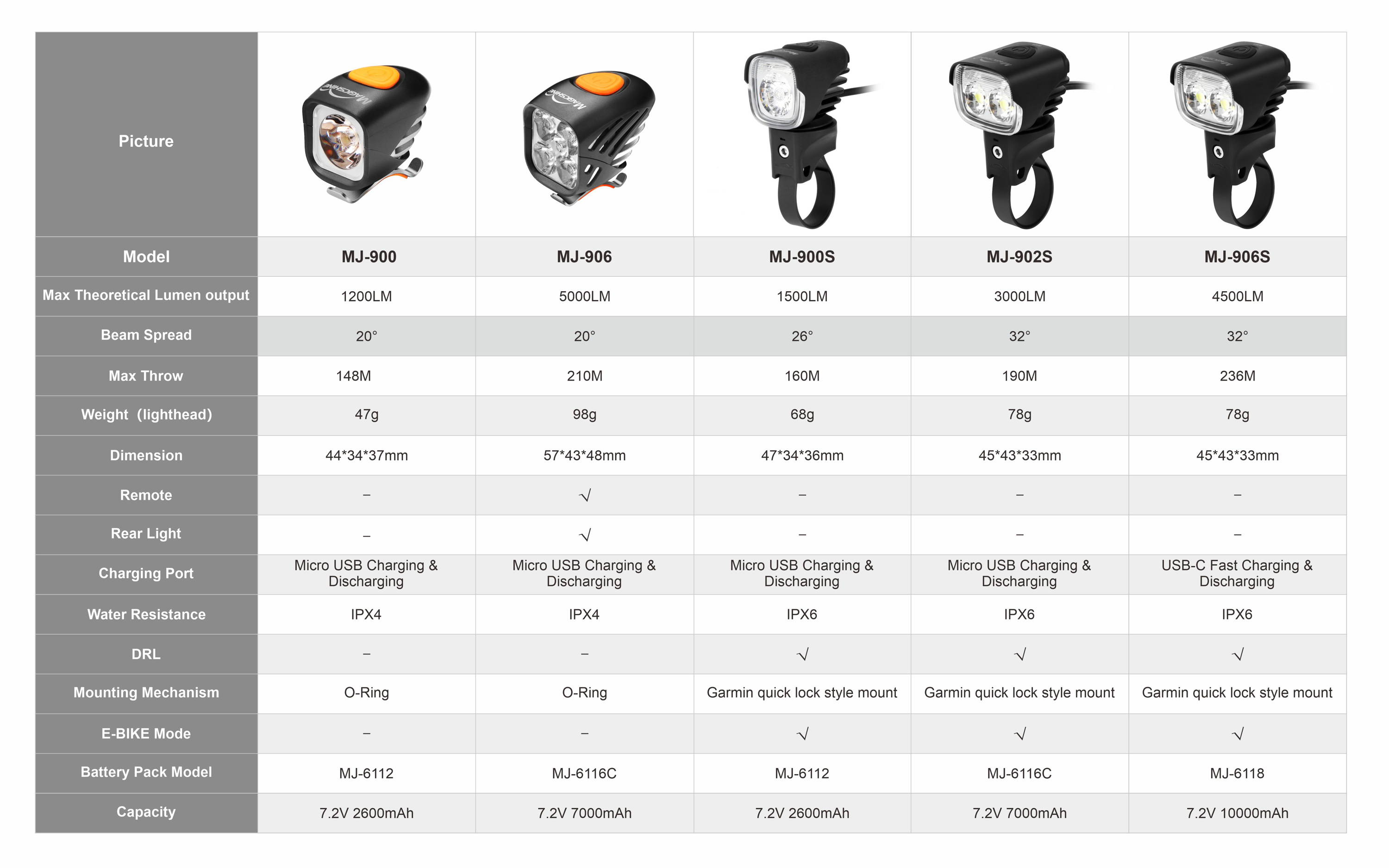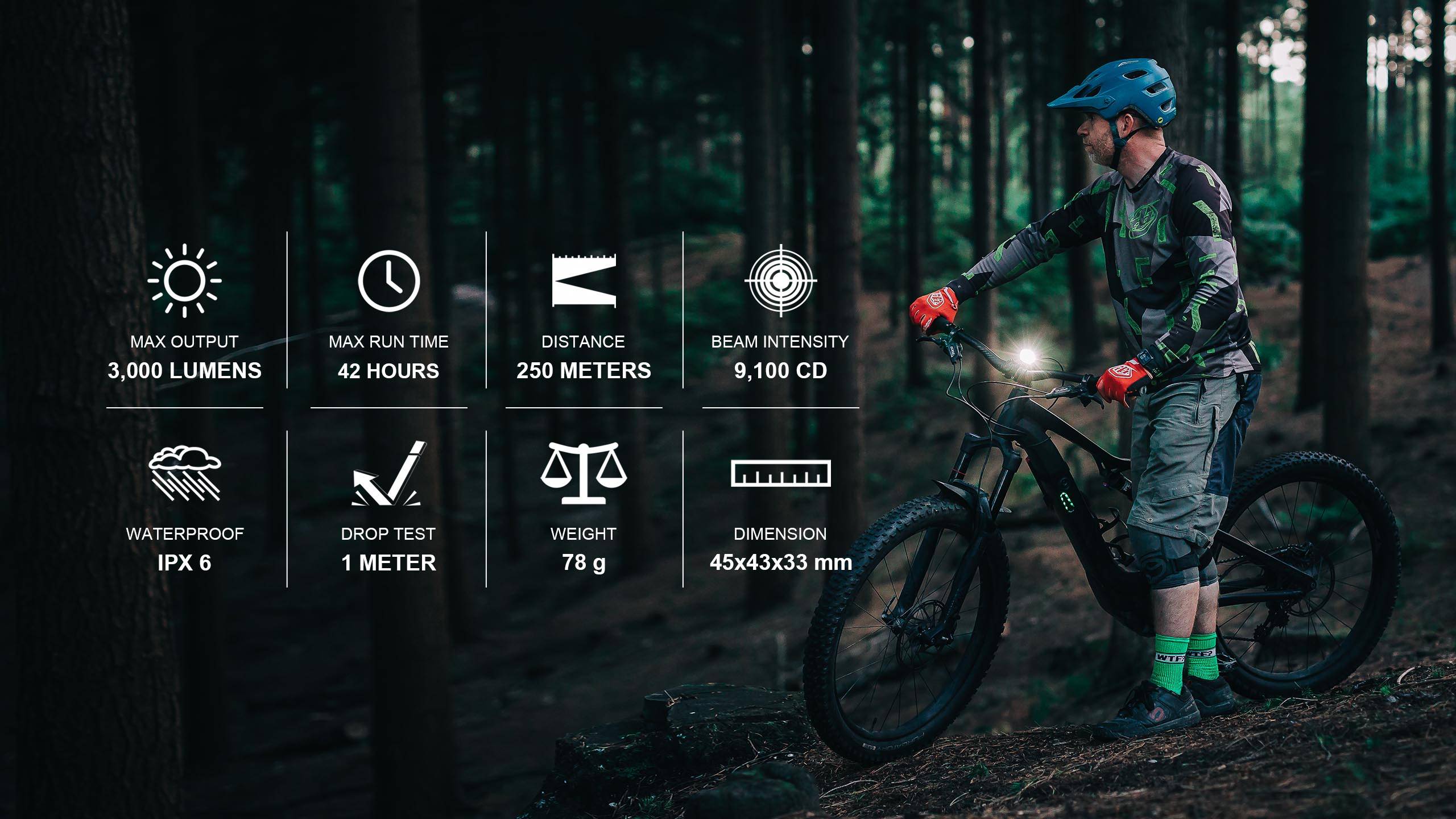 Click HERE to read the full report by The Sweet Cyclists

The smaller and brighter MJ-902S and MJ-906S
The MJ series of bike headlights are arguably one of Magicshine's most popular series of wired bike lights thanks to their bright output and affordable prices. In this review, we'll be looking at two of the brightest variations in the updated MJ lights, the Magicshine MJ-902S and MJ-906S. As with their predecessors, the light specs don't disappoint with 3000 / 4500 lumen output and $139.99 / $199.99 retail prices respectively. Both lights share a modern and compact headlamp design that consists of DRL and dual LEDs with a soft beam cutoff. Gone are the rubber mounting straps, as Magicshine has integrated Garmin style mounts that make the lights compatible with most out-front mounts or helmet mounts. The primary difference between the lights are the battery packs as the MJ-902S uses a MJ-6116C 7Ah battery while the MJ-906S has a larger MJ-6118 10Ah battery to achieve the higher output. While neither of these lights look as intimidating as the previous MJ-908, which has been discontinued, both lights offer more modern features and bright output.
The updated Magicshine MJ-902S and MJ-906S continue the legacy of the MJ series with impressive output, modern features, and competitive prices.
Rating 8.7/10
Retail Price $139.99 (MJ-902S) / $199.99 (MJ-906S)
Measured Weight (in g) 78 (MJ-902/906S) / 302 (MJ-6116C) / 422 (MJ-6118)
Likes + Integrated DRL
+ Garmin compatible mount design
+ Compatible with E-Bikes
Dislikes – Basic handlebar mount
– Confusing number of output modes
– Remote switch not available for helmet mounting
UNBOXING
The Magicshine MJ lights are each shipped in simple black cardboard boxes with glossy graphics. The headlight and battery packs are held securely in place inside custom foam cutouts at the top of the box with the accessories hidden underneath.
Inside the MJ-902S box you'll find:
MJ 902S headlight
MJ-6116C 7.2V 7Ah battery pack w/ Velcro straps
Micro USB to USB charging cable
Handlebar mount + multiple length straps
Allen key
Instruction manual
GoPro-to-Garmin adapter
Inside the MJ-906S box you'll similarly find:
MJ 906S headlight
MJ-6118 7.2V 10.0Ah battery pack w/ Velcro straps
USB Type-C to USB charging cable
Handlebar mount + multiple length straps
Allen key
Instruction manual
GoPro-to-Garmin adapter
Those familiar with Magicshine will likely miss the custom zippered fabric storage bags the previous generation of the MJ lights were shipped with. The fabric bags were much more convenient to store or travel with the lights than these updated cardboard boxes.
MOUNTING
One of the biggest improvements of the MJ series lights are the Garmin compatible mounts molded directly onto the base of the headlights, which means, as with most of Magicshine's headlights, you can use the lights with a variety of aftermarket mounts instead of having to use proprietary mounts or adapters. Despite the higher retail prices of the MJ-902S and MJ-906S models, Magicshine only includes their basic strap style handlebar mount. This mount is shared with the Allty commuter lights and various other products. It's one of our least favorite designs as it requires an allen wrench and is tedious to install. We'd highly recommend using an out-front mount such as Magicshine's TTA mount or third party equivalents for a cleaner setup. Note, while you can run the light upside down, it's not recommended as the lens's horizontal deflectors are designed to work upright.
The wired external battery design of the MJ lights means that you do need to route cables and mount the large battery on your frame. The MJ-902S comes with the MJ-6116C battery pack while the MJ-906S includes the higher capacity and slightly larger MJ-6118 pack. Both battery packs have thick rubber pads that prevent scratching your frame and have integrated slots to route the included velcro straps through. Despite the simple design, the straps work well and hold the battery in place even on bumpy terrain. Compared to earlier generations of Magicshine lights, the wire connectors and attachment points feel much more robust and have held up well for us without any tears or damage.
FIT & FINISH
With the updated MJ lineup, Magicshine has used a more modern and compact headlight design. Instead of grid layout of LEDs the previous MJ-902 and MJ-906 utilized, both the MJ-902S and MJ-906S share the same dual LED headlight with DRL. The design is very similar to the Allty 2000 and is the first time an MJ light has an integrated DRL. Horizontal deflectors on the lens help diffuse the DRL output and partially cover the top portion of the primary LEDs to reduce glare. Also a small lens shield on top of the lens prevents glare when you're out of the saddle while side cutouts help with side visibility. Thanks to the wired battery designs the headlight itself is very compact with a majority of the metal housing consisting of metal fins to dissipate the heat generated by the LEDs.
1. How to check my order status?
A: After you register on our website, log in from our system, you can check your order status in real time.
2. What's the shipping method?
A: There are two ways of logistics, express and postal. According to the region, our system will automatically allocate logistics, you can contact us directly if you want to change your shipping method to express. Order inquiry: mkt1@magicshine.com
3. How long does it for my order to get to me?
A:Usually delivered within 5-15 working days.
4. What's the shipping cost?
A: Order over 69.99$. Free shipping cost
order shipping cost
39.99$-69.98$ 9.9$
19.99$-39.98$ 14.99$
-19.98$ 29.99$
5. How / when will you refund my tax?
A: Providing logistics company documents, sent to mkt1@magicshine.com.
We will refund the amount to your payment account within 24 hours.
6. How to contact customer service?
A: For any question on product or availability, please feel free to contact us below:
Service Inquiry: service@magicshine.com
Order inquiry: mkt1@magicshine.com
PS: The order confirmation email will be sent to you after you place your order, maybe you can check it in your spam box.
Tel: (+86)755-29553669
WhatsApp: +86 137 6169 2016