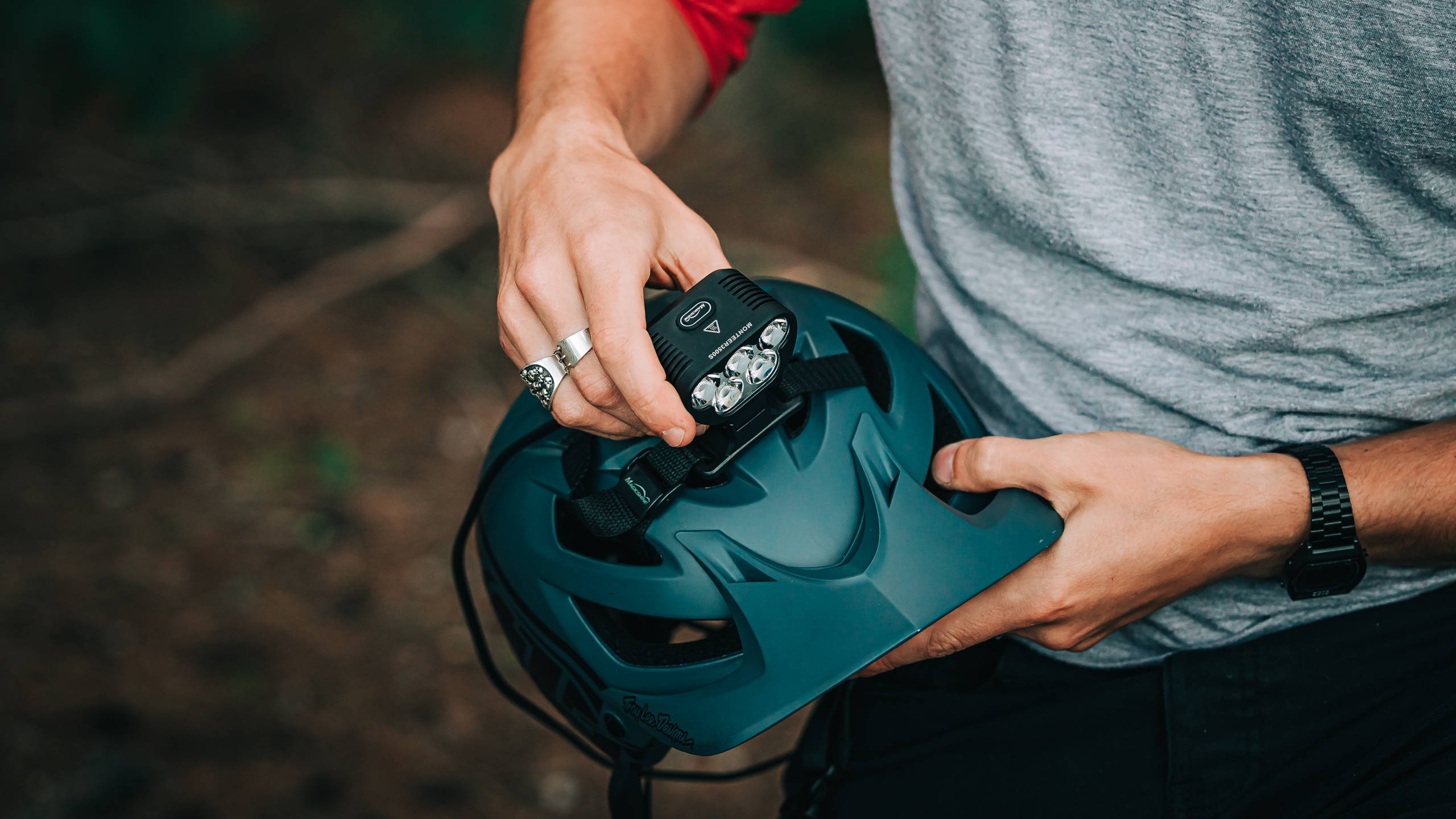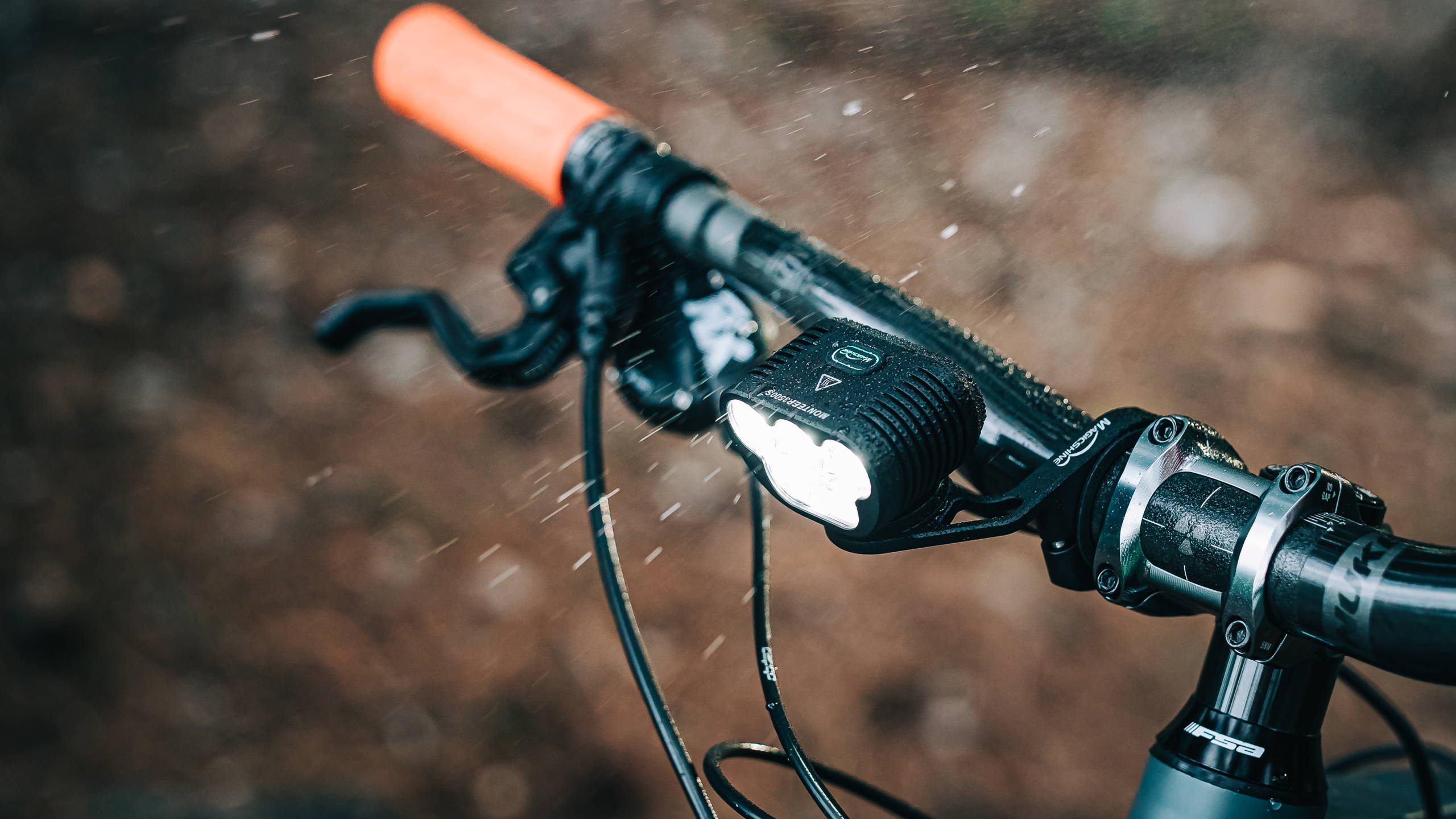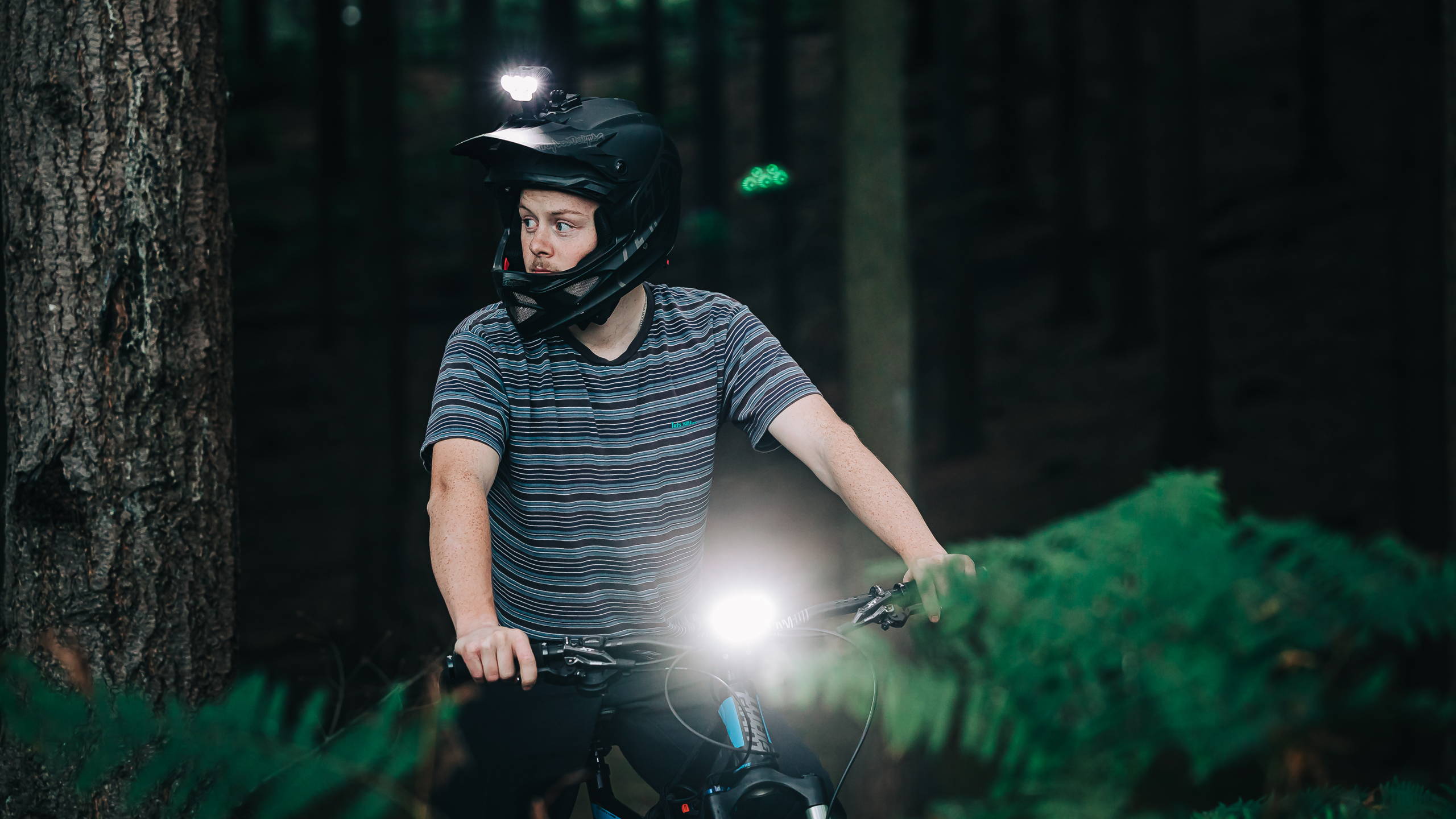 The ever constructed ultimate off-road light for epic adventures with unbeatable power and the latest lighting technology. Boasting massive 8000 lumens with five top CREE® LEDs, 32°and 21°beam angle, special custom-engineered multiple flats lamp cups, and each LED can work independently, from soft light to the maximum beam, MONTEER 8000S will shine any detail on your way, assure perfect illumination near and far for all MTB and trail riders.

Overall upgraded supreme battery pack with 4 latest 5000 mAh battery cells, MONTEER 8000S will support your night time adventure with the fullest 8000 lumens, and give you the most exciting experience of night riding thoroughly. With the USB-C PD fast charging & discharging function, its battery pack can charge your device at the highest speed as a high-end power bank, so to save your time and device in a long trail trip.
Thanks to the cutting edge thermal analytic technology, MONTEER 8000S is able to maintain the minimum size with supreme power, and thus riders will enjoy a very light and easy travel without worry about extra weight. Garmin type mount supports both handlebar and helmet attachments, even compatible with GoPro, computer and phone, offer riders with flexible choices; mil-spec construction with aluminum alloy case, built-in smart temperature control system, and unique heat fin ensure high cooling efficiency; supreme IPX5 waterproof rate that is able to withstand in all kinds of weather conditions--MONTEER 8000S is ready for the most aggressive challenge.
MAIN FEATURES:

-- Massive 8000 lumens light output for epic night riding adventure.
-- Equipped with high efficiency lens to provide a smooth transition from the spot beam to the flood beam.
-- Smart heating control system with unique fin shape design, ensure high cooling performance.
-- High-end rechargeable battery pack of 7.2V 10,000mAh that supports USB-C PD fast charging & discharging.
-- Multiple modes settings for all-around lighting solutions for various riding environments.
-- Straight forward operation with one button, memory function for instant mission.
-- Versatile and secure mounting methods on helmet and bike satisfy different illumination requirement.
-- Robust and compact design with IPX 5 waterproof to withstand in the most challenging weather.
-- Easy-to-read battery indicator both on lamp head and battery pack.
-- Secure Garmin type mount that available for 31.8mm, 35mm handlebars.

WHAT ARE INCLUDED:
MONTEER 8000S x 1
MJ-6118 battery pack x 1
Aluminum handlebar mount x 1
USB-C cable x 1
3mm hex x 1
User Manual x 1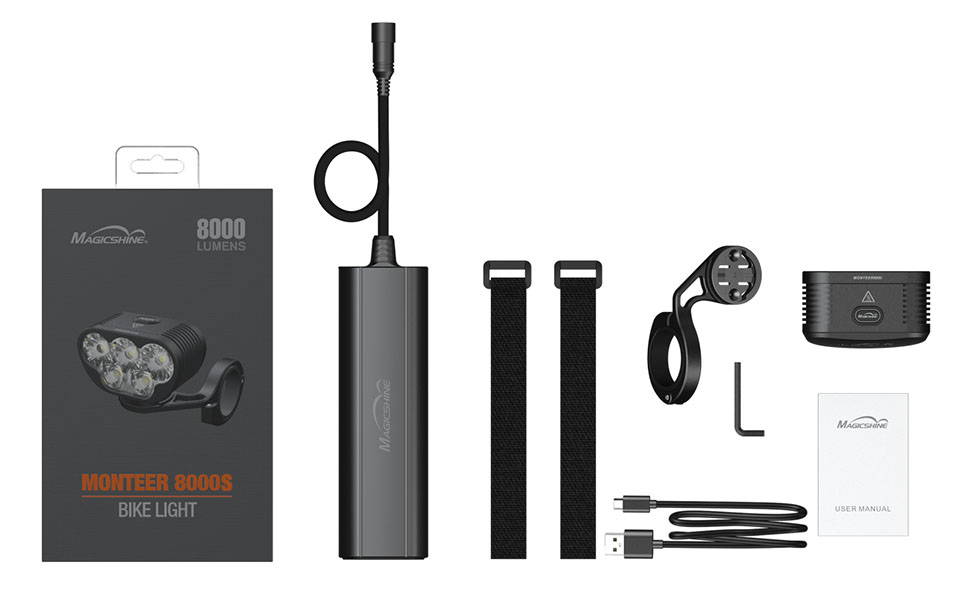 Box weight

34.56 oz

Box dimensions

8 × 5.2 × 3.5 in

LED

5x CREE XHP-50.2 LEDs, 21° & 31° spread

Power modes and runtime

Hybrid Beam
100% 8000lm 1:30 hrs
50% 4400lm 3:25 hrs
25% 2400lm 6:30 hrs
10% 1000lm 12 hrs
Flash 0~2400lm 7 hrs

Flood Beam
100% 4800lm 2:10 hrs
50% 2600lm 5:30 hrs
25% 1400lm 11hrs
10% 600lm 22hrs
Flash 0~1400lm 11:30 hrs

Spot Beam
100% 3200lm 4hrs
50% 1700lm 9hrs
25% 900lm 15hrs
10% 400lm 32hrs
Flash 0~900lm 16hrs

Beam spread

32° +21°

Charging time

9 hrs (5V/2A)

IP rating

IP65

Dimensions

64*43.5*45mm

Net weight

Lighthead: 150.4g
Battery: 367g

Charging power and time

9 hrs (5V/2A)
max 18W (9V/2A PD3.0/QC3.0)

Max beam distance

315m

Light intensity

25,000CD

Battery

10,000mAh USB Type-C
Bikeradar Review on MONTEER 8000S
MTBR Review on MONTEER 8000S
MTB.MAG Reivew on MONTEER 8000S
MBUK--GRUOP TESTS WINNER. 5 STARS.
Original review here:

Advancements in LED designs and battery capacity mean that modern bikelights are capable of high lumen output while still retaining small formfactors.The new Magicshine Monteer 8000S bike light is anexcellent example of this trend as it incorporates an updated batteryand LED setup into the previous generation Monteer 6500 bike light toachieve an impressive 8000 lumen output. Now a 8000 lumen Magicshine sounds familiar, that's because the Magicshine MJ-908 alsocarried that claim. However, while the MJ-908 had a theoretical 8000lumen output (each of the 8 LEDs is capable of 1000 lumen output) theMonteer 8000S has a claimed FL-1 measured 8000 lumen output which isachieved with the updated Cree LEDs and a higher capacity battery packdesign.
The Magicshine Monteer 8000S turns the night into day with an impressive 8000 lumen output.
With a retail price of $399.00 the Monteer 8000S may be one of the most expensive lights Magicshine offers, but at $20 per lumen it is still a bargain. To be able to provide enough energy to power the LEDs, the light uses Magicshine'supdated MJ-6118 battery pack which consists of four 21700 Lithium ionbatteries for an improved 7.2V / 10,000 mAh capacity. Not only is theMonteer 8000S the most powerful variation of the expanded Monteerproduct line (which has been expanded to include the Monteer 3500 and5000), it is also one of the brightest lights Magicshine hasoffered to date. Is it practical to ride with an 8000 lumen bike light?The answer is probably not, but as light enthusiasts we are excited tosee what the Monteer 8000S has to offer.
Category
Bicycle Head Light
Rating
8.9/10
Retail Price
$399
Measured Weight (in g)
144 (headlamp)/422 (battery)/34 (mount)
Likes
+ Ridiculously bright
+ USB Type-C charging
+ Durable design and wiring attachment
Dislikes
– Lacks DRL
– Lacks remote for easier helmet mounting
– Have to cycle through flash mode




UNBOXING
Magicshine packs the Monteer 8000S in a sleek black cardboard box with crisp graphics. In the box there is a foam cutout with:
Monteer 8000S headlamp
MJ-6118 7.2V 10.0Ah battery pack w/ Velcro straps
Out front mount w/ handlebar rubber pads
USB-C to USB charging cable
Although the box is well designed and can be used to travel with the light, we would have preferred the zippered travel bag Magicshine that came with the MJ-908 and previous high powered models.
MOUNTING
Consistent with Magicshine's other lights, the Monteer 8000Suses the Garmin style quarter turn mount directly molded into thebottom of the headlamp. This is one of our favorite features of Magicshine lights,as the Garmin style mount is very common and allows you to use thelight on your existing mounts instead of having to purchase proprietarymounts. The included out front mount is similar to the Magicshine TTAmount but stubbier, and has a satisfying click when attaching theMonteer 8000S. It's a single sided mount, but appears to have the screwholes on the bottom side which means you could likely turn it into adual sided mount with a compatible puck. The Monteer 8000S can bemounted upside down, as there is no beam cutoff with the lens design butwithout a remote power switch, watching the battery level or changingmodes is more cumbersome. At 144g, the lighthead can also be mounted on ahelmet but again without a remote power button it would be trickychanging modes.
FIT & FINISH
At first glance, the new Monteer 8000s looks a lot like the existingMonteer 6500. The compact aluminium headlamp design has in fact beencarried over from the existing Monteer light. That isn't a bad thing, asit's a compact and sleek design with built-in fins for heatdissipation. Thanks to the wired battery pack design, the head lamp issurprisingly small but on the taller side to accommodate the five LEDdesign. To achieve the higher 8000 lumen output, the Cree LEDs have beenupgraded to three Cree XHP 50.2 and two XM-L2. Also carried over fromthe previous model is the single illuminated power button mounted on topof the housing. The wires exit the housing at a sharp right angle whichmakes it easy to route under your handlebars.
One thing that isn't compact is the updated MJ-6118 battery pack.It's a large battery pack even though the battery pack uses four 21700Li-ion batteries that offer high-capacity and slightly more compactdesign than the traditional 18650 batteries. However, with the wireddesign it's easy to hide the battery pack on a top tube or downtube andout of the way. The battery pack also features USB Type-C charging anddischarging, allowing it to double as a powerbank for other devices whenyou aren't riding. In our experience, the weak point of wired bikelights has typically been the wire connection points between the batteryand headlamp.
With the updated MJ-6118, the wire connectors feel more durable andeven offer a latching design that allows it to fully disconnect from thebattery pack. Note, the battery pack alone retails for $139.99 which isa fraction of the Monteer 8000S price. Compared to the battery packsincluded with the Magicshine MJ-906 and MJ-908 lights, theupdated battery pack is sleeker and offers easier mounting. We found theincluded velcro straps and thick rubber pad kept the battery pack inplace even over rough terrain.
USABILITY
With the Monteer 8000S, as well as the other Monteer lights in the series, Magicshine hasopted for the same simple one-button interface on top of the headlamp.The button is rubberized and is illuminated to show three levels ofbattery status: green (21-100%), red (6-20%) and flashing red (0-5%).Turning the light on is a short press while a long press shuts the lightoff. With the light on, a single press cycles through the optionswithin the mode and a double press switches between the modes. There arethree primary output modes that a double press cycles through: floodmode (top 3 LEDs), spot mode (bottom two LEDs) and a hybrid mode (all5). Within each mode, a single press cycles through four intensities (10/ 25 / 50 / 100%) and a flashing mode.
That unfortunately means you do always have to cycle through flashmode, something that can be quite annoying on dark roads. WIth a totalof 15 different modes, it's also easy to get lost as it's difficult tovisually tell the modes apart. We often found ourselves peeking over thehandlebars to confirm which LEDs were active. Also we would havepreferred an OLED screen or secondary button/indicator to show what modewas active, particularly with the premium price. The light also doesn'thave a remote control, which means that helmet mounting the Monteerwould require fumbling with the top button to switch between modes.While we prefer the two button interface of the previous Magicshine Eagle F3 or the OLED design of the MJ-908, the Monteer 8000S is easy to use.
LIGHT OUTPUT
Obviously with the ridiculous 8000 lumen output of the Monteer 8000S,we were excited to get the light out on the road. The five Cree LEDdesign means you don't need to run it at the full 8000 lumen output allthe time. There are three main output modes that either utilize the topthree LEDs, bottom 2, or a hybrid mode with all LEDs active. The topthree act as a flood light and have a 32° beam spread which disperse thelight. Conversely, the bottom two LEDs are spot lights as they have amore narrow 21° beam spread. Comparing the beam shots, the spot andflood modes aren't as distinct as we had expected. We had to often peekover the headlamp to verify which LEDs were active.
Regardless of which mode you choose, the beam spread is quiteimpressive. There are no hot spots in the output and the beam spread andreach is more than enough for any type of riding. Within spot mode youcan select 400-3200 lumen constant modes (32hr to 4hr run-times) as wellas a 0-900 flash mode (16hr run-time). In flood mode, the light offers600-4800 lumen constant modes (22hr to 2.2 hr run-time) and a 0-1400lumen flash mode (11.5hr run-time). Full hybrid mode with all the LEDsactive offers 1000-8000 lumen constants modes (12-1:30 hrs) and a0-2400lm flash mode (7hr). Even in the low powered eco modes, theMonteer 8000S provides long run-times and daytime visibility if needed.We found that the low/medium modes were more than sufficient enough formost riding situations, while the high modes were simply overkill. Eventhough the light is tailored for mountain biking it's also great on theroad. We found it worked great to light up low traffic canyon roads onour early morning rides. You'll want to limit the use to lower trafficareas though, as there is a lot of glare even in lower power settings.
Although the full 8000 lumen mode has a claimed 1.5 hour run-time, wefound that due to the heat generated by the LEDs the lumen output willdrop overtime. Speaking of heat, the Monteer 8000S puts out a lot of itat the higher lumen modes. On cold days, you can actually warm yourfingers by simply placing them in front of the lens thanks to the heatradiated from it. The headlamp does get warm but we found that as longas we were moving the thermal cooling design worked well. It's only whenstanding still did we find the headlamp to become excessively hot.
THE VERDICT
Overall, we found the Magicshine Monteer 8000S to be aridiculously bright and capable bike light. The simple wired design andlarge battery pack give the Monteer 8000S generous run-times that rangefrom 1.5hr in the full 8000 lumen mode up to 32hr in eco mode. Althoughthe single button interface can be confusing to use, the multiple outputmodes and intensities allows the Monteer 8000S to be used on or off theroad. We were also impressed with the build quality of the Monteer andwiring connector design which looks and feels durable. Even though theMonteer 8000S lacks bluetooth or connectivity features, the Garmincompatible mount and USB Type-C charging/discharging of the battery packset it apart from other lights on the market. While the more pragmaticside of us would argue that the Monteer 8000S is overkill and that adual light setup would be better, the absurd output of the light andlong run-times make it a great light to ride with.
1. How to check my order status?
A: After you register on our website, log in from our system, you can check your order status in real time.
2. What's the shipping method?
A: There are two ways of logistics, express and postal. According to the region, our system will automatically allocate logistics, you can contact us directly if you want to change your shipping method to express. Order inquiry: mkt1@magicshine.com
3. How long does it for my order to get to me?
A:Usually delivered within 5-15 working days.
4. What's the shipping cost?
A: Order over 69.99$. Free shipping cost
order shipping cost
39.99$-69.98$ 9.9$
19.99$-39.98$ 14.99$
-19.98$ 29.99$
5. How / when will you refund my tax?
A: Providing logistics company documents, sent to mkt1@magicshine.com.
We will refund the amount to your payment account within 24 hours.
6. How to contact customer service?
A: For any question on product or availability, please feel free to contact us below:
Service Inquiry: service@magicshine.com
Order inquiry: mkt1@magicshine.com
PS: The order confirmation email will be sent to you after you place your order, maybe you can check it in your spam box.
Tel: (+86)755-29553669
WhatsApp: +86 137 6169 2016