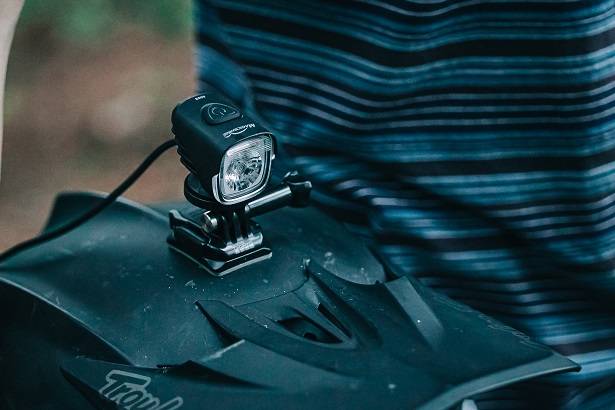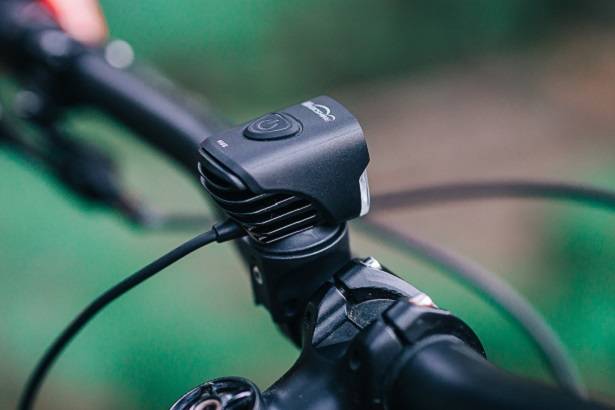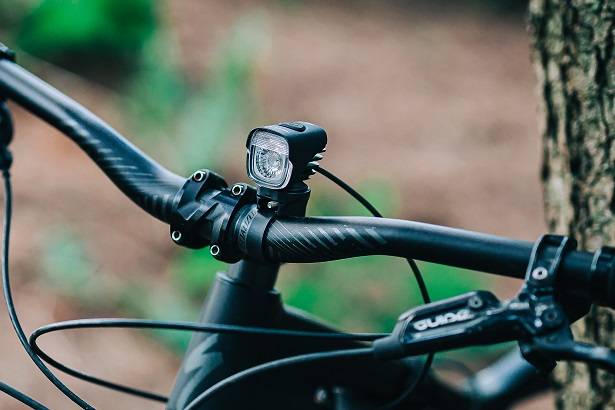 Paired with the light is our custom design battery pack MJ-6112. MJ-900S is an upgrade and improved version
of the original classic MJ-900 which has sold millions of units around the world. It continues the MJ-900's compact,
lightweight, and high-output design. Cover lens, LED light source, installation and battery capacity have all made
huge forward strides. Max output is now able to reach 1500 lumens, thanks to the latest upgrades. Expanded upon
the already huge and varied rider base. Aside from its main function, some road friendly safety features have been
added, an independent DRL coupled with side lighting to enhance passive visibility.
| | | | | |
| --- | --- | --- | --- | --- |
| MODE: | HIGH | MID | LOW | DRL |
| Lumen: | 1500LM | 1000LM | 500LM | 15LM |
| Runtime: | 1.5H | 2.2H | 5.0H | 25H |
E-BIKE MODE
Brightness VS Power
Limited Power(W)
Product Power (W)
Brightness
(LM)
10
4-8
400-1000
15
8-12
1200
20
18
1500
50
18
1500
100
18
1500
Main Features:
1. High capacity USB battery MJ-6112, providing long runtime also working as USB power bank
2. Easy to read battery capacity indicator on light switch and battery pack
3. IPX6 water resistant, ready for any weather you can handle
4. Universal Garmin mounting mechanism, super convenient to install / take off
5. Compatible with bar sizes 28mm, 31.8mm and 35mm with support for additional sizes and bar shapes.
6.1500/1000/500 lumen brightness modes, 2 flash modes and standalone DRL mode
7.1.8 hours runtime on full brightness mode
Box Contents
1* MJ-900S Light Head
1* MJ-6112 Battery Pack
1* Battery Straps
1* Handlebar Mount(Compatible with Garmin)
1* Handlebar/Helmet Mount Adapter(Compatible with GoPro)
5* Silicone Straps for Handlebars Ø25.4 to Ø35mm & Aero Bars
1* Micro-USB Charging Cable
1* Hex Key
1* User Manual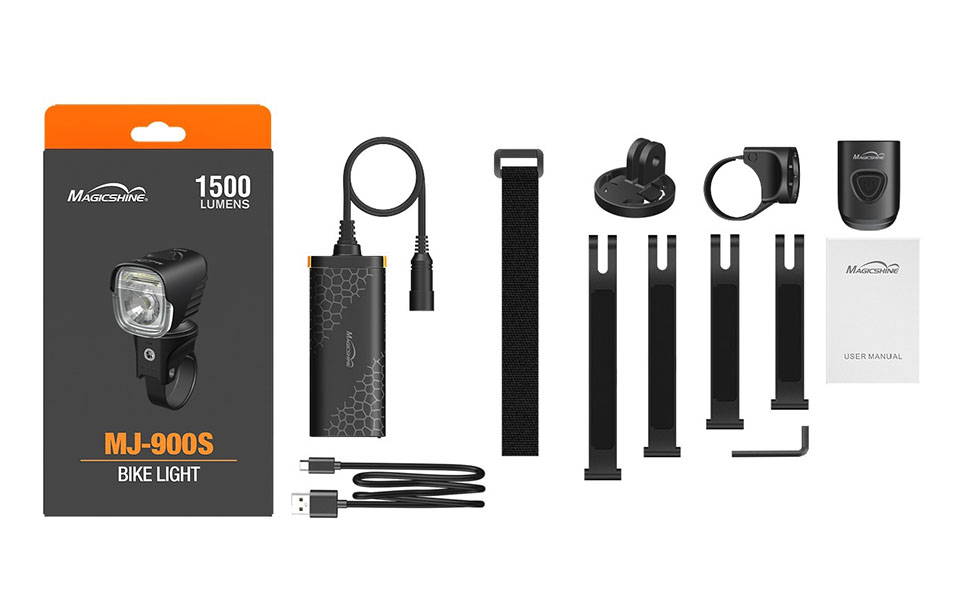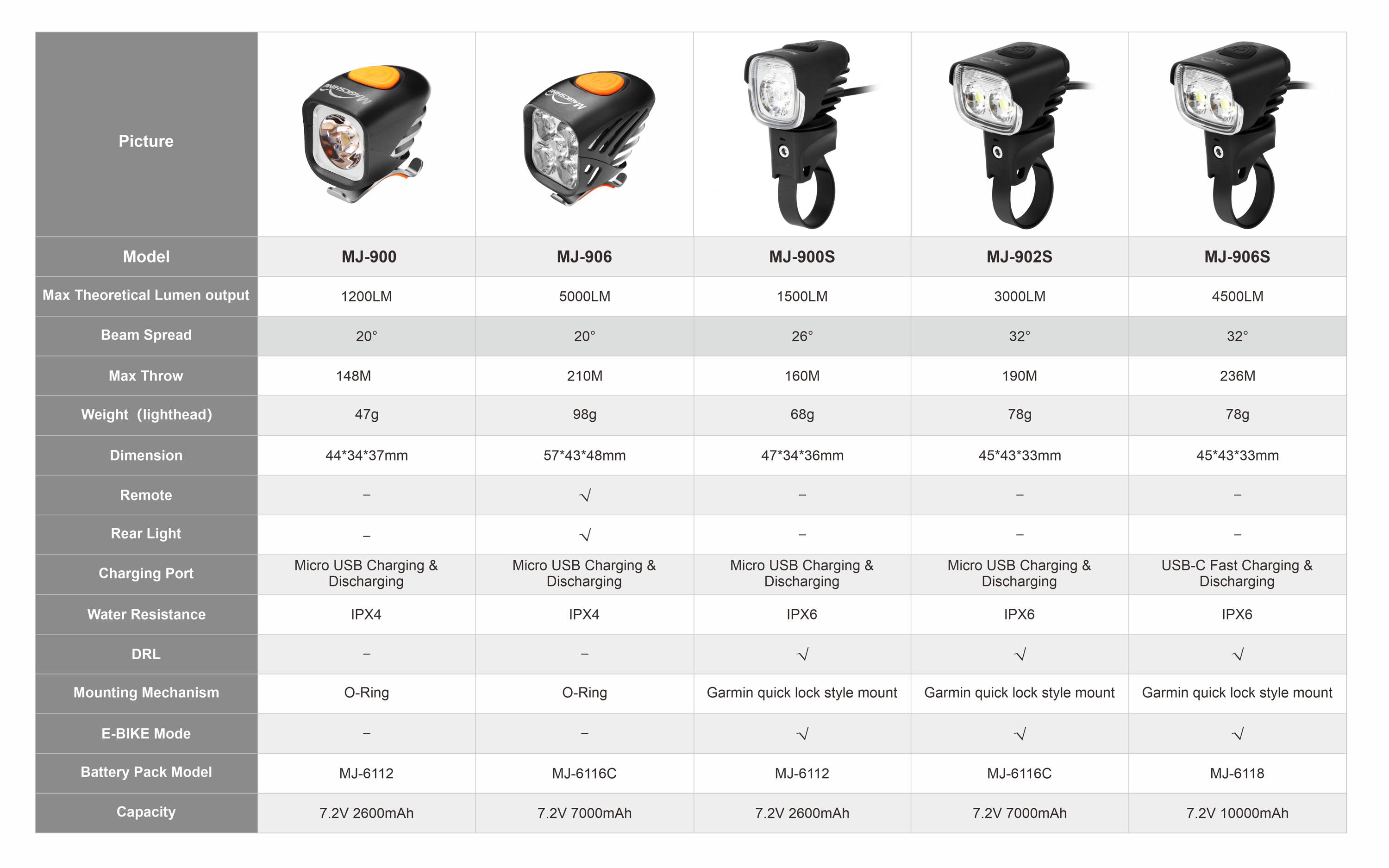 Learn more at: thesweetcyclists.com/magicshine-MJ-900S
日本语:後付けできるe-bike専用ライトが快適! Magicshineを試した
The Magicshine MJ-900 bike headlight is one of the most affordable light models in the MJ series of wired bike lights. The main reasons the MJ-900 and the entire MJ series have been so popular are the competitive pricing and bright output which make them an easy choice for mountain bikers, road cyclists, and even commuters. With Magicshine's release of the updated MJ-90XS series, all the headlights have upgraded output and new features. In this review, we'll specifically be looking at the new MJ-900S which is now rated for 1500 lumen and has an integrated DRL for improved visibility. The headlight also utilizes a Garmin style mount which allows it to be used on a variety of mounts. New for the MJ-900S is the compact MJ-6112 battery pack which utilizes two non-replaceable 18650 Li-on cells for a combined 2.6Ah capacity.
With 1500 lumen output the Magicshine MJ-900S offers impressive output with competitive features such as a Garmin style mount and built in DRLs
Rating 8.7/10
Retail Price $69.99
Measured Weight (in g) 66 (Headlight) / 166 (MJ-6112 Battery) / 16 (Handlebar Mount)
Likes + Integrated DRL
+ Garmin compatible mount design
+ Compatible with E-Bikes
Dislikes – Basic handlebar mount
– Only a 3-level battery status indicator
– Remote switch not available for helmet mounting
UNBOXING
The light is shipped in a simple black cardboard box with glossy graphics and bright orange print. A foam cutout in the box keeps the light and battery secure while all the accessories are in a separate box. Inside the box you'll find:
MJ 900S headlight
MJ-6112C 7.2V 2.6Ah battery pack w/ Velcro straps
Micro USB to USB charging cable
Handlebar mount + multiple length straps
Allen key
Instruction manual
GoPro-to-Garmin adapter
We'd recommend keeping the original packaging, as it is great for storing or traveling with the light.
MOUNTING
One of the biggest improvements of the MJ series lights are the Garmin compatible mounts molded directly onto the base of the headlights which means you can use the lights with a variety of aftermarket mounts instead of having to use proprietary mounts or adapters. With the MJ-900S, Magicshine includes their basic strap style handlebar mount. This mount is shared with the Allty commuter lights and various other products. It's one of our least favorite designs as it requires an allen wrench and can be tedious to install. We'd highly recommend using an out-front mount such as Magicshine's TTA mount or third party equivalents for a cleaner setup. Also, while you can run the light upside down, it's not recommended as the lens's horizontal deflectors are designed to work upright.
One downside to the wired design of the MJ lights is that a separate battery pack has to be attached to your bike with cables routed to it. With the MJ-900S, the battery pack is surprisingly compact as the MJ-6112 battery pack is only slightly larger than the two 18650 Li-on cells it contains. It's nearly half the size of the MJ-902S / MJ-906S battery packs and only uses a single velcro strap to install. Rubber pads on the inside of the battery pack prevent any damage to your frame, and the velcro strap holds the battery securely. The strap slides through an integrated slot in the battery pack housing and holds the battery firmly even on rough terrain. The combined size of the headlight and battery pack is slightly larger than Magicshine's larger all-in-one style commuter lights, but with the wired design, it is easy to swap out or replace the battery making the MJ lights more future-proof.
FIT & FINISH
With the updated MJ-90XS series of headlights, Magicshine has adopted a more modern and premium design. The lights all have a flat black finish instead of a multi-color design with aluminium lens housing and fin construction that feels well-built. Especially compared to plastic lights in this price range such as the Kryptonite Incite X8, the MJ-900S feels more expensive than the retail price would suggest. With the MJ-900S being the most affordable option, the headlight uses a single LED with a DRL placed above it (the MJ-902S / MJ-906S use a dual LED design). The combination is very similar to the Allty 1000 and even has the same style side cutout on the lens to improve site visibility.
1. How to check my order status?
A: After you register on our website, log in from our system, you can check your order status in real time.
2. What's the shipping method?
A: There are two ways of logistics, express and postal. According to the region, our system will automatically allocate logistics, you can contact us directly if you want to change your shipping method to express. Order inquiry: mkt1@magicshine.com
3. How long does it for my order to get to me?
A:Usually delivered within 5-15 working days.
4. What's the shipping cost?
A: Order over 69.99$. Free shipping cost
order shipping cost
39.99$-69.98$ 9.9$
19.99$-39.98$ 14.99$
-19.98$ 29.99$
5. How / when will you refund my tax?
A: Providing logistics company documents, sent to mkt1@magicshine.com.
We will refund the amount to your payment account within 24 hours.
6. How to contact customer service?
A: For any question on product or availability, please feel free to contact us below:
Service Inquiry: service@magicshine.com
Order inquiry: mkt1@magicshine.com
PS: The order confirmation email will be sent to you after you place your order, maybe you can check it in your spam box.
Tel: (+86)755-29553669
WhatsApp: +86 137 6169 2016