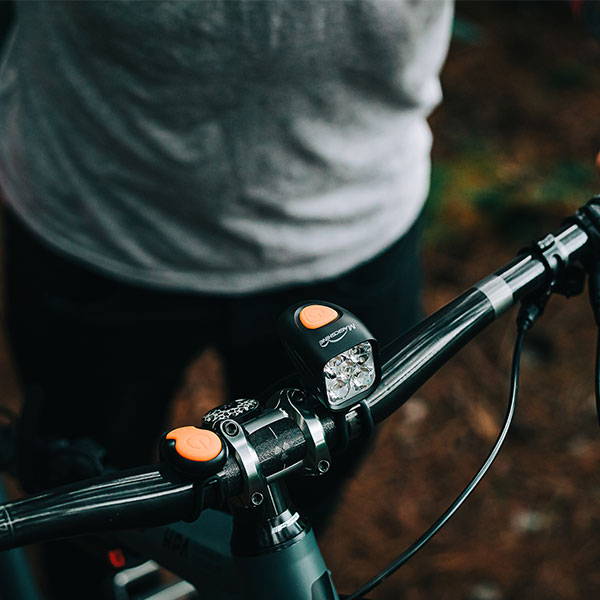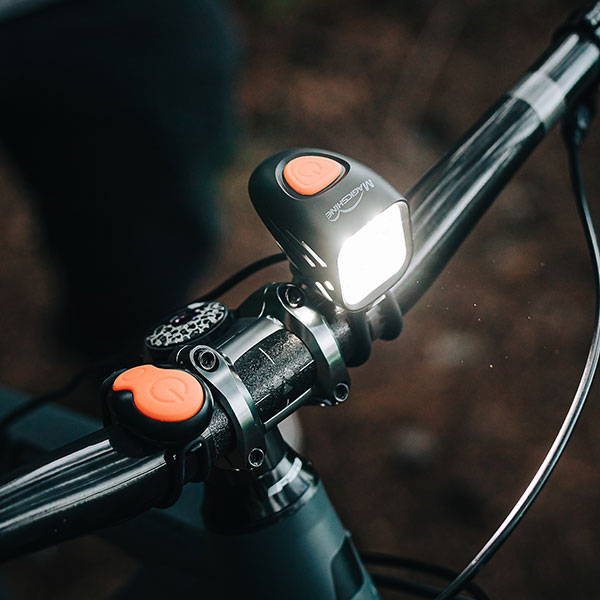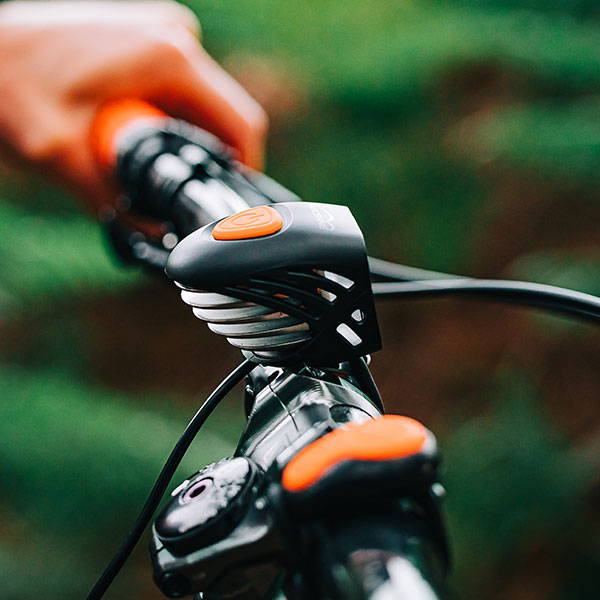 MJ-906 COMBO is a mountain bike light kit, including a high output front light, a remote control and a rear light, powered by an external 7.8Ah battery pack, the max lumens can be reached up to 5000.
Battery Indicator-- Back lit power switch will light up when the remaining battery capacity is 20% or below.
Bicycle Tail Light and Remote Control--The MJ-906 is designed for mountain biking and off road riding. The rear light allows you to be seen on roads and urban streets. Wireless remote control can be strapped onto the bike handlebar and switched between working modes. This will be ultra convenient especially if you decide to mount the 906 on your bike helmet.
Efficient Cooling System-- MJ-906 is built with intelligent overheat protection mechanism, aluminum alloy maximizes the surface area to allow efficient cooling while the plastic shell covers the whole system providing added protection.
Battery Non-Slip Pad--Silicon padding is built onto the contact side of the battery pack to provide protection for your bike frames and to stabilize the battery during rigorous riding.
Battery -- Powered by 6x high quality LG Li-ion cells, the 7.4V 7.8Ah battery pack runs MJ-906 for more than 2 hours on its highest output.
5 Different Brightness Modes Plus Flash Mode--MJ 906 is specially designed for serious riding trip, such as off road, MTB and trail challenges. It features with 5 power modes as well as a flashing mode, giving you the versatility to choose the most efficient setting for the ride conditions.
Different type of versatile straps secure it to all common and aero handlebar sizes
Box Contents
1* MJ-906 Light Head
1* MJ-6116C Battery Pack
1* 2.4G Remote
1* Wired Tail Light
1* 3 Way Connector
2* Battery Straps
3* O-rings
1* Micro-USB Charging Cable
1* User Manual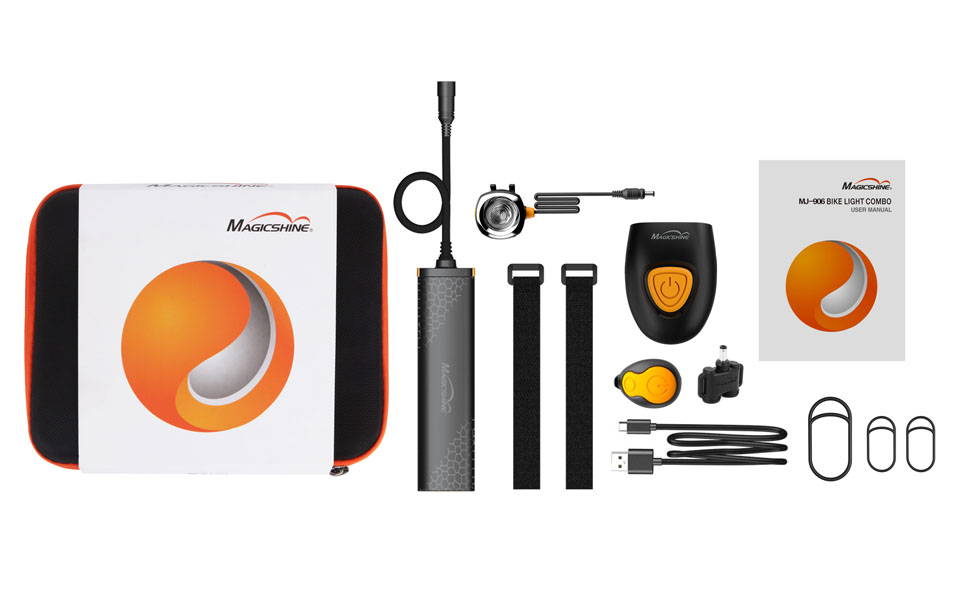 TECHNICAL SPECIFICATIONS
-Lumens: 5000
-Runtime under optimal conditions:
2 hours @ 100%
3.2 hours @ 75%
5.2 hours @ 50%
10.2 hours @ 20%
7 hours @ Flash
Review: Magicshine MJ-906 light set | road.cc
Original MJ-906 Review | thesweetcyclists

Best value – Magicshine MJ-906 Bike Light Combo| enduro-mtb
A compact yet powerful bicycle headlight perfect for those who want high-output at a reasonable cost.
The engineers at Magicshine have clearly been having too much time on their hands with the MJ 9 series of lights. This series of headlights starts with the affordable MJ-900 designed around a single Cree XM-L2 LED and a claimed 1200 lumen output. With each model above the MJ-900 the lumen output increases as more and more Cree LEDs are packed into the light head. How many LEDs is too many? With two LEDs, Magicshine claims 1600 lumens which should be sufficient for a majority of people. Not for Magicshine, as they also released a MJ-906 (5 LEDs) . Today we'll be looking at the MJ-906 which has an impressive advertised 5000 theoretical lumen output.
The 5000 lumen is a theoretical number that comes from the fact that the MJ-906 packs 5 Cree XM-L2 LEDs, each capable of a little over 1000 lumens each. The MJ-906 treads the line between overkill and practicality.Category: Bike (bicycle) tail lightOverall rating: 8/10.
-The overall light design feels professional and well built.
Most of the light head is taken up with the aluminium cooling fins and a large button on the top of the light head. This means using the light requires cycling through the single button and deciphering the battery level indicator through the backlight button. Once the battery capacity is less than 20 percent, the button will be illuminated red.
A long press will turn the light on or off, while a quick click will run through the different modes. Speaking of modes, there are only 5 modes (compare that to the 15 settings the Magicshine Eagle F3 has): low, medium, medium high, high and a flash mode. Unfortunately, with this design you will need to cycle through the flash mode to change the brightness levels. With the brightness of the light, this can be potentially dangerous if done while riding at high speeds.
LIGHT OUTPUT
With 5 Cree LEDS, the MJ-906 has some impressive light output. The square light head design results in a very bright and even light distribution. The beam pattern is an excellent mix between the flood and spot, allowing you to see both around you and further down the road when riding. The five modes have a published battery life of: 2 hours (high, 100%), 3.2 hours (medium high, 75%), 5.2 hours (medium, 50%), 10.2 hours (low, 20%) and 7 hours (flash, 50%).Magicshine MJ906 modesComparing the light output side-by-side, there is a distinct difference between the lower power setting and higher power settings.
The beam pattern is uniform with no hot spots and a nice square shape. Looking at the side view, you can also see the beam angle is well distributed both horizontally and vertically without any cutoffs. In the real world, I find the lowest setting sufficient for urban riding and medium more than enough for early morning dark roads. Battery life is consistent with what Magicshine predicts, and with only 4 hours a week of use allows me to charge the light only every few weeks.